Kelly Loeffler Sees 'Path to Victory' in Georgia Seat Called for Raphael Warnock
Although media outlets have projected a win for Democrat Raphael Warnock, a defiant Sen. Kelly Loeffler signalled to her supporters that she would not concede defeat in the Georgia Senate runoff race.
With around 98 percent of the votes counted, Warnock was ahead of Loeffler by 50.5 percent to 49.5 percent in the culmination of a fight which has been close ever since the general election on November 3 when neither won a majority.
At around 2 a.m. ET on Wednesday, NBC News, CBS News and the Associated Press called the race for Warnock, a pastor of the Ebenezer Baptist Church in Atlanta.
However, Loeffler told her supporters at the Grand Hyatt Hotel in Buckhead, Atlanta: "There are a lot of votes out there," adding that, "we have a path to victory and we are staying on it."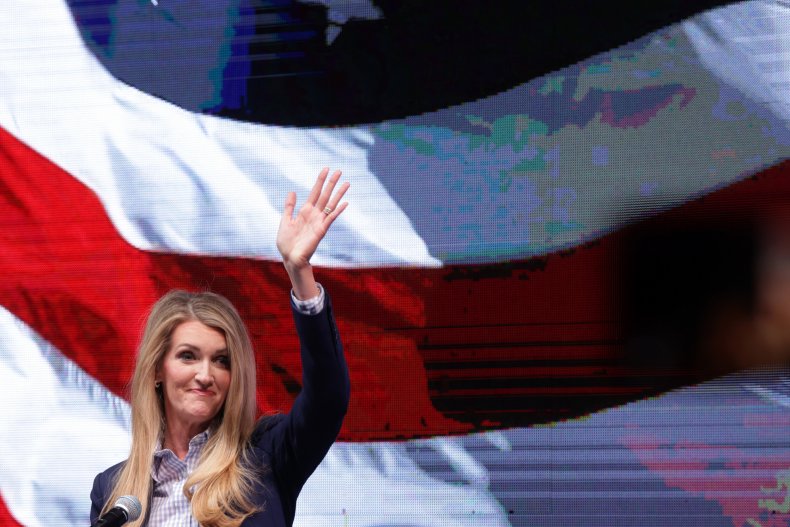 "We have got a lot of work to do here, this is a game of inches, we are going to win this election, we are going to save this country," she said.
"My campaign is about saving our country, fighting for the American dream. It's worth it for this election to last into tomorrow, we are going to make sure every vote is counted," she said to cheers, before adding, "every legal vote will be counted and I am not going to stop working."
Loeffler told her supporters that on Wednesday morning she would he heading to Washington, D.C. "to keep fighting" and that "we are going to fight for this president."
This refers to the plan by some GOP allies of President Donald Trump to reject the congressional certification of President-elect Joe Biden amid unsubstantiated claims of voter fraud.
"We are going to fight for this president," she said. "I am asking for every single Georgian, every single American, stay in the fight for us, we are going to keep fighting for you."
Earlier in the evening, Warnock declared victory in a video address in which he said that "we proved that with hope, hard work and the people by our side, anything is possible."
If his victory is confirmed, he would become the first African-American to represent Georgia in the upper chamber.
"So Georgia, I am honored by the faith that you have shown in me and I promise you this tonight: I am going to the Senate to work for all of Georgia, no matter who you cast your vote for in this election," Warnock said.
In the other Georgia Senate runoff race, Democrat Jon Ossoff is narrowly ahead of Republican David Perdue, putting his party on the brink of controlling the Senate when President-elect Joe Biden is sworn in on January 20.
However, in that race, overseas, military and provisional ballots could delay a result by days, The Hill reported.