'Bar Lives Matter' Protesters Descend on Texas Capitol to Oppose Closures
On Tuesday, Texas bar owners protested the Texas capitol building in Austin, declaring "Bar Lives Matter" in response to Republican Governor Greg Abbott's June 26 order to close all drinking establishments. Abbott's order sought to stop his state's dramatic rise in COVID-19 cases.
Appropriating language from Black Lives Matter protests against anti-Black police violence, Tuesday's protest speakers told bar owners to reopen their establishments in defiance of Abbott's order, according to KXAN.
On the protest's Facebook event page, organizers wrote that bars had been scapegoated for the state's rise in newly confirmed coronavirus cases.
"No other businesses are being shut down. It's wrong and affecting the livelihood of hundreds of thousands across the state. From owners to bartenders, waitresses, entertainers... we will all take the hit," the event page read. "It's up to us to take a stand and let our voices be heard as loud as the people that caused the numbers to go up."
Tuesday's protest follows a similar protest organized last Sunday by Tee Allen Parker, owner of The Machine Shed Bar & Grill in Kilgore, a town about 120 miles southeast of Dallas. Parker held the protest at his bar. He forbids patrons to wear face masks in his bar, and is one of 21 plaintiffs suing Abbott for allegedly bypassing legislators with his order for a statewide shutdown of bars.
"This one individual is picking and choosing winners and losers," Jared Woodfill, a Houston attorney representing the bars, told The Washington Post. "Governor Abbott has chosen to sentence bar owners to bankruptcy... and [is] trampling on our constitutional rights."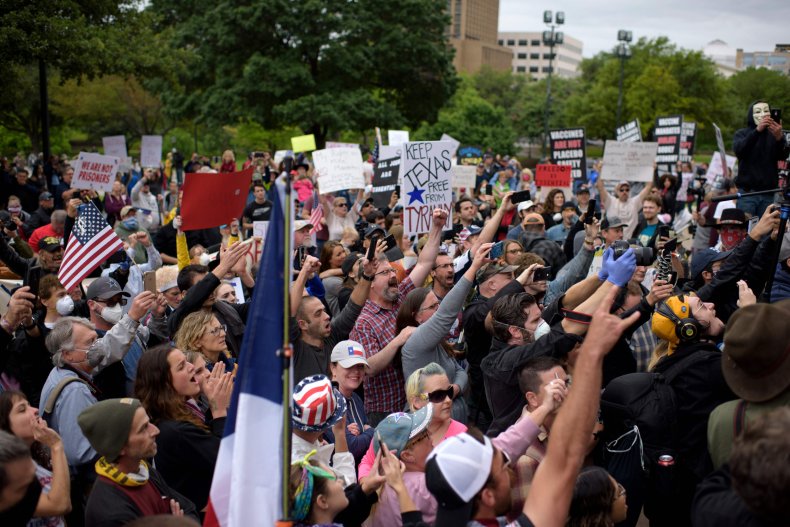 Texas has reported 38,130 new COVID-19 cases in the week between June 23 and June 29, averaging about 5,447 new cases each day and giving the state some of its highest-ever daily tolls of new cases.
As of June 29, the state ranks fifth among U.S. states with the highest number of confirmed cases.
When issuing his order for bar closures last Friday, Abbott said, "As I said from the start, if the positivity rate rose above 10%, the State of Texas would take further action to mitigate the spread of COVID-19. At this time, it is clear that the rise in cases is largely driven by certain types of activities, including Texans congregating in bars."
If bars reopen in defiance of Abbott's order, they could potentially lose their business and liquor licenses. Two Houston bars that defied Abbott's shutdown order, Prospect Park and Bokeeters Cocktail Bar, both had their licenses suspended for 30 days.
Prospect Park was also placed on Democratic Houston Mayor Sylvester Turner's "Wall of Shame" meant to deter non-compliant businesses. However, bars can contest the revocations in court.