Reflecting back on his presidency, former President Barack Obama said the "angriest" day of his two terms at the White House was when Congress failed to take action in response to the Sandy Hook Elementary School shooting.
"That was, not only maybe the saddest day of my presidency, but when Congress failed to do anything in the aftermath of Sandy Hook, was probably the angriest I ever was during my presidency," Obama told Oprah Winfrey in a new Apple TV+ interview.
"I was disgusted and appalled by the inaction," Obama continued. "Because you had parents who had just lost their children, sitting in front of senators and asking them for very modest, reasonable approaches. This wasn't some radical agenda. They were asking for more effective background checks and other provisions to keep firearms out of the hands of disturbed folks."
On December 14, 2012, a gunman stormed Sandy Hook Elementary School in Newton, Connecticut and killed 26 people, including 20 children. The mass shooting remains the second-deadliest school shooting in the U.S.
In the aftermath of the shooting, the 112th U.S. Congress, with its Democrat majority, failed to pass any type of gun reform bill.
Shortly after the incident, Senator Dianne Feinstein and 24 other Democratic cosponsors introduced the Assault Weapons Ban of 2013. Although the bill was approved by the Senate Judiciary Committee, it was not expected to pass the Senate or the House.
In the end, the bill failed, drawing only 40 votes for and 60 against.
While Feinstein won the backing of Senate Majority Leader Harry Reid, who had previously voted against renewing it, and Republican Senator Mark Kirk—15 Democrats, one independent and all other Republicans aside from Kirk voted against the ban.
"It was all viewed as politics as opposed to this human moment that we should have been able to respond to as a society," Obama said to Winfrey.
Republican Senator Chuck Grassley called the measure a "slippery slope compromising the 2nd Amendment" when the ban was brought to the Senate floor.
Newsweek reached out to Grassley for comment but did not hear back before publication.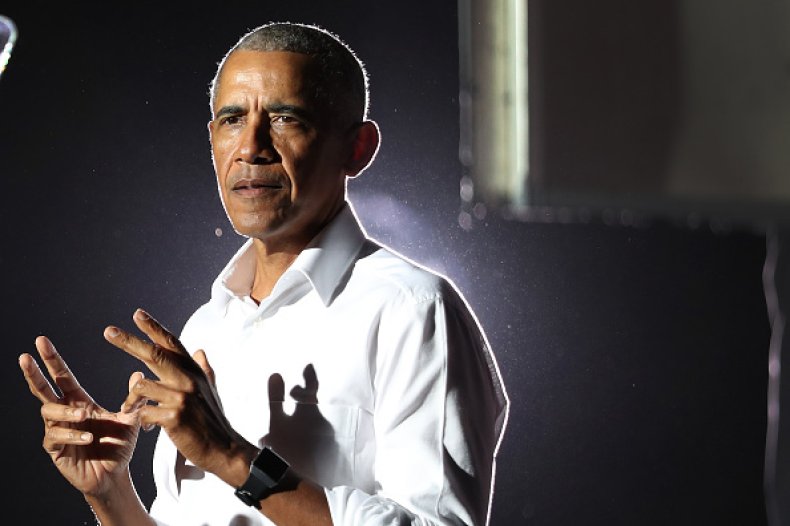 Robin Lloyd, managing director of advocacy group Giffords, told Newsweek:"The political dynamics around gun safety have changed dramatically since Congress failed to act following the tragedy at Sandy Hook Elementary School."
Lloyd said that in 2013, the NRA was still one of the most powerful lobbying forces in the country and could "successfully scared a number of senators on both sides of the aisle out of voting for stronger gun safety laws."
"Gun safety is now a winning issue for candidates at all levels, and many have delivered legislative victories for their constituents in statehouses and the House of Representatives," Lloyd said.
"Gun violence is one of those issues that I think we are far away from the promise land on," Obama said in the new interview. "Because it's become such a cultural hot-button issue. It's become wrapped up with people's sense of identity—the degree to which the county is divided and some of this is big urban and rural split."
The former president also shared an anecdote about campaigning in rural Iowa where he and former first lady Michelle Obama "could see why somebody need to have something to fend themselves" with.
"It's gotten very polarized. I think unwinding it, unwinding that polarization around that issue is going to take some time," Obama added.
The full interview, "The Oprah Conversation: President Barack Obama," is set to premiere globally on Tuesday, November 17 across the Apple TV app.
Update 3:50 p.m. ET: This story was updated with comments from Lloyd.