'Barbie' Movie Release Date, Cast, Trailer, Plot — All We Know so Far
Yes, it is true and very much real. Barbie, the much-loved doll created by Ruth Handler for Mattel in 1959 is being brought to life by Oscar-winning director Greta Gerwig in her upcoming movie, aptly titled Barbie.
Filming began in March 2022 in England and ever since, photos of Hollywood stars Margot Robbie and Ryan Gosling in the roles of Barbie and Ken have been dropping, sending fans into meltdown. Gosling even wore a shirt with the face of his Barbie co-star, Ncuti Gatwa as Doctor Who, generating even more hype for the movie.
From the film stars driving around in a hot pink car, wearing matching pink cowboy hats, or rollerblading in fluorescent outfits, Barbie is a movie you will not want to miss.
Newsweek has everything you need to know about the Barbie movie, including its release date, cast, trailer, plot, and more.
When Is The Barbie Movie Out?
The good news is Barbie does have an official release date. The bad news is, that fans will be waiting a little while before it arrives in theatres.
Barbie is officially scheduled for release on Friday, July 21, 2023.
At the moment it has not been officially announced whether Barbie will be available to stream, but as it is a Warner Bros. production, the movie will likely be available to stream via HBO Max 45 days after its cinematic release.
This means fans could be able to watch Barbie online as early as September 2023.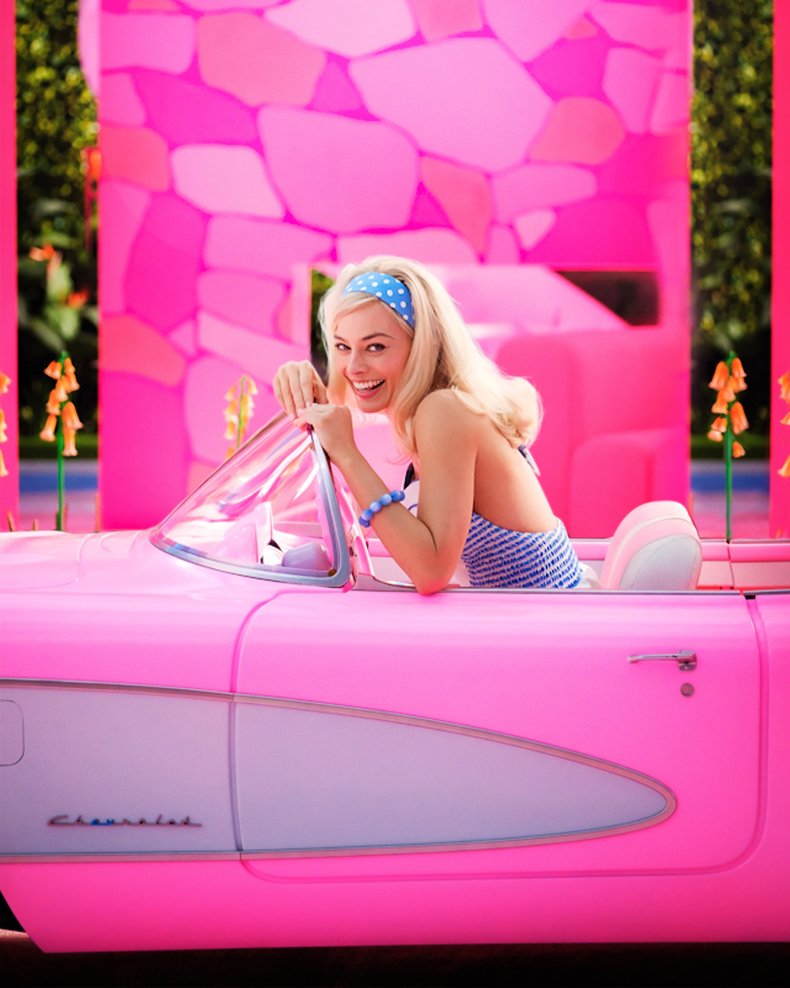 Who Stars in Barbie?
Bringing the story of Barbie to life are a host of Hollywood stars, led by Margot Robbie as Barbie and Ryan Gosling as Ken.
Robbie is best known for her role as Naomi in The Wolf of Wall Street, Harley Quinn in The Suicide Squad, Elizabeth I in Mary Queen of Scots, and Tonya Harding in I, Tonya. She also serves as an executive producer on Barbie.
Gosling is best known for starring as Noah in The Notebook, Jacob in Crazy, Stupid, Love, and Sebastian in La La Land.
Sex Education star Ncuti Gatwa and Kim Convenience's Simu Liu will star as two other Ken dolls in the Barbie movie.
Insecure's Issa Rae will play the role as another Barbie alongside Transparent's Hari Nef.
Will Ferrell will also star in Barbie as the CEO of a toy company.
At the moment, the characters the cast of Barbie is playing have been kept largely under wraps but fans will be excited to see the following faces appear in the movie:
Stath Lets Flats Jamie Demetriou, Sex Education's Connor Swindells, The Crown's Emerald Fennell, Peaky Blinders star Kinglsey Ben-Adir, Sex Education's Emma Mackey, and Ugly Betty's America Ferra.
Other famous faces in undisclosed roles include:
Ana Cruz Kayne
Scott Evans
Sharon Rooney
Rhea Perlman
Michael Cera
Alexandra Shipp
Kate McKinnon
What Is Barbie About?
The plot of Barbie has also been kept largely under wraps but the film's stars have been sharing some details of what fans can expect and generally, audiences have to expect the unexpected.
Will it be set in Barbieland or will it take place in the present-day? Will Barbie and Ken be romantically involved or close friends? Will the movie be a comedy, crime-thriller, or sci-fi? Fans will have to wait and find out.
Barbie is the first live-action film based on the famous doll after numerous animated films and TV series, so it is likely the movie will stay from Barbie being a princess, a fairy, a spy, or a mermaid.
Speaking to The Hollywood Reporter, Robbie teased Barbie the movie is going to be totally different from what you may think.
"We like the things that feel a little left of center," Robbie said. "Something like Barbie where the IP, the name itself, people immediately have an idea of, 'Oh, Margot is playing Barbie, I know what that is,' but our goal is to be like, 'Whatever you're thinking, we're going to give you something totally different — the thing you didn't know you wanted.' Now, can we truly honor the IP and the fan base and also surprise people? Because if we can do all that and provoke a thoughtful conversation, then we're really firing on all cylinders."
Is There A Trailer for Barbie?
No, there is no trailer yet for Barbie.
Filming is currently underway, so hopefully, some more details will be available soon.