Ryan Gosling's 'Barbie' Movie Ken Prompts Freddie Prinze Jr. Comparisons
A picture of Ryan Gosling in full Ken costume for the upcoming Barbie movie has been released and it's prompting comparisons to Freddie Prinze Jr. in the Scooby-Doo movie.
Greta Gerwig's highly anticipated new movie stars Margot Robbie in the title role and now movie fans have finally gotten a glimpse of Drive star Gosling as her famous boyfriend.
The photo shows the actor with bleached blonde hair bearing his chiseled abs in a denim vest, complete with Calvin Klein style "Ken" underwear.
The movie's cast features Gosling and Robbie joined by America Ferrera, Simu Liu, Kate McKinnon, Saoirse Ronan, Will Ferrell and more.
Gosling's Ken took social media by storm this week and many people have highlighted how he bears an uncanny resemblance to Freddie Prinze Jr. as Fred in Scooby-Doo.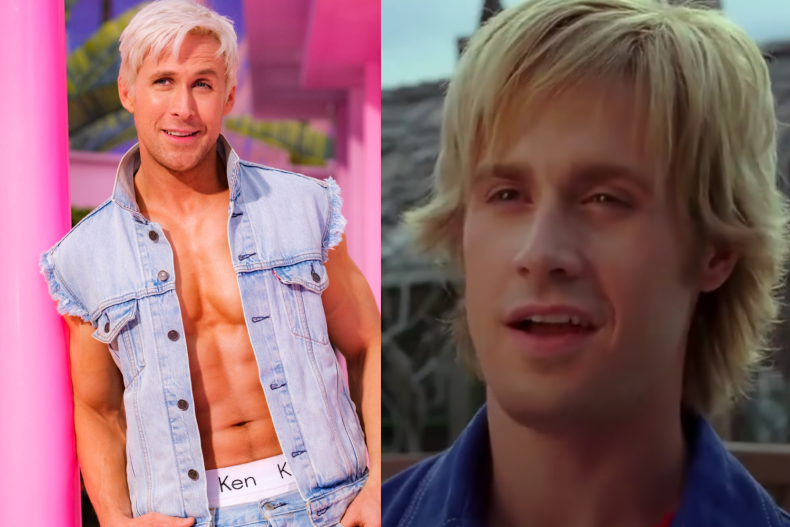 Prinze Jr. starred in the cartoon remake in 2002 alongside Sarah Michelle Gellar, Matthew Lillard, Linda Cardellini, Isla Fisher and Rowan Atkinson.
The movie has almost reached cult status and is beloved among millennials and noted for its perfect casting of the famous Mystery Incorporated gang from the animated series.
A viral tweet with almost 80,000 likes reads: "Freddie Prinze Jr's Fred walked so Ryan Gosling's Ken could run."
While another added: "FPJ should play Ken's older brother. I'm sure Ken must have one. Barbie was a million siblings."
Speaking about the upcoming movie, its lead Robbie said she hopes it will be "aspirational."
"I think it's a great opportunity to put some positivity out in the world and a chance to be aspirational for younger kids," Robbie told Variety in 2019.
In 2020, Robbie spoke with The Hollywood Reporter about her character and what people can expect.
"We like the things that feel a little left of center. Something like Barbie where the IP, the name itself, people immediately have an idea of, 'Oh, Margot is playing Barbie, I know what that is,' but our goal is to be like, 'Whatever you're thinking, we're going to give you something totally different—the thing you didn't know you wanted,'" she said.
She also told Vogue that role was challenging but that was excited to work with Gerwig.
"Right, it comes with a lot of baggage. And a lot of nostalgic connections. But with that come a lot of exciting ways to attack it. People generally hear 'Barbie' and think, 'I know what that movie is going to be,' and then they hear that Greta Gerwig is writing and directing it, and they're like, 'Oh, well, maybe I don't,'" she said.
Barbie is set to be released in theaters on July 21, 2023.