Everything 'Barbie' Margot Robbie Has Said About New Film
The first look at Margot Robbie's new film, Barbie, along with a summer release date is now out.
During the Warner Bros. presentation at this year's CinemaCon—held in Las Vegas, Nevada through April 28—Barbie is set to be released into theaters on July 21, 2023. The film also stars Ryan Gosling, America Ferrera, Simu Liu and Kate McKinnon and Greta Gerwig is directing. She, along with her husband Noah Baumbach wrote the script. Robbie is also credited as a producer.
Posted to social media on April 26, fans got a first look at Robbie as the main character in an appropriate pink convertible with a white and blue striped get up with a matching polka dot headband in front of a pink backdrop.
Once fans saw the photo, they commented on their excitement to see the film.
"Perfect Casting," exclaimed a user on Instagram.
One other commenter said, "ohhhhhhhHHHHHHH my goodness this can't come soon enough !!!!!"
"so excited for this," wrote another.
Robbie has an impressive resume. She worked with Quentin Tarantino in Once Upon a Time in...Hollywood, Martin Scorsese in The Wolf of Wall Street and portrayed Harley Quinn in the Suicide Squad films along with Birds of Prey. Other films include Mary Queen of Scots, Bombshell, Focus and I, Tonya.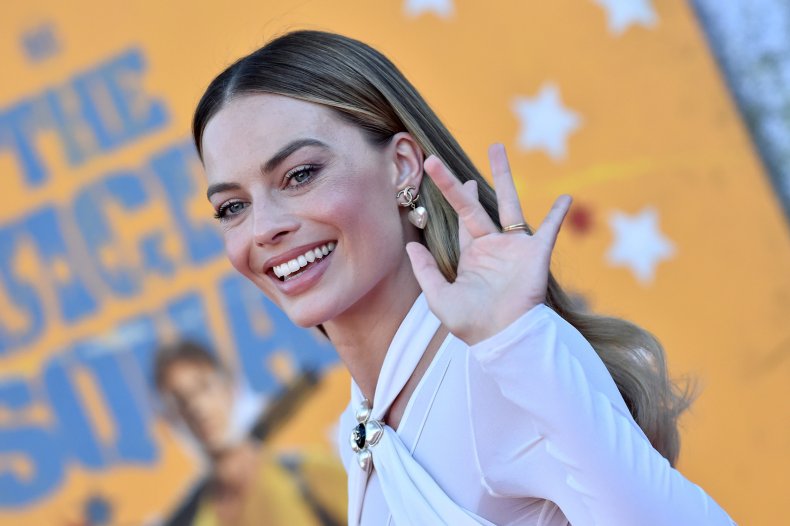 Since Robbie was announced to be playing the famous fashion toy "Barbie," here's what she said about portraying the character.
"I think it's a great opportunity to put some positivity out in the world and a chance to be aspirational for younger kids," Robbie told Variety in 2019.
During an interview with Vogue, Robbie discusses that it was a challenging role but was excited to work with Gerwig.
"Right, it comes with a lot of baggage. And a lot of nostalgic connections. But with that come a lot of exciting ways to attack it. People generally hear 'Barbie' and think, 'I know what that movie is going to be,' and then they hear that Greta Gerwig is writing and directing it, and they're like, 'Oh, well, maybe I don't,'" she concluded.
In 2020, Robbie spoke with The Hollywood Reporter about her character and what people can expect.
"We like the things that feel a little left of center. Something like Barbie where the IP, the name itself, people immediately have an idea of, 'Oh, Margot is playing Barbie, I know what that is,' but our goal is to be like, 'Whatever you're thinking, we're going to give you something totally different — the thing you didn't know you wanted,'" she said.