Baron Corbin silenced the critics by defeating Chad Gable to win the 2019 King of the Ring tournament.
The finals of the history tournament was held on the September 16 episode of Monday Night RAW. After a long and competitive match, Corbin would win via pinfall after hitting the End of Days.
Gable defeated Shelton Benjamin, Andrade and Shane McMahon - who took the place of a legitimately hurt Elias - to get to the finals. Baron Corbin defeated The Miz, Cedric Alexander and then Ricochet and Samoa Joe in a triple threat match to make it to the finals.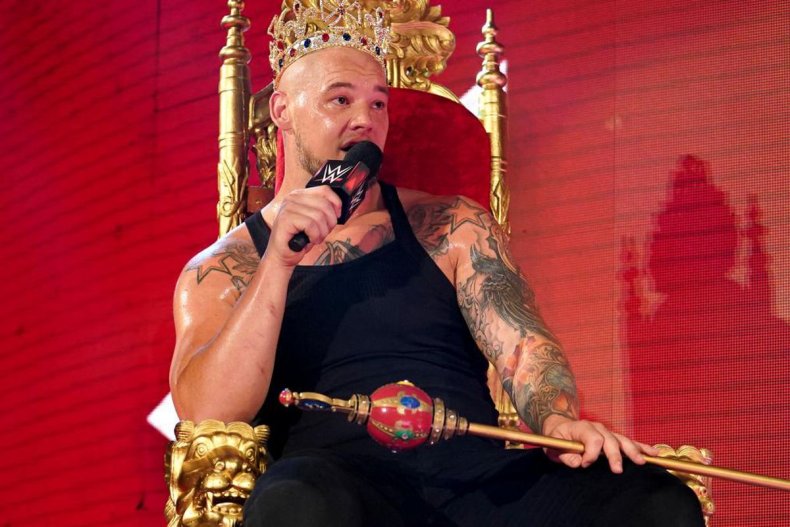 It's too early to know what Corbin will do as "King" but he has some ideas.
"I see little things that I will automatically change once I become king. But first off, I know I'm going to be intolerable for a lot of people and I love that," Corbin told Newsweek. "I think Ricochet has "King Ricochet" on his Twitter so I'm going to make sure he changes that. Montez Ford from the Street Profits wears a crown, that's gone. There's little things that I don't want anyone being mistaken for a king when there's only one king around."
Prior to the tournament, Corbin was embroiled in a months-long feud with Seth Rollins over the Universal Championship. Chad Gable was rarely seen on WWE television, with most of his air time coming on 205 Live.
Gable used the tournament to overcome many odds and become the quintessential underdog in each match with many of his opponents making fun of his height. Corbin used the tournament to ditch the vest and show a more ruthless side, similar to when he debuted on the main roster.
This was the first King of the Ring tournament on WWE television since 2015 when "Bad News" Barrett won it. The tournament was created in 1985 and was an annual event until 2002. There wasn't another tournament until 2006 when Booker T famously won and became King Booker. It was then an infrequent part of WWE television until 2015.
The first winner of the tournament was Don Morocco and had some WWE Hall of Famers as winners in the past including the aforementioned Booker T, Bret "The Hitman" Hart, "Stone Cold" Steve Austin and Triple H.
What do you think of Corbin winning the King of the Ring tournament? Where will this lead Gable and Corbin? Let us know your thoughts in the comments section.