'Arrest This Man': Baseball Fan Drinks Beer Through Hot Dog in Wild Video
A video appearing to show a baseball fan drinking a beer through a hot dog has gone viral on social media.
Footage of the male fan fashioning the hot dog into a rudimentary straw before taking several gulps through the meat-based drinking implement was shared to Instagram and TikTok by Nicolas Heller, posting as newyorknico.
At the time of writing, the clip has accumulated over a million views on TikTok, while a reposted version of the video shared by Jomboy Media has been watched 5.6 million times.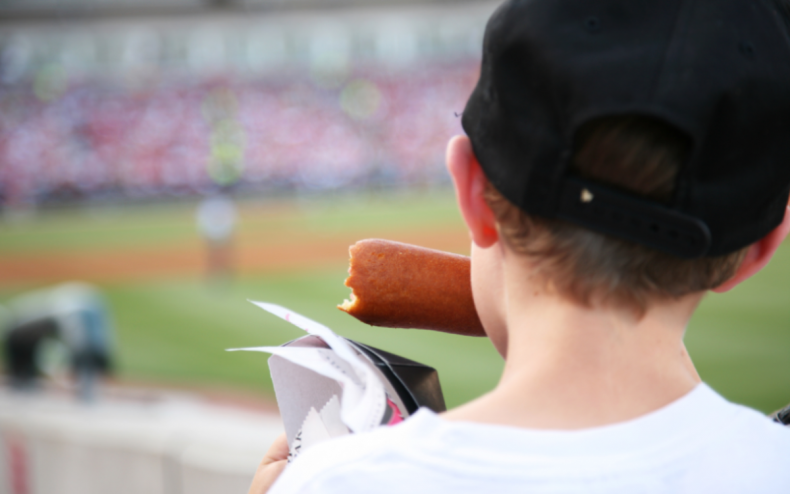 The man in the video can be seen wearing a New York Yankees cap while the TikTok post includes the hashtag "NYC."
"Arrest this man," Heller jokingly writes alongside the clip, which has sparked plenty of debate around ballpark eating habits. The footage can be watched here.
According to a survey of over 1,250 Major League Baseball fans conducted by the website financebuzz earlier this year, the average MLB attendee spends $74.40 on in-stadium food and drink while at a game.
Given that kind of outlay, you might have thought fans would be entitled to eat and drink however they choose. But, in the case of this particular patron, the reaction online suggests otherwise.
In the video, the unidentified man can be seen fashioning a hole down the middle of his hot dog before dunking it into his full cup of beer and proceeding to drink from his new food-based straw.
Everyone has their own tastes, but for many watching along on social media, this was a step too far. "I cannot think of a single reason someone would do this," vbeau19 said on TikTok with stephanieeerose22 asking: "Why would you put yourself through this?"
Janemain01 joked that it was "better than those paper straws" while glamorama1 was intrigued, commenting: "Now I feel like I haven't lived life because I haven't drank beer through a hot dog yet."
Some on Twitter attempted to defend the man's actions. TalkinJake said: "Two things that are delicious, yet you judge without trying it - why is that?"
IanFortey added: "I would never do this but this guy was all 'Let me suckle from this meaty teat and swallow naught but malty nectar' and by God, he got what he wanted. This man is an innovator."
Still, some people might need a little more convincing. J_T_Morris said: "Here's the problem I see. You be slurping, you be nibbling, and then bang you hit that inflection point where the straw doesn't reach the beer anymore."
On Instagram, meanwhile, johnnyshipes was in shock. "All of this is disgusting BUT the sucking the meat out of the straw is some of the nastiest s**t I ever seen."A_mmariie added: "I wish there was a way to go back in time and not watch this" with nmagliato_ claiming: "that's illegal."
Newsweek has contacted Heller and the New York Yankees for comment.