Joey Chestnut Slings Protestor During Nathan's Hot Dog Eating Contest
Joey Chestnut was seen placing his arm around the neck of a protester during the Nathan's Hot Dog Eating Contest in Coney Island on Monday.
The interaction between Chestnut and the protester occurred as the competition was in progress. Chestnut went on to win the annual contest for the 15th time, though he was more than 10 hot dogs shy of the personal record he set last year.
According to a video clip shared on Twitter by CBS Sports writer Will Brinson, the incident began when a protester who appeared to be wearing a Darth Vader mask started threading their way between competitors while holding a sign.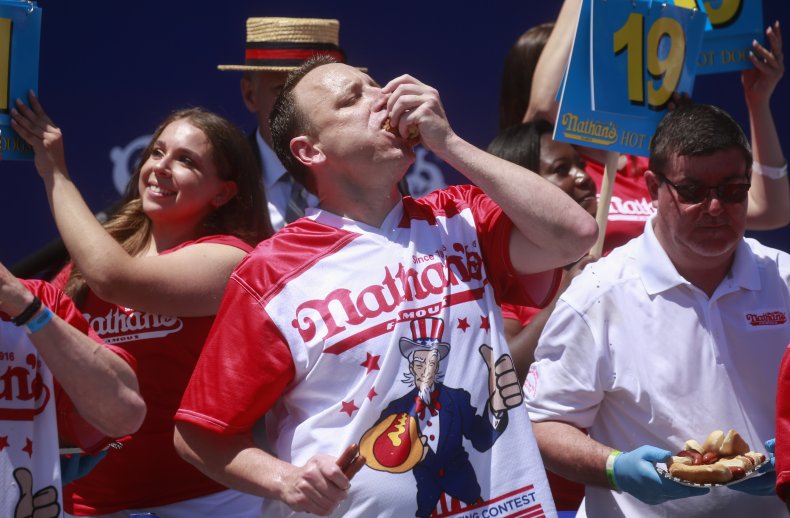 The protester bumped into Chestnut as they made their way to the front of the group of competitors. The protester then stood just in front of Chestnut as they flashed their sign for the crowd of onlookers to see. The sign had a message that appeared to say, "Expose Smithfield's Deathstar."
As one person moved to take the protester away, Chestnut paused behind the protester before quickly wrapping his arm around their neck. The protester then seemed to try to escape, breaking free from Chestnut before dodging away and fleeing the area.
Chestnut continued eating as the protester ran away. The entire incident lasted about five seconds.
Chestnut went on to win Monday's contest by eating 63 hot dogs and buns in 10 minutes. It was his 15th time winning the Mustard Belt, the award Nathan's Famous gives to winners of its annual Fourth of July competition.
Chestnut's win on Monday was 13 hot dogs and buns shy of his record of 76, which he set last year. In addition to setting a personal record in 2021, Nathan's Famous said on its website that Chestnut also set a new world record.
Nathan's Famous celebrated the arrival of the competition's reigning champion with a video clip posted Monday on Twitter. "He has arrived," the tweet said.
Once the competition was over, Nathan's Famous shared a new clip with a message that introduced Chestnut as this year's winner: "Your 15-time hot dog eating champion of the world @joeyjaws!"
About 35,000 people were expected to gather in person to watch this year's contest, according to Nathan's Famous. In addition to those who watched the competition at Surf and Stillwell avenues in Coney Island, Nathan's Famous estimated that "millions more" would watch from afar as the contest aired on ESPN.
Newsweek reached out to Nathan's Famous for comment.
Update: 07/04/22 3:20 p.m. ET: This story has been updated with additional information.