In a surprise twist, Batista returned on WWE Monday Night RAW to take out Ric Flair during his birthday celebration to get to Triple H.
Flair's 70th birthday celebration was a story throughout the February 25 episode of RAW, which teased WWE Legends like Sting and Ricky Steamboat's appearances. But when the main event segment of the evening went down, the Nature Boy was nowhere to be found.
When Stephanie McMahon called Ric Flair to the ring, the 16-time champion didn't show. Fans in the arena and watching from home got to witness Batista pulling a cameraman to Flair's locker room. Batista exits the locker room dragging Flair before turning to the camera to ask Triple H if he has his attention now.
Triple H runs to the back to find his mentor dazed on the ground as RAW fades to black.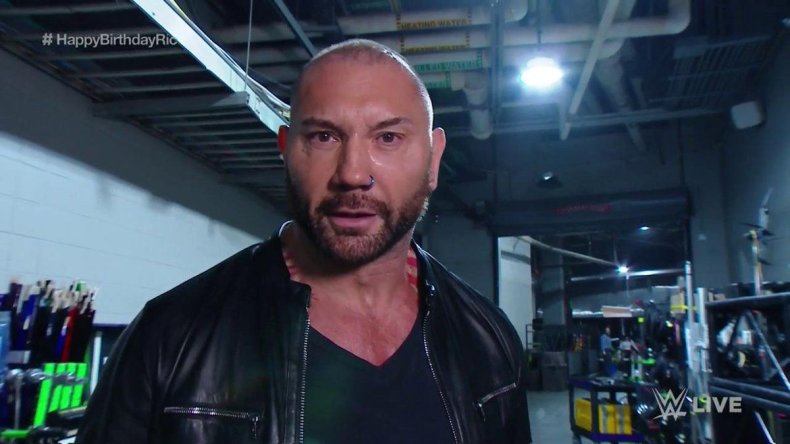 Batista - real name Dave Bautista - was last seen on WWE television in October 2018 during the SmackDown 1000 episode. This special event saw the reunion of Evolution with Ric Flair, Triple H and Randy Orton. Bautista ended that segment praising Triple H and listing off his many accolades before tossing a jab at his former friend and rival.
"There is nothing that this man hasn't done in this business, except beat me," Bautista said.
Reports said that WWE was negotiating with Batista to return to the company. All Elite Wrestling, the new promotion started up by The Khan family, Cody Rhodes, The Young Bucks and Kenny Omega were also reportedly in talks to bring the movie star in.
With this new wrinkle in the story, it seems WWE is going to build towards the match between Triple H and Batista that was laid out at SmackDown 1000.
WrestleMania 35 is set for April 7 at MetLife Stadium in New Jersey.
What did you think of Batista's return? Are you expecting a match between Batista and Triple H? Let us know in the comments section below.