WWE Monday Night RAW Live Results: What Did Roman Reigns Have to Say?
The February 25 episode of Monday Night RAW is set to be a packed show filled with returns.
First, the WWE Universe will see the return of former Universal champion Roman Reigns as he gives an update on his battle with leukemia. What the "Big Dog" will say on Monday is anyone's guess, but with WrestleMania 35 around the corner the speculation as to whether Roman will be on the show looms.
Ric Flair also returns to Monday Night RAW to celebrate his 70th birthday. The Nature Boy has been off WWE television for some time, so fans will get a treat when he makes his appearance on Monday. His daughter Charlotte replaced Becky Lynch in her match against Ronda Rousey for the RAW Women's Championship at WrestleMania, so the WWE Universe will want to keep an eye on the festivities to see if "The Man" crashes the party.
Last week, NXT's four top guys arrived on RAW and SmackDown to show the WWE Universe what they can do. It's unclear whether this is a proper call-up, but it seems that Aleister Black, Ricochet, Tommaso Ciampa and Johnny Gargano are returning to Monday Night RAW.
On this Tuesday's SmackDown Live, Gargano is scheduled to face Cesaro, while Ricochet and Black are scheduled to take on Rusev and Shinsuke Nakamura. What will RAW have planned for them this week?
Finally, the first WWE Women's Tag Team Champions, Bayley and Sasha Banks, are looking for their first challenge. Last week, Tamina and Nia Jax interrupted their celebration. Will the two be granted a title shot against the Boss and Hug Connection?
The Fastlane pay-per-view is only a couple short weeks away, and the card will likely start filling up tonight. Here's everything that happened on tonight's episode of Monday Night RAW.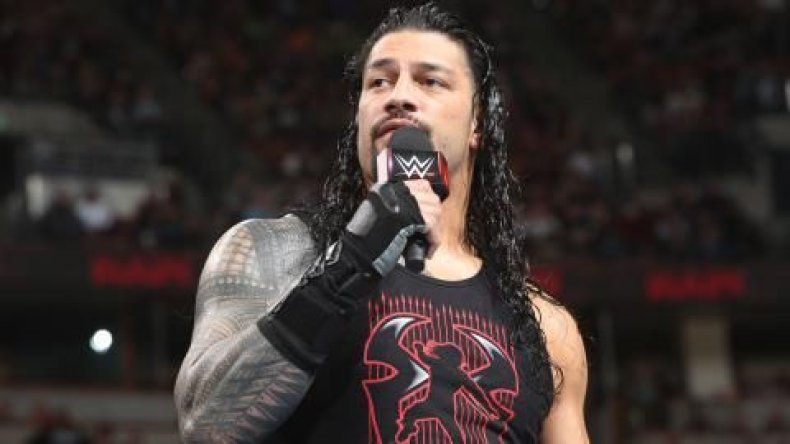 MONDAY NIGHT RAW RESULTS
Roman Reigns Announcement
Reigns comes out to thank the WWE Universe and tell them he misses them.
He goes on to say that he was terrified about what would happen when he found out his leukemia returned and that he wasn't sure he wanted to share that with the fans. But the announcement has given him an opportunity to raise awareness and help those in need.
He then gives the update that he is in remission and will is now working to get back in the ring.
Seth Rollins meets Roman at the top of the ramp and hugs him before the two pose.
Aleister Black/Ricochet vs The Revival
Before the bell, The Revival ambush Black and Ricochet.
Chad Gable and Bobby Roode are shown watching the match from the back.
Black pins Dawson after a Black Mass.
Baron Corbin Interview
Corbin is asked about his past comments regarding Roman and his condition. He says that he was under a lot of pressure of being the General Manager, but does say that Roman should hope that he doesn't cross paths with him.
Elias Segment
Before Elias does his performance, he's interrupted by Lacey Evans who walks down to the ring and then to the back without saying a word.
Elias is then interrupted by Dean Ambrose.
Ambrose says that he is feeling good because of the good feelings tonight, he then calls out Drew McIntyre to have a rematch but he wants a no disqualification match.
Elias starts to strum his guitar and the two exchange words. Elias tries to hit Dean with his guitar but Ambrose hits him with a Dirty Deeds.
Riott Squad (Sarah Logan/Ruby Riott) vs Natalya/Ronda Rousey
Natalya/Ronda win via DQ after Becky Lynch appeared from the crowd and hit Natalya, who was trying to prevent Becky from entering the ring.
After the bell rings, security runs out to break up Becky and Ronda. The Atlanta Police Department handcuff Becky and take her away.
Ronda Rousey Segment
After a commercial break, Natalya is helped to the back while Ronda gets in the ring and calls out Vince McMahon.
Stephanie McMahon comes out and Ronda pleads to her to reinstate Becky Lynch so she can have her at WrestleMania. Steph says that Lynch has been arrested and they can't do that. Ronda says they can drop the charges, but Stephanie says Rousey is facing Charlotte.
Ronda says that Becky being in the match is what's best for business and is something the fans want. Make it a triple threat. However, Stephanie McMahon says no. Ronda demands Becky to be reinstated, but Steph says that she is her boss and that no one is bigger than the WWE.
Ronda says that she doesn't need the WWE or the belt, and it's time for Vince to make the right decision and leaves the belt in the ring before she walks to the back.
Backstage
Stephanie McMahon is holding the RAW Women's Championship and shows it to Triple H. The two storm off in the back.
Jinder Mahal Segment
Jinder runs down Ric Flair because he wasn't invited to the birthday. He then says he calls out anyone who was invited to the celebration to have a match.
Kurt Angle answers the call.
Jinder Mahal vs Kurt Angle
Angle wins via submission after an Ankle Lock
After the match, the Singh Brothers try to attack but Angle takes them out.
A Moment of Bliss - with Finn Balor
Alexa says goodbye to Ronda, and reminds the McMahons if they need anyone to fight in the championship match at WrestleMania they know where they can find her.
Alexa tells Finn that the belt is hiding his abs, and tells him that if he shows her his abs he will show him her, but is interrupted by Lio Rush.
Rush tells Finn that Bobby Lashley is the true champion and that since he's busy preparing for his match against Braun Strowman, he will take the belt away.
Finn says he accepts Lio's challenge for the Intercontinental Champnionship. Rush says that's not what he's asking and eventually is talked into the match.
Finn Balor (c) vs Lio Rush - Intercontinental Championship Match
Balor wins via pinfall after a Coup de Grace
Backstage
Tucker Knight is walking backstage when he's approached by The Ascension. They ask where Otis is but Tucker warns them not to instigate him. Otis shows up and Tucker fills him in on what Ascension said. He gets angry and pushes both of them into the wall.
Bobby Lashley vs Braun Strowman
Before the match, Bobby Lashley asks Lio Rush in gorilla if he can trust him because he was supposed to get a title opportunity for him, but ended up getting one for himself. Lio says he can trust him and the two go to the ring.
Before the match, Bobby attacks Braun. However, eventaully Strowman takes out both Lashley and Rush.
There was no official match.
Seth Rollins Interview
Seth says he's been thinking about Brock Lesnar every week, but tonight he's happy that Roman is back.
Dean Ambrose vs Drew McIntyre - No Disqualification Match
During the match, Elias hits Dean Ambrose with a guitar which leads to the finish.
McIntyre wins via pinfall after a Claymore.
After the match, Baron Corbin and Bobby Lashley come out and they all gang up on Ambrose.
Seth comes out with a chair, and is followed by Roman Reigns. The two clear the ring with Roman hitting Superman Punches and a Spear.
Roman and Seth are heading to the back when they turn to see Dean in the ring by himself.
Bayley (with Sasha Banks) vs Nia Jax (with Tamina)
Bayley wins via pinfall after a top rope elbow
Ric Flair Birthday Celebration
Stephanie and Triple H bring out legends like Shawn Michaels, Sting and Ricky Steamboat. They are ready to present Ric with a custom belt but Flair doesn't show up to the ring.
Cut backstage to see Batista pulling a cameraman to Flair's locker room. Batista goes in and drags Ric Flair to show the camera man. Batista looks at the camera and asks if he has Triple H's attention now.
Triple H runs to the back to find his mentor when the cameras fade to black.