'Battlefield 2042' Update: Latest Patch Notes and When the New Scoreboard Is Coming
Battlefield 2042 did not have the smoothest launch, with the game releasing in an extremely unpolished state.
DICE's shooter was supposed to be the next online phenomenon to rival the likes of Apex Legends or Call of Duty: Warzone. Yet it simply has not taken off the way it was intended, with its concurrent player count dropping precipitously and fans being unhappy with the direction it took the franchise in (to the point where older Battlefield installments are actually more popular on Steam right now).
It was simply riddled with technical errors, network issues, lag, and an assortment of balancing problems that made it difficult to enjoy. For those who remember the equally rough launch of DICE's Star Wars Battlefront II, this is a case of history repeating itself.
With very little communication from EA about the future of Battlefield 2042, many were beginning to wonder if the publisher was just going to cut its losses and move on to something else. After all, besides a few bug fixes and stability patches, there haven't really been any major updates since October 2021.
Thankfully, a thread from the official Battlefield Direct Communication Twitter account has now revealed what's in store for the coming months. Before you get your hopes up, it's not much (don't go expecting any new game modes, extra content or radical changes) but it ought to be a start towards rehabilitating this game's tarnished image.
'Battlefield 2042' Is Getting an Improved Scoreboard
To give you an idea of just how slight these planned updates are going to be, the biggest takeaway from the developer's Twitter thread is that they're adding a better scoreboard feature. Not an additional map or anything substantial like that, just a comprehensive overview of who is doing well in matches.
The Battlefield Direct Communication account did at least share a mock-up of how this enhanced user interface will look. Judging by this, it will provide a summary of the overall match, a ranking of some of the best players on the server (but not all 128 of them) and the scores of your individual squadmates.
It seems that it won't be limited to just recording your kill-death ratio, but also how many revives, assists, captures, and defends you have executed.
For those who want to get a better sense of how well they're doing in Battlefield 2042 compared to others, this will definitely give you a clear picture, but fans aren't exactly thrilled that this is what's being prioritized right now.
For example, @EasyD replied to the Twitter post with: "Sorry but these changes will not get me back on the battlefield, too little too late." Likewise, @D50433128 said that a scoreboard like this is just an "industry standard" feature and should have been there at launch.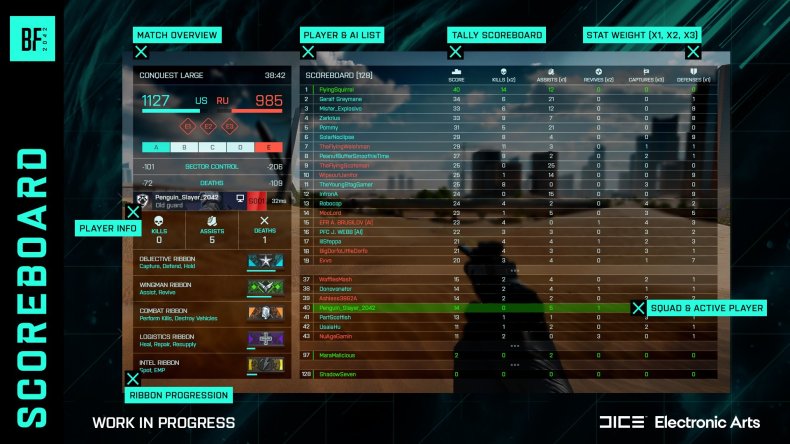 When Is the Scoreboard Update for 'Battlefield 2042'?
The improved scoreboard will be the headline attraction of the upcoming update 3.3 for Battlefield 2042.
According to the Battlefield Direct Communication account, the release date for this will be sometime in mid to late February.
'Battlefield 2042' Update 3.2 Patch Notes
While you wait for that scoreboard to arrive, there has been a small update to Battlefield 2042 this week.
It arrived on Thursday, January 20 and, if you look through the associated patch notes, you will discover that it was mainly just bug fixes and stability improvements. There's no new content to get excited about here, but hopefully these tweaks will make the game a little more functional.
As per the official Battlefield 2042 website, here is everything that has been changed with the recent version 3.2 update.
General
Fixed an issue where leaving a party during matchmaking could make the game unresponsive
Fixed an issue where connecting to EA servers after signing up with a new account would not work on the first attempt
Updated behavior of the quit button during gameplay so it now returns you to the correct screen
Fixed an issue where the loading music would stop playing during level load
Soldier
Fixed a rare occurrence where, after landing with the Wingsuit, hits wouldn't always register on some parts of Sundance's hitbox
Fixed occurrences of rubber banding when running behind friendly players
Fixed a rare issue that could cause you to be stuck in both an alive, and downed loop
Fixed a variety of issues with attaching to ladders that could cause you to get stuck in a state where you could fly away or lose control of your Specialist
Fixed an issue where soldier movement speed was impaired by nearby explosions that spawned craters
Fixed an issue where camera shake and audio for landing would unintentionally trigger when dropping from very small heights
Fixed an issue where weapons from a Loadout Crate would sometimes inherit ammo from the previously selected weapon
Fixed an issue where being spotted when firing a weapon would spot you for too long
Stability
Added multiple fixes to improve overall game stability
Fixed a rendering related crash that could occur for AMD Radeon VII users while Sundance was visible on screen
Weapons
Sniper and SOFLAM scope glints now show from a further distance
Vehicles
Fixed an issue where passenger weapons would no longer be in sync whenever the driver's turret would rotate, causing bullets to not register when firing at enemies
M1A5, T28—improved the effective range and reduced spread on Canister Weapon Pod
Reduced Bullet Spread from 1.6 -> 1.1
Increased Damage Fall Off Distance from 35 -> 40
Battlefield Hazard Zone
Fixed a black rectangle being present on-screen during Hazard Zone end of round when hitting quit at the level progress screen
Battlefield Portal
The Server Info tab now persists after hitting Refresh in the Portal Server Browser
Fixed an issue where text would overlap when joining a Team Deathmatch game during the end of round sequence
Rules Editor—the "IsInventorySlotActive" value now correctly handles melee weapons
Certain admin commands can no longer be spammed