Beached Killer Whale's Sorrowful Call Captured on Video
A killer whale beached on an Alaskan shore has finally returned to the sea, after bystanders captured its sorrowful calls as it lay helpless during a six-hour ordeal.
The orca, reported to be 20 foot long, became stranded on the Prince of Wales Island in the northernmost state.
The killer whale, reportedly a juvenile at 13 years old, was stranded for around six hours, according to onlookers, who desperately strived to keep the animal wet.
Photos and video show the orca beached on seaweed-covered rocks, several feet above the current sea level.
Beachgoer Aroon Duncanson, under the username AroonMelane, shared numerous videos to TikTok detailing the rescue efforts of herself and yellow bystanders, who at one point appeared to form a human chain to pass buckets of seawater to help the creature.
In total Duncanson, a social media manager, shared six clips of the orca rescue efforts, with her most popular, uploaded on Wednesday, amassing more than 17 million views.
In it she captures the orca's mournful cries on film, claiming the whale let out "five calls" after they managed to spray it with seawater.
The 27-year-old told Newsweek: "It was like nothing else to see it breathing out of water and to hear it making its calls. As soon as we got the pump to work, and there was a steady flow of water on her, she made 5 loud calls. She was a bit chatty throughout, but we were not filming the entire thing, so we only captured one of her calls on video. I think she was very stressed and scared of being on the rocks, as any large sea animal would be, but I like to think she knew we were there to help her."
She explained her uncle, Alaskan fisherman James Neilson, informed her of the beached orca, so she headed over "as quickly as we could."
"It was so sad seeing the orca up in the rocks, I think we all shed a tear at some point. NOAA [National Oceanic and Atmospheric Administration] gave permission to use a water hose to keep the whale wet and to keep it protected from any animals that may be near, until they could arrive themselves.
"At first the pump was not working, so while a couple people were working on the pump, we used buckets of water to keep the orca hydrated. My friend Danille Johnson was the first to put a bucket of water on her and it really seemed like she felt some sort of relief with that first bucket.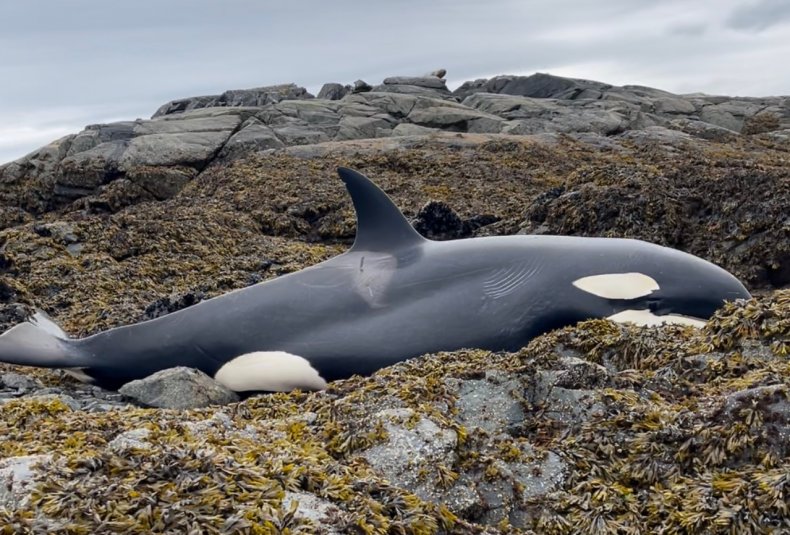 "Everyone kept a very safe distance from the Orca and no one touched it, we knew it was already stressful enough for her, and it could also be dangerous to us if we went too close."
While helping the mammal, Duncanson slipped on the rocks and sprained her ankle, saying: "The adrenaline was so high, and we were all trying to do our best to make sure the orca was comfortable, so I was moving a bit too quickly on the rocks. I like to consider myself pretty agile on the Alaskan rocks, but these rocks were extra slippery and unfortunately I slipped into a crack while filling a bucket of water and heard a loud 'pop'. Thankfully it was only a bad sprain!"
Ultimately she was relieved when the orca was able to free itself when the tide came in, adding: "We are all so glad she made it, we kept checking in to see any updates, and once we heard she made it, when the tide came in, it was a sigh of relief!"
Duncanson's initial clip, uploaded on August 1, detailed how she and other good Samaritans kept the mammal wet while waiting for the tide to come in.
She wrote: "We heard there was a beached killer whale. So we went to go find it. NOAA gave permission to keep the orca wet and protected from animals, until they could arrive.
"We were working on getting a hose and pump to work. In the meantime we used buckets to keep the orca wet. The orca started getting more lively after we put water on it.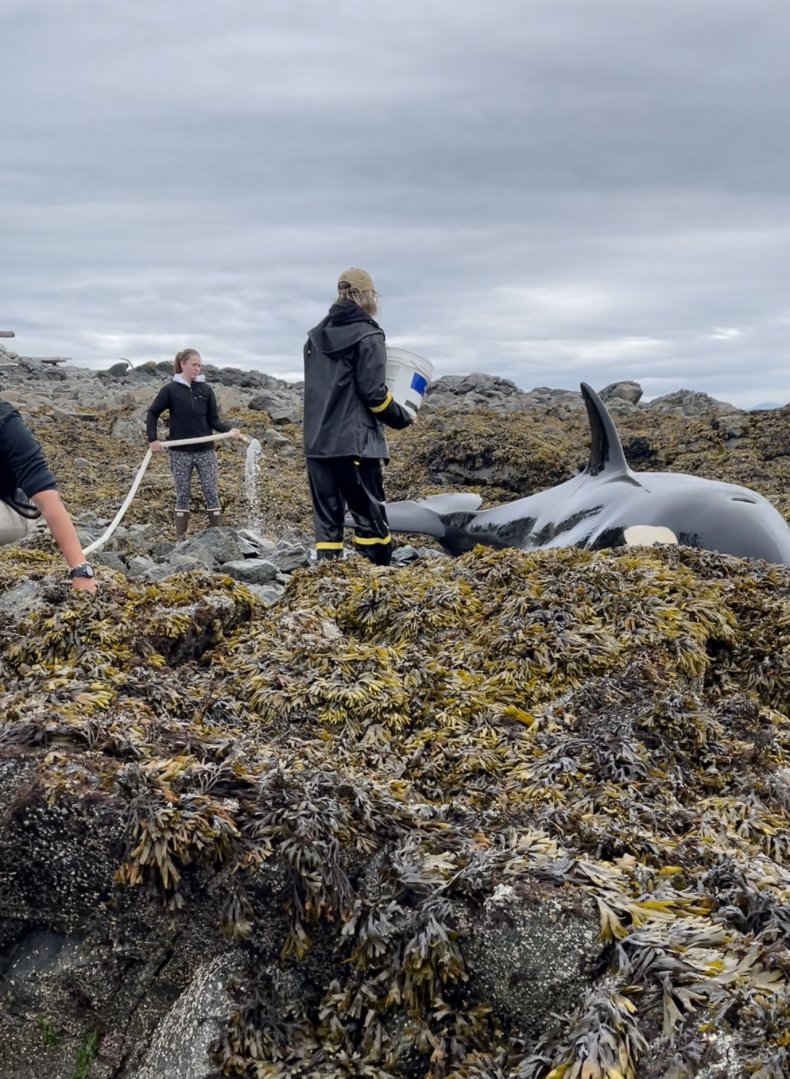 "The young orca got stuck when the tide went out. Alaskan tides are 15-20 foot difference and switch every six hours. There was an earthquake that night in a different part of Alaska. But they say that may have made the tides act differently this day.
"NOAA arrived eventually and took over. The whale was stuck for about six or so hours. The whale made it and swam free once the tide returned. She survived."
In her latest video, just focusing on the whale sound, Duncanson wrote: "She made five loud calls once we got the water pump working! Happy this baby is safe!
"She was beached for six hours. Once the tide came back in, she was able to swim off and reunite with the pod. NOAA followed her out until it dove down. They didn't take any videos, and no one else was allowed there to make sure she wasn't stressed."
Duncanson also shared a time-lapse of the Alaskan tides, demonstrating how the orca may have got trapped on July 29.
Update 11/8/21, 3:16 a.m. ET: This article was updated with comment, video and photos from Duncanson.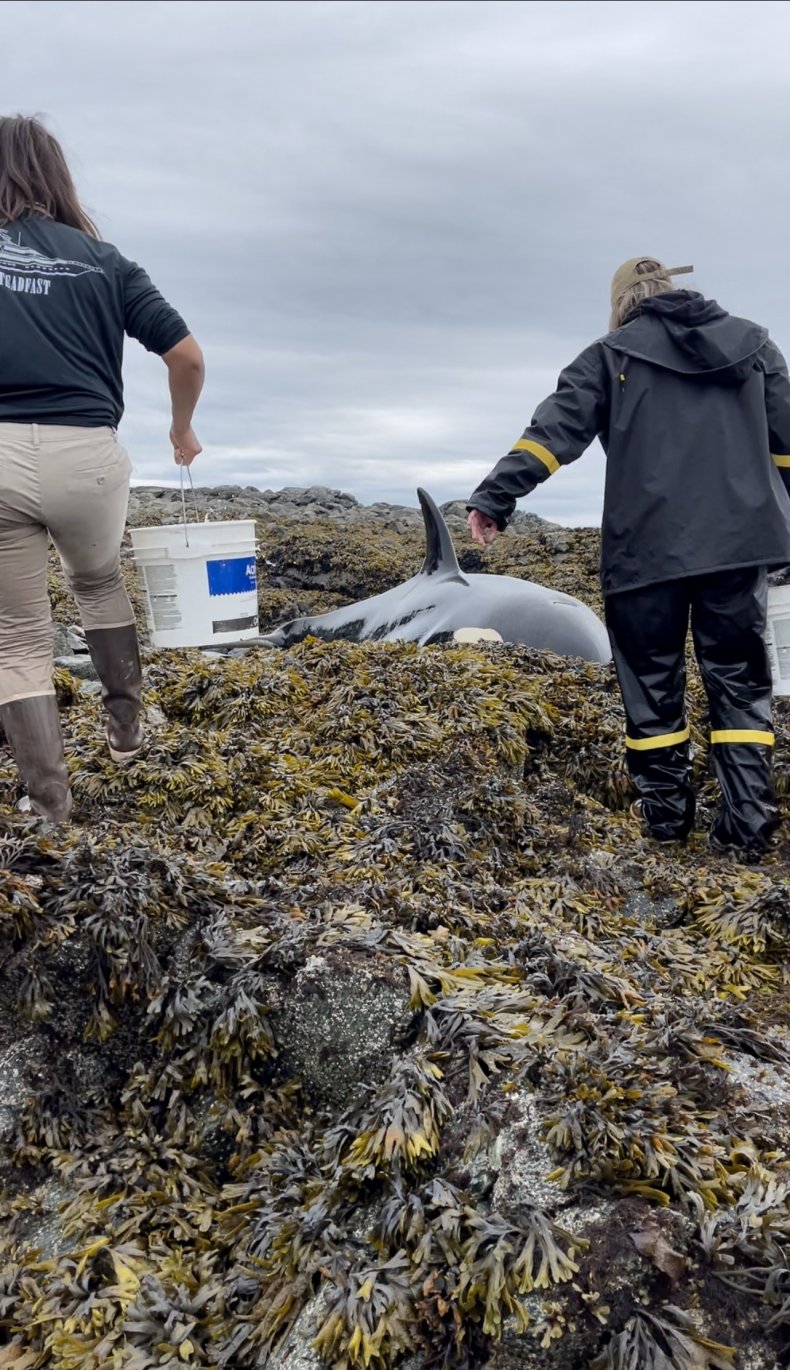 Her aunt, called Tara Neilson, shared snaps of the orca to Twitter, saying: "My niece Aroon is up here and found this stranded orca several miles from here. In all the years I've lived here I've never heard or seen anything like this. I have to wonder if the 8.2 #Earthquake was to blame. NOAA is on its way to try to save it.
"It looks like it's a juvenile and Aroon says there's no sign of its pod. People are pouring water on it. Unfortunately it's injured itself on the rocks trying to get off the beach. The good news is the tide is coming in."
NOAA Fisheries spokesperson Julie Fair confirmed the killer whale managed to swim back out the sea once the tide rose.
"Reports from the scene indicate that the whale was a little bit slow at first and meandered around a little bit, and then swam away.
"We're trying to determine if it was a known killer whale, If so what pod it was from, and to assess its condition and any injuries that it might have. Knowing that will just help us further our scientific understanding of killer whales," local radio station KRBD FM reported. They added Fair didn't think the beaching and the earthquake were linked.
Jared Towers, who works for Canada's Department of Fisheries and Oceans, claimed this particular orca was called T146D.
Towers explained the name to Alaska Public Media, saying: "It allows us to keep track of the whale after the stranding. And that may be among the most important parts of identifying animals like this."
He reckoned the orca had a good chance of survival based on the similar beachings of five killer whales over the last 20 years. All survived, and four are still alive.
"They've all rejoined their families after stranding, and they've all gone on to survive and live normal, healthy lives. And the only reason we know that is because their identities were documented when they were stranded, and their identities were further documented," the site quoted Towers saying.
Newsweek has reached out to Neilson for comment.