Breastfeeding Mom Claims Company Accused Her of 'Milking the Clock'
A woman is claiming that her male-dominated company allegedly made numerous remarks about her breastfeeding at work, including not properly accommodating her legal rights.
FOX 2 Detroit reported that Brianna Terry, a lead masker at a metal finisher called Spraytek in Madison Heights, Michigan, returned to work six weeks after giving birth. But when she needed a place to pump, she allegedly was not met with open arms by supervisors and co-workers.
The Fair Labor Standards Act (FLSA) was amended March 23, 2010, by the Patient Protection and Affordable Care Act to "require employers to provide a nursing mother reasonable break time to express breast milk after the birth of her child."
Terry alleged that one of her supervisors told her she had nowhere to pump in the building, at one point telling her she could occupy the bathroom.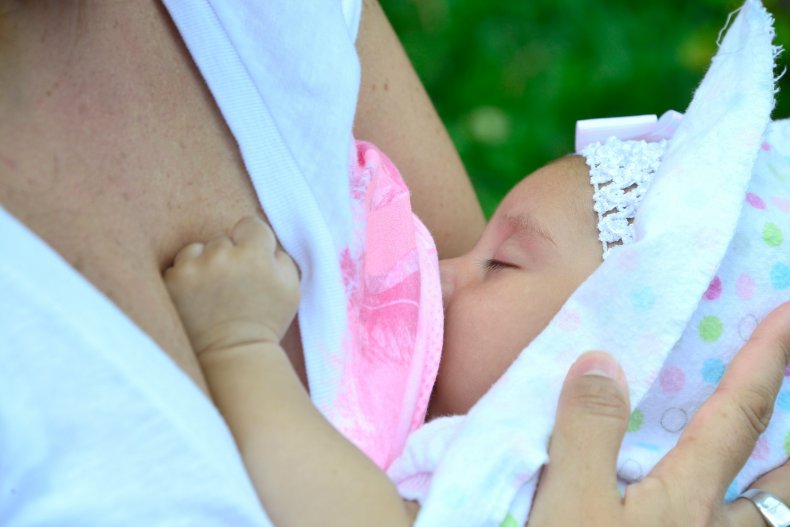 "He said, 'You could just do it in the bathroom,'" Terry said. "I am like, when you are breastfeeding your child, that is their food, this is her steak dinner. Would you eat your steak dinner in the bathroom?"
She claimed the workplace acted this way for a period of two months. It wasn't only management but also co-workers, including one unnamed employee who allegedly told her that pumping should not take as much time—saying she was literally "milking the clock."
Terry said her supervisor ultimately let her pump in the quality room, which acted as both a workspace to check parts and a breastfeeding space.
The amendment also required employers to provide a place "other than a bathroom" and "shielded from view and free from intrusion from coworkers and the public" to breastfeed.
Employees should be offered "a reasonable break time" for one year following birth. However, the FLSA stipulates that "an employer shall not be required to compensate an employee receiving reasonable break time...for any work time spent for such purpose.
Congress passed the Fairness for Breastfeeding Mothers Act of 2019 that requires certain public buildings to have a "lactation room" other than a bathroom to be shielded from view, free from intrusion, and contains a chair, working surface and electrical outlet if available.
In Terry's case, her employer said she was the first such employee to breastfeed.
Terry is currently on unpaid family and medical leave, saying that her company's human relations department told her it would lessen the burden of pumping at work—adding that the situation should resolve itself or at least become easier after six months.
They maintain they followed the law and will welcome Terry back when she returns.
Newsweek reached out to Spraytek for comment.
National formula shortage
The Centers for Disease Control and Prevention reports that almost 84 percent of infants are breastfed to some degree, though it's exclusive to only about 25 percent of infants through the first six months.
Breastfeeding at home for mothers like Terry lessens the heartache of finding formula. In late April, about 40 percent of baby formula was out of stock across the country, according to Datasembly, including shortages at about 11,000 stores across the U.S.
It is an approximate 29 percent increase compared to the previous month, causing some parents to concoct their own at-home recipes to save time and money. Simultaneously, pediatricians spoke out to warn consumers on what not to mix for safety reasons.
Earlier this year, accusations were made against the FDA for not properly preventing baby deaths related to bacteria discovered at manufacturing facilities for some of the biggest formula makers nationwide.