Becky Lynch vs Ronda Rousey Cancelled? Reports Say Match Pulled From Survivor Series
UPDATE: WWE confirmed Becky will be pulled from her match this Sunday.
Original Story
One of the marquee matches on WWE's Survivor Series card could be in jeopardy after Becky Lynch was injured in the closing segment of Monday Night RAW that saw the champ busted open and bloody, but triumphant.
According to Sean Ross Sapp of Fightful, Lynch suffered a broken nose and a concussion during last night's scuffle. This has reportedly led to WWE pulling the match off the Survivor Series card.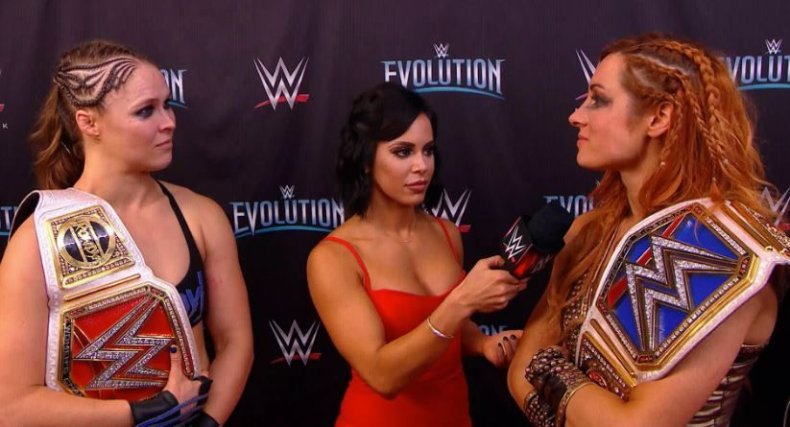 "Was hesitant to post this, because a lot can change, but I've been told by two sources that Becky Lynch vs. Ronda Rousey is off of this Sunday's Survivor Series card," Sapp said on Twitter.
Fightful reported that following the brawl Becky was evaluated by doctors and did not immediately travel with Team SmackDown to St. Louis, where tonight's SmackDown Live will take place. They also reported that Nia Jax was the one who caused Lynch's injuries. Jax initially didn't receive heat backstage for the accident, but that changed after Lynch's injuries became widely known.
WWE has yet to release a statement on Becky Lynch's condition and whether the match is officially pulled from the pay-per-view. We have reached to WWE for confirmation and a statement, and will update as soon as we learn more.
Becky Lynch has been active on social media since last night's incident posting pictures of her bloodied face and talking smack to Ronda and the rest of RAW.
Survivor Series is set to stream live on the WWE Network starting with the pre-show at 5 p.m. EST and the main show beginning at 7 p.m. EST.