Beijing's Industrial Wasteland Setting for Winter Olympics Horrifies Viewers
The location for one of the events at Beijing's winter Olympics has been compared to a "hellscape" online, as the ramp is situated amidst an industrial park.
China's capital is currently hosting the XXIV Olympic Winter Games, as athletes battle it out for a podium finish in 15 disciplines across seven sports, according to the official website.
As the games got underway, there were raised eyebrows across social media at the sight of Big Air Shougang, in west Beijing, on the site of a former steel mill.
Essentially a giant ski ramp, the 64-meter high and 164-meter long structure sticks out like a sore thumb against its surroundings.
Athletes taking part in the women's and men's freeski Big Air qualifying events were snapped amid a backdrop of cooling towers, emblazoned with Beijing's Olympic logo.
Taking to Twitter to share photos of the site @LeaMaric simply said: "Hellscape." Their tweet, posted on Monday, was liked more than 30,000 times, as other voiced similar views.
Lindsay wrote: "Feels pretty dystopian to have some kind of nuclear facility as the backdrop for this Big Air skiing event."
While John Lovett joked, referencing The Simpsons: "The Big Air stadium at the Olympics seems to be right next to the Springfield Nuclear Power Plant."
Molly commented: "When you can't find a nicer spot in the whole Beijing area to place the Big Air stadium so you stick it in the middle of a power plant... Keeping it classy China lmao."
And Michael quipped: "When discussing the vibe of the Big Air stadium for the Olympics, I wonder if the organizers said 'picture sunrise at three-mile island...'"
Although not everyone was dour about the ramp, as Bill Thompson asked: "Did you want them to knock down homes or a forest or something to build the temporary ski slope that won't be used again in two weeks? What's your actual issue here?"
Athletes alike were also positive about the location, as Team China's American-born freestyle skier, Eileen Gu said: "The venue is fantastic. I mean, look around, there's no snow anywhere else.
"And somehow when you're skiing on this job, you feel like you're on a glacier somewhere."
While Britain's freestyle skier, Kirsty Muir, also gave it rave reviews saying: "The venue is amazing and the bigger jump is so wild, it's such a cool place to have the jump in."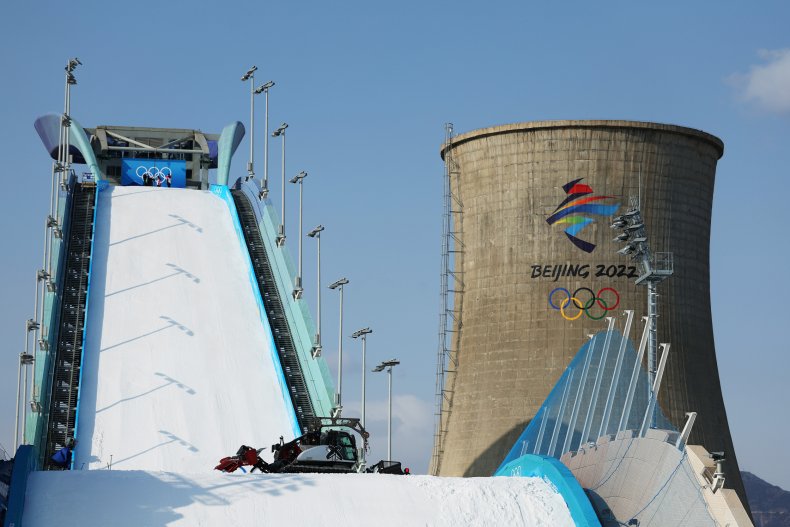 Although French Olympian, Antoine Adelisse, was less enthused. "The first time I was on the top I was a bit disappointed, because when we're at the top we usually see lots of mountains. But when the lights get on it's really amazing," Reuters quoted some athletes saying.
There were other benefits to having a purpose-built stadium, rather than hosting the event in actual mountains replete with snow, other Olympians claimed.
USA Today quoted Switzerland's Mathilde Gremaud, who said: "It's really cool to have a venue that's accessible. You can come in with your sneakers."
Big Air is relatively new to the Olympics, making its debut four years ago in Pyeongchang, albeit only for snowboarders.
It sees athletes hurtle down the ramp performing death defying jumps, tricks, twists and flips.
The ramp will not be dismantled after the games, making it for the world's first permanent Big Air venue.
Officials claimed Shougang park was chosen as the location to represent "sustainability by turning an industrial area into one for cultural and leisure use," Reuters said.