Eileen Gu Speaks Out on Peng Shuai, Repeatedly Dodges Nationality Questions
American-born skier Eileen Gu won China's third Olympic gold on Tuesday before carefully navigating a press conference where she was pelted with questions about Chinese tennis star Peng Shuai as well as her own nationality.
The 18-year-old breakout Olympian crashed China's main social media service, Weibo, after she came out on top in the women's freeski big air final. Raised in San Francisco and known in Chinese as "Ailing," Gu announced her decision to compete for China in July 2019, but she's never directly addressed the question of whether she had renounced her U.S. citizenship. China doesn't recognize dual nationality.
China's "snow princess"—born to an American father and Chinese mother—has become the country's most popular athlete at Beijing 2022. Her win over France's Tess Ledeux and Switzerland's Mathilde Gremaud was praised by the Chinese Communist Party's Beijing committee as well as Beijing's municipal government. In a joint statement, they described Gu as a "Beijing athlete" who had "won honor for the country."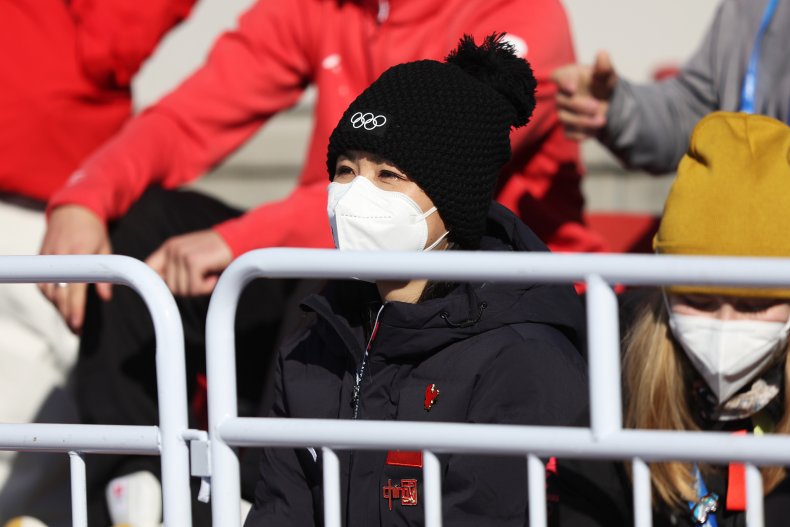 Watching her feat from the sidelines was three-time Olympian Peng, whose every appearance has been scrutinized since she took to Weibo last November to accuse a former high-ranking official of sexual assault. Her lengthy social media post was deleted within minutes, then she was not seen for nearly a month, sparking concern among peers for her physical and psychological well-being.
In the weeks that followed, Peng gave two supervised interviews to foreign newspapers, in which she repeatedly denied making the allegations against former Vice Premier Zhang Gaoli. But the Chinese public, including her many fans, aren't privy to these developments—Peng's name remains censored within the country's highly regulated information environment.
After medaling in Beijing on Tuesday, Gu acknowledged Peng's presence in the stands and hinted at familiarity with her case, but the two didn't appear to interact. "I'm really grateful that she's happy and healthy and out there doing her things again," she said, according to Reuters.
Thomas Bach, the International Olympic Committee president who has been criticized for failing to take a harder line with the Chinese government on behalf of Peng, met the former doubles No. 1 on the day as well as earlier this week, an IOC statement said on Monday. It was unclear whether she was now allowed to make public appearances without the presence of a Chinese official nearby.
Watched by China's Olympic committee chief of staff Wang Kan on Sunday, Peng, 36, told French sports daily L'Équipe that her allegations against Zhang resulted in "an enormous misunderstanding from the outside world." She again walked back her charges in the interview activists later likened to a forced confession. Her comments were also censored on Weibo, but users who managed to glimpse the content—presumably using virtual private networks—weren't convinced.
Reporters who attended Gu's post-win press event said the American-Chinese athlete dodged questions about her citizenship some half a dozen times. Whether or not she has given up her U.S. citizenship has been the subject of debate for months, but Gu said she retains affinity for both countries and cultures.
Having previously expressed pride in becoming a role model for young athletes in China, Gu told the Olympics website her gold medal performance was "the best moment" of her life. "The happiest moment, day, whatever—of my life. I just cannot believe what just happened."
Scrutiny of Gu's citizenship has rarely been detached from U.S.-China relations, which are in their worst state since diplomatic ties were established more than four decades ago. Washington's determination that Beijing is continuing to commit human rights abuses amounting to genocide against Xinjiang's Uyghur population only places the teenager under a brighter spotlight.
Competition between the two governments reaches the arenas of diplomacy, economics, technology, the military and now sports—a phenomenon that emerged most strikingly during last summer's Tokyo Games. Amid the ongoing Western-led diplomatic boycott, China's nationwide celebrations of Gu's achievements would appear to be a welcome win for Beijing.