As Belarus Protests Freeze Over, Lukashenko's 'Terror' Targets Journalists
Belarusian President Alexander Lukashenko was on the ropes in mid-August, as tens of thousands of protesters descended on sunny Minsk to demand the resignation of the man known as "Europe's last dictator," and the free elections they believed they had been denied at the start of the month.
Lukashenko, then 65, had been in power for 26 years, taking control of Belarus soon after it became independent from the collapsing Soviet Union. But last summer marked the most serious challenge yet to his rule, the pro-democratic opposition coalescing around challenger Sviatlana Tsikhanouskaya, herself a replacement for husband Sergei Tikhanovsky, arrested 10 weeks before polling day.
Protesters were brutalized in the streets and in prisons, and security forces continued a steady drumbeat of arrests and harassment against anyone suspected of involvement in the unrest. Fortified with backing from the Kremlin—President Vladimir Putin even hinted he might send Russian troops to maintain control—Lukashekno weathered the worst of the demonstrations.
With more arrests, more threats, more coronavirus infections and colder weather, the protest movement has lost momentum. The opposition is longer thronging the streets of Minsk in their tens of thousands. But action continues in residential areas; on January 17 the independent BelaPAN news agency reported at least 30 marches and rallies across the country.
BelaPAN and other non-state media organizations are a lifeline to the opposition, a vital conduit through which their continued organizing can be seen and heard. This, journalists and rights activists told Newsweek, is why journalists have become Lukashenko's most recent targets.
"The trust in independent media in Belarus in general has grown tremendously throughout 2020, both due to their coverage of COVID pandemic—which was different from the state's approach—and then later coverage of the elections," said Maryia Sadouskaya-Komlach, leader of the Eurasia team at Free Press Unlimited.
"I think the government is trying to eliminate the trusted sources and brands so that later it can manipulate the social media-generated content, spreading fakes, spreading rumors," creating a "murky" situation where "you don't know who to trust," Sadouskaya-Komlach said.
"There have been continuous arrests of journalists," Sadouskaya-Komlach said. "Previously, mostly when journalists were streaming from the events, for example. 'There was a protest and you hold your camera, we break your camera,' and so on and so forth. But now it has moved on, I think since November. They are now targeting journalists for doing normal fact-checking work."
Criminal proceedings have been opened against at least nine journalists since November, according to Reporters Without Borders and the Belarusian Association of Journalists. Among them is Andrei Aliaksandrau, a reporter at BelaPAN who helped crowdfund to cover the legal costs of jailed protesters and their families.
One of his colleagues at BelaPAN—Tatsiana Bublikava—was present when security agents raided the news agency's offices in Minsk on January 14 as part of their investigation into Aliaksandrau. Bublikava required medical attention because of a spike in blood pressure, and was allowed to leave the office in an ambulance.
One armed security agent accompanied Bublikava to hospital, and tried to stop her using her phone to report the incident. Bublikava was able to record and publish video statements while hiding from the agent.
"The agency's activities were almost paralyzed," Bublikava told Newsweek of the BelaPAN raid. The staff not arrested now fear for their safety and their careers, she explained. "We are all tired of being afraid," Bublikava said.
"We are tired of fearing job losses, arrests, KGB questioning and wiretapping. We are tired of the atmosphere of fear and distrust. We want to just live, breathe freely, be open and honest to each other, and not to fear for our loved ones."
Journalists were caught up in the violence of the initial protest wave, and were shot at, beaten, arrested and charged alongside marchers. But this crackdown is more targeted, more deliberate. The regime is attacking journalists as a way to weaken the pro-democracy movement and, more broadly, the value of reality.
"Unbiased reporting helps people make decisions and keep protesting," Bublikava said. "Our reports neutralize the influence of lies from the state-owned media. For instance, the state-owned media claim that an opposition rally drew no more than 20,000 people, but we publish video reports clearly showing that many more people attended the rally."
"It is thanks to media reports that people learned that a protester, Aliaksandr Tarajkouski, was shot dead by a police officer, although he was unarmed and holding his arms up," she added. "It is largely due to the non-state media that the public is aware of police atrocities and torture against peaceful protesters."
The Belarusian Foreign Ministry did not reply to Newsweek's request for comment on the crackdown on journalists and activists in recent months.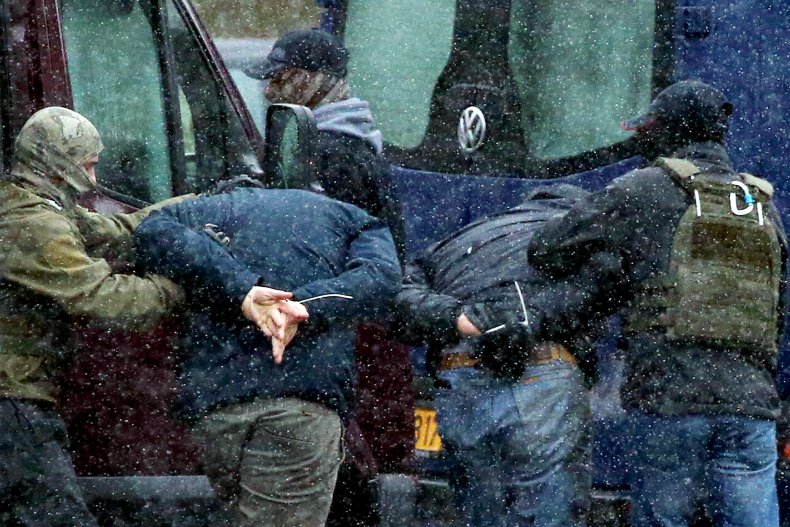 The protests may be in a lull now, but both sides expect a resurgence of activity come spring. Political unrest and a simmering economic crisis is a potent combination. Already there are signs of renewed activity; this weekend police arrested more than 100 people at protests in the capital.
"I think there will be increased pressure on the non-state media as protests increase and an end to Lukashenko's rule becomes closer," Bublikava said. "I do not know what exactly may happen, but it is obvious that Lukashenko will make an all-out effort to retain power and is ready to go to the bitter end."
Earlier this month, a recording said to be of Deputy Interior Minister Mikalay Karpyankou was leaked, revealing the extremes to which the security services are willing to go to snuff out the priests. A voice, purportedly Karpyankou, said the regime was considering building internment camps for political prisoners and urged officers to use more lethal weapons and tactics against demonstrators.
"This man will stop at nothing to protect himself and his rule," Bublikava said. "It is really scary to think what he can do. That is why we must not stop or else dark times will come."
Opposition leader Sviatlana Tsikhanouskaya fled the country after last year's disputed election, fearing for her own safety. She has since been rallying support for the protests abroad. She told Newsweek that the protests would resume in spring.
"The reason is quite simple: the underlying motivations for our struggle have not gone anywhere," Tsikhanouskaya said. "Belarusian protest has been fueled by the desire to reclaim our dignity. We have done it already in our hearts. However, we are yet to do that in our government."
"People will come out to protest because it is still the only way to have their voices heard," she added. "The big difference is that in autumn we were going out still fearing we might come out alone. Week by week, we were discovering our neighbors, our friends, our co-workers believe and want the same."
"Now Belarusians are confident of it. And I have no doubt that armed by this confidence, the connections, the friendships and the solidarity, Belarusians will peacefully take to the streets again in spring."
News reporters remain vitally important for the protest movement, Tsikhanouskaya added. "Journalists are absolutely crucial as dictatorships flourish in the dark," she said. "Our peaceful protest hinges on the media."
President Joe Biden's election may bring some hope that the U.S. will take a renewed interest in Lukashenko's suppression of protests, especially considering Putin's staunch support for the dictator.
A State Department spokesperson told Newsweek it was "deeply troubled by the Belarusian regime's long-standing campaign against independent media," adding: "We call on the authorities in Minsk to immediately release all journalists imprisoned for their work.
"A free and professional press is a core institution undergirding a healthy democracy and is vital to ensuring that an electorate can make informed decisions."
Belarus could become an element of Biden's brewing confrontation with Russia. The State Department spokesperson said the U.S. was "also concerned by Russia's willingness to intervene" and was "watching Russia's actions closely, such as its insertion of journalists from Russian state-controlled media into Belarusian state-controlled outlets, replacing Belarusian journalists and technical personnel."
Tsikhanouskaya noted that Biden voiced his support for the protests in October and said congressional backing for the Belarus Democracy Act was "a clear testament to American commitment to supporting Belarusian aspirations for freedom and democracy."
"We want to see more sanctions, in part targeted economic sanctions on the enterprises directly funding the regime," Tsikhanouskaya said. "The United States could play a coordinating role in consolidating the EU's, Canada's, and other like-minded countries' response to the crisis in Belarus."
"In particular, it is a great chance for President Biden to establish himself as the leader of the free world, as American presidents are often called, by leading a global response to the crisis in Belarus."
But Biden's options are limited and American sanctions will have less of an impact on Lukashenko's regime than measures from the European Union.
Alaksiej Lavoncyk is the organizer of the BY_help organization, which raises awareness and funds to support the legal cases of activists and journalists imprisoned by the government. He told Newsweek that while American action would be less significant than European, it could still be a useful signal of opposition.
"Anything that's making them look isolated works," he told Newsweek. External pressure breeds internal dissent, creating cracks in the regime facade and producing leaks like the audio said to be of the deputy interior minister.
Such developments are "promising signs," Lavoncyk said. Sanctions might not topple Lukashenko, but "they can keep pressing Lukashenko to the point that the police become disgruntled, that the operatives become disgruntled."
Tatsiana Bublikava is also hopeful that Biden will back the protesters, though Putin is unlikely to allow Minsk to slip from his orbit. A democratic revolution across the border would undermine his position at home and Belarus is one of his valuable regional allies.
The Kremlin did not hesitate to send troops and weapons into Ukraine to hamstring the pro-Western revolution there—and having lost his backers in Kiev, Putin will be even more guarded over Belarus.
A resurgence of protests in spring could again push Lukashenko to the brink. In the meantime, activists and journalists must survive a punishing winter, a rampant pandemic and vindictive security apparatus.
"I am afraid, but we should not keep silent because silence would cost us more," Bublikava said. "If we cease to tell people the truth, we will never be able to stop this terror and evil."
This article has been updated to include comments from opposition leader Sviatlana Tsikhanouskaya.