Belarusian Foreign Minister Expressed Russia Fears Before Death
Vladimir Makei, the former foreign minister of Belarus, expressed his fears that Russia would annex Belarus before his sudden death in November 2022, according to Finland's foreign minister Pekka Haavisto.
Makei, who had held his post since 2012, died "suddenly" at the age of 64 in Minsk, Belarusian state news agency Belta reported on November 26. No cause of death was given.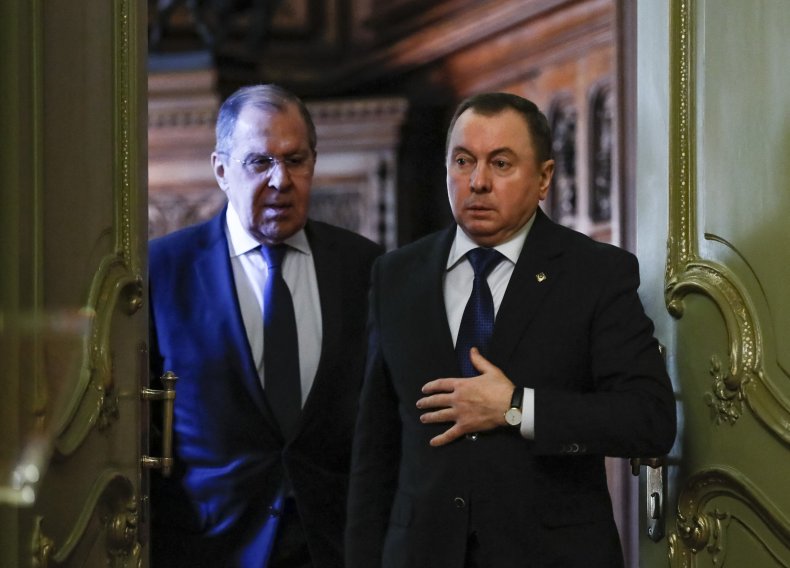 Haavisto gave an interview with Finnish tabloid newspaper Iltalehti published on Wednesday. He said that he had spoken with Makei after Russian President Vladimir Putin illegally proclaimed to annex four Ukrainian regions on September 30, 2022—the Donetsk and Luhansk regions, Kherson and Zaporizhzhia.
"He was very worried about whether Belarus would be the fifth [region]," Haavisto said.
He told the news outlet that he told Makei that his view was interesting, because, to outsiders, it appears that Belarus supports Russia "in every way."
While Belarus, a loyal Kremlin ally, hasn't directly joined the Ukraine conflict, Russian troops have been allowed to conduct exercises on Belarusian territory since before the beginning of the war. The country was used by Russia to launch its full-scale invasion of Ukraine on February 24, 2022.
The Finnish foreign minister said sweat was dripping from Makei's forehead and that he said that he never knows who will be next.
Last week, a group of international journalists said they obtained a Russian presidential document from the summer of 2021. It lays out a plan for Russia to absorb Belarus by 2030.
The 17-page document, entitled "Strategic Goals of the Russian Federation in Belarus," details how to push back Western influence in Belarus and how to diminish the country's independence.
By 2030, Russia should have "control of the information space" in Belarus, the document allegedly said.

"Unprecedented political and sanctions pressure from the collective West is pushing Russia and Belarus to speed up the unification process," Putin told a bilateral forum in the Belarusian city of Grodno on January 6.
Makei's mysterious death came two months after Putin's illegal annexation of the four Ukrainian regions.
"Vladimir Makei, Minister of Foreign Affairs of the Republic of Belarus, has suddenly passed away today," the Foreign Ministry said in a statement at the time. It did not give further details on the circumstances surrounding his death.
Makei had been scheduled to meet with his Russian counterpart, Sergei Lavrov, just two days later. Russian foreign ministry spokeswoman Maria Zakharova said the ministry was "shocked" by reports of his death.
Newsweek has contacted Russia's foreign ministry for comment.
Do you have a tip on a world news story that Newsweek should be covering? Do you have a question about the Russia-Ukraine war? Let us know via worldnews@newsweek.com.