A clip of Ben and Jerry's co-founders struggling to explain why they are refusing to sell their ice cream products in Israeli-occupied Palestinian territories and not other parts in the world or certain states in the U.S. has gone viral
The video of Ben Cohen and Jerry Greenfield being interviewed on Axios on HBO by Alexi McCammond was shared on Twitter by StandWithUs Israel Executive Director Michael Dickson, where it has since been viewed more than one million times.
Dickson described the interview as a "car crash" in a tweet, adding that it shows "why their Israel boycott is wrong-headed, unfair and yes – discriminatory. No wonder States and customers are dropping them. Unilever ought to act to reverse this – and quickly."
During the interview the pair were asked why, if they disagree with the Israeli government policy, have they not stopped sales in the country altogether instead of just in the areas of West Bank and Gaza.
"Well, I disagree with the U.S. policy. We couldn't stop selling in the U.S.," Cohen replied. "I think it's fine to be involved with a country, to be a citizen of the country, and to protest some of the country's actions. And that's essentially what we're doing in terms of Israel. We hugely support Israel's right to exist. But we are against a particular policy."
Cohen and Greenfield are of Jewish descent. Cohen explained that they are "always in favor of a two state solution" with regards to the Israeli–Palestinian conflict.
"The policy of the Israeli government has been to endorse the settlements in the occupied territories that keep on making it harder and harder to actually have a two state solution," Cohen said.
McCammond then asked the pair known for their liberal views and who are "big proponents of voting rights" why they still sell ice cream in Georgia—a state which has passed a number of new restrictive voter laws—as well as in Texas, which recently passed a law which banned abortions in almost all circumstances after just six weeks.
"I don't know," Cohen replies. "I mean, it's an interesting question. I don't know what that that would accomplish. We're working on those issues of voting rights and... [long pause] I don't know, I think you asked a really good question. And I think I'd have to sit down and think about it for a bit."
Cohen then attempts to explain why they still sell Ben and Jerry's in Texas despite the restrictive abortion by stating: "By that reasoning, we should not sell any ice cream anywhere. I've got issues with what's being done in most every state and most every country."
Greenfield then suggests: "I think one thing that's different is that what Israel is doing is considered illegal by international law, so I think that's a consideration."
Alex Gandler, Israeli Deputy Consul General to the Southeast, also shared Dickson's tweet containing the clip while describing it as a "cringe worthy" interview.
"Making statements and decisions about Israel without understanding anything about it," he added. "It's nice to sit in your nice and green pasture in Vermont while criticizing Israel."
Emmanuel Navon, a professor of political science at Tel Aviv University, tweeted: "Ben Cohen makes such a fool of himself that Jerry Greenfield tries to look smarter by invoking 'international law.' Nice try Jerry, but then why does @benandjerrys still sell ice cream in Crimea, Nagorno-Karabakh, Northern Cyprus, and Western Sahara?"
When contacted, Ben and Jerry's pointed Newsweek to its previous statement issued in July.
"We believe it is inconsistent with our values for Ben & Jerry's ice cream to be sold in the Occupied Palestinian Territory (OPT). We also hear and recognize the concerns shared with us by our fans and trusted partners," it read.
"We have a longstanding partnership with our licensee, who manufactures Ben & Jerry's ice cream in Israel and distributes it in the region. We have been working to change this, and so we have informed our licensee that we will not renew the license agreement when it expires at the end of next year.
"Although Ben & Jerry's will no longer be sold in the OPT, we will stay in Israel through a different arrangement. We will share an update on this as soon as we're ready."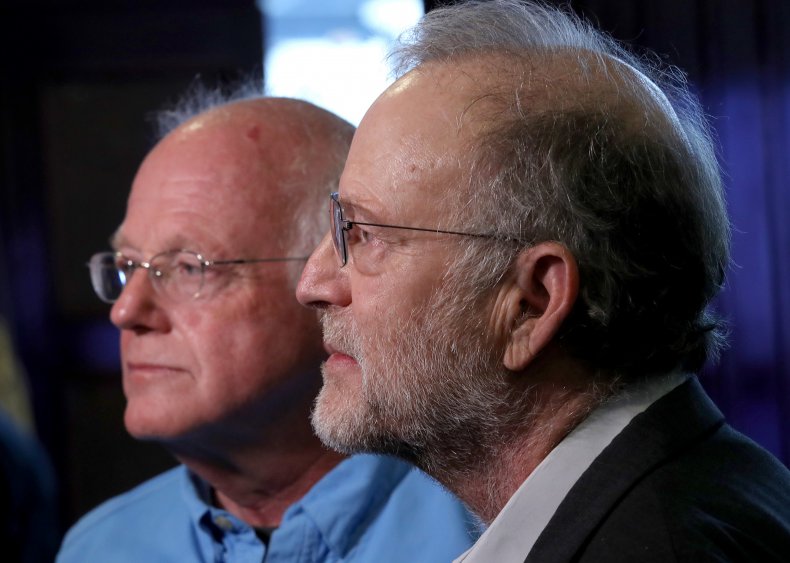 Update 10/13/21, 5:05 a.m. ET: This article has been updated to include earlier comment from Ben & Jerry's.