The world of journalism has been paying homage to a Fox News correspondent who sustained serious injuries in Ukraine during an attack that left two of his colleagues dead.
Responding to now-deleted updates from Fox News' Benjamin Hall on Twitter, his colleagues and journalists from media outlets including CNN, BBC and The Washington Post offered prayers and well wishes to Hall and his family as he recovers from his injuries.
"To sum it up, I've lost half a leg on one side and a foot on the other. One hand is being put together, one eye is no longer working, and my hearing is pretty blown," Hall said in a Twitter post on Thursday evening that has since been deleted.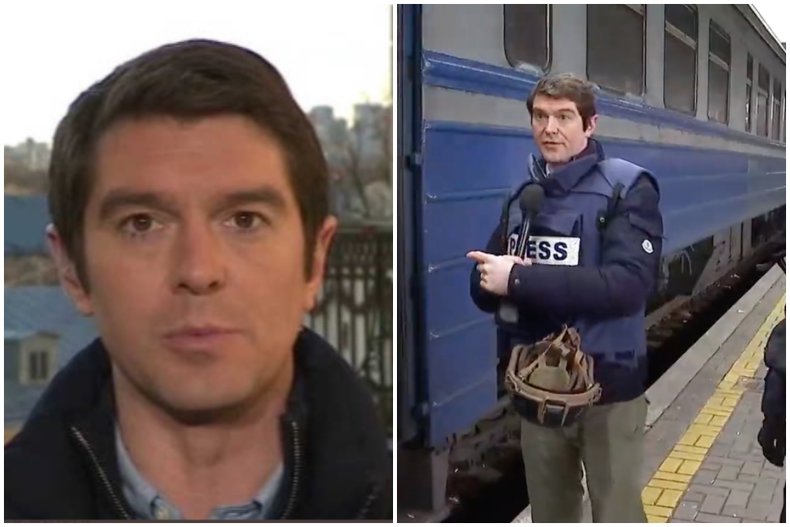 He shared a photograph of himself wearing an eyepatch on his left eye and lying down on what appeared to be a stretcher or a hospital bed.
"But all in all I feel pretty damn lucky to be here - and it is the people who got me here who are amazing!" Hall wrote.
In an earlier tweet that has also been deleted, Hall said it has been "over three weeks since the attack in Ukraine and I wanted to start sharing it all."
"But first I need to pay tribute to my colleagues Pierre and Sasha who didnt make it that day. Pierre and I traveled the world together, working was his joy and his joy was infectious. RIP," Hall wrote.
Hall was wounded on March 14 when Russian forces opened fire on the vehicle he was traveling in alongside cameraman Pierre Zakrzewski, 55, and Ukrainian journalist Oleksandra Kuvshynova, 24.
Their deaths were confirmed by Fox News.
Fox News' Dana Perino, co-anchor of America's Newsroom and co-host of The Five, paid homage to her colleague, saying: "With gratitude for the life that is @BenjaminHallFNC - what a human he is."
"God bless you Ben. Sending you and your family good energy & prayers," tweeted Fox News national correspondent Matt Finn.
Fox News foreign correspondent Trey Yingst wrote: "We love you, brother. Keep fighting."
Fox News correspondent Charles Watson said he is praying for Hall's "physical and mental healing," adding: "I am so glad you are still with us!".
"Stay strong. Keep fighting," tweeted Fox News medical contributor Dr. Janette Nesheiwat. "We are all Praying for you! God wasn't ready to take you."
CNN anchor Jake Tapper said he is "sending best wishes and prayers" to Hall, while WBAL NewsRadio talk show host Kimberly Klacik said the journalist's "courage and resilience will inspire many."
The Washington Post's Dan Lamothe extended his well wishes to Hall, wishing him a "speedy recovery."
"Thanks for your hard work," tweeted Lamothe.
6ABC journalist Jillian Mele described Hall as "one of the finest humans on the planet."
"@BenjaminHallFNC continued prayers to you and your family," she wrote.
"Unbelievable. Benjamin is a British journalist, living in DC with his wife & three daughters. He was hit by a bomb blast whilst traveling in a car as he reported from #ukraine. @BenjaminHallFNC's colleagues Pierre and Sasha didn't make it," added BBC broadcaster Victoria Fritz.
Hall, a D.C.-based correspondent covering the State Department, joined the network in 2015. He has previously been based in London, Syria and Iraq.