Jan. 6 Committee Chair Frets Over Tucker Carlson Accessing Capitol Footage
Massachusetts Congressman Bennie Thompson, the former chairman of the House Select Committee investigating the January 6 attack, has expressed concerns about House Speaker Kevin McCarthy handing over tens of thousands of hours of footage from the Capitol riot to Fox News host Tucker Carlson.
Axios first reported that McCarthy gave Carlson and his producers exclusive access to around 41,000 hours of footage from the 2021 riot, excerpts of which will be broadcast in the coming weeks.
In response, Thompson said McCarthy needs to explain to the American people why he is willing to allow "potential security risks" by letting Carlson go through the footage before deciding which parts to broadcast on his primetime show.
For the past two years, Carlson has often downplayed the violence that occurred during the attack.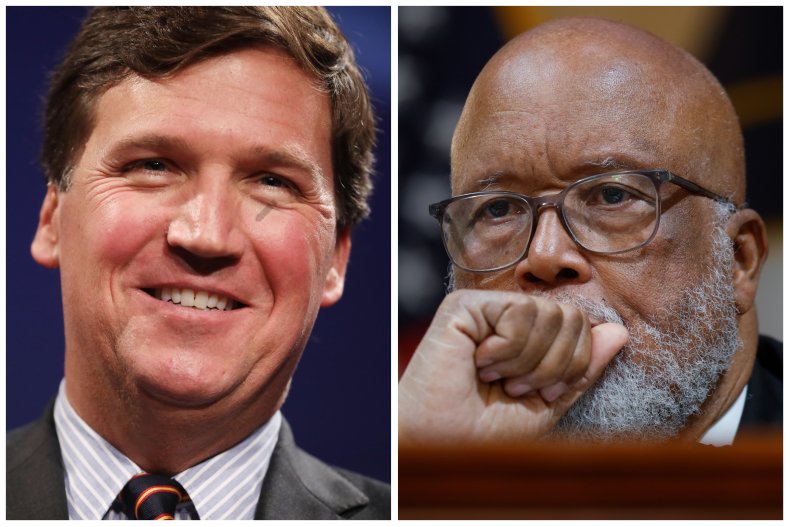 The Fox News host has also been accused of spreading pro-Kremlin "propaganda" in his show, with clips from Tucker Carlson Tonight often appearing on Russian state media programs.
"When the Select Committee obtained access to U.S. Capitol Police video footage, it was treated with great sensitivity given concerns about the security of lawmakers, staff, and the Capitol complex," Thompson said.
"Access was limited to members and a small handful of investigators and senior staff, and the public use of any footage was coordinated in advance with Capitol Police. It's hard to overstate the potential security risks if this material were to be used irresponsibly."
"If Speaker McCarthy has indeed granted Tucker Carlson — a Fox host who routinely spreads misinformation and Putin's poisonous propaganda — and his producers access to this sensitive footage, he owes the American people an explanation of why he has done so and what steps he has taken to address the significant security concerns at stake," Thompson added.
In November 2021, Carlson broadcast a controversial three-part documentary called Patriot Purge that was accused of spreading conspiracy theories about the riot, including the long-dismissed claim that the attack by Donald Trump's supporters was a "false flag" operation.
Other members of the January 6 panel, which wrapped up its investigation in December 2022 and disbanded when the new Congress was sworn in in January, have also criticized McCarthy for allowing Carlson access to the footage.
"Kevin McCarthy turned over Jan 6 videos to right-wing propagandist Tucker Carlson," California Representative Adam Schiff tweeted on Monday. "A man who spews Kremlin talking points. Suggests Jan 6 was a false flag. And spreads the Big Lie. Make no mistake: This isn't about transparency, it's about fueling dangerous conspiracy theories."
Maryland Representative Jamie Raskin tweeted the same day: "McCarthy giving 40,000 hrs of Jan. 6 tape to a pro-Putin journalist is an astounding ethical collapse. What security precautions were taken to keep this from becoming a roadmap for 2024 insurrection? Why isn't it available to all media & public? Smell the MAGA propaganda coming."
In January, McCarthy vowed to release thousands of hours of footage from the Capitol riot after finally being elected House Speaker as the "public should see what happened" that day.
A Fox News spokesperson told Newsweek when approached for comment that Carlson discussed the matter on his Monday night show:
"For more than two years now, we've been complaining about and we think it's justified the fact that the US Congress has held tens of thousands of hours of closed circuit camera footage from the public, they have not released any of it from January 6, and January 6, of course, is a transformative event in this country. It's been used to change the country," Carlson said.
"So there are about 44,000 hours, and we have, you may have heard this today, been granted access to that, and we believe that access is unfettered. We believe we have secured the right to see whatever we want to see.
"So we've been there about a week. Our producers—some of our smartest producers have been there, looking at this stuff and trying to figure out what it means and how it contradicts or not the story that we've been told for more than two years. We think already that in some ways it does contradict that story."
Newsweek reached out to McCarthy and members of the January 6 panel for comment.
Update 02/21/23, 10:21 a.m. ET: This article was updated with Tucker Carlson's comments on his Monday night show.