Berlin Police Report One Dead, Several Injured After Car Drives Into Crowd
A man drove his vehicle into a crowd of people in a popular Berlin shopping, German authorities said, killing at least one person and injuring at least eight others.
The man drove into people at the corner of Rankestrasse and Tauentzienstrasse near the popular Kurfuerstendamm shopping boulevard at around 10:30 a.m. on Wednesday, Berlin Police spokesperson Thilo Cablitz said.
He then got the car back on the road and crashed into a shop window further down the street.
Police confirmed that one person had died and several others were injured.
Five people sustained life-threatening injuries and another three were seriously injured, fire service spokesman Adrian Wentzel told n-tv television.
Police tweeted that the driver was a 29-year-old German-Armenian who lives in Berlin.
He was reportedly detained by passersby before big arrested by police.
Police have said it was not yet clear whether the incident was an accident or if the driver had intentionally driven into the crowd.
"We are currently on site with around 130 emergency services. The vehicle, a small car, was secured at the scene," police said on Twitter.
In a video filmed near the scene and posted on Twitter, actor John Barrowman reported seeing a dead body.
"It's really pretty bad guys," he said. "There's a lot of police, there's a dead body in the middle of the road and then over here there is all of the emergency services that are trying to help victims and people. There's a lot of people walking with limps and injuries."
He said: "The car came down onto the pavement, then has come onto the road over there, has hit somebody and has gone down the road and come back onto the pavement down that, down that way and come back onto the pavement and gone through a bunch of people, gone through the photograph that I posted of a cafe and then right into a storefront window."
He added that the police presence at the scene was "unbelievable."
"They are clearing out the area, but it was cordoned off," he said. "I heard the bang in the crash when I was, we were in a store and then we came out we just saw the carnage and there's helicopters coming in now to airlift people."
The incident happened next to the Breitscheidplatz square, where an extremist drove a truck into a Christmas market in 2016, killing a dozen people.
And in 2019, an SUV plowed into a group of pedestrians in central Berlin, killing four people. The driver had veered onto the sidewalk after suffering an epileptic seizure.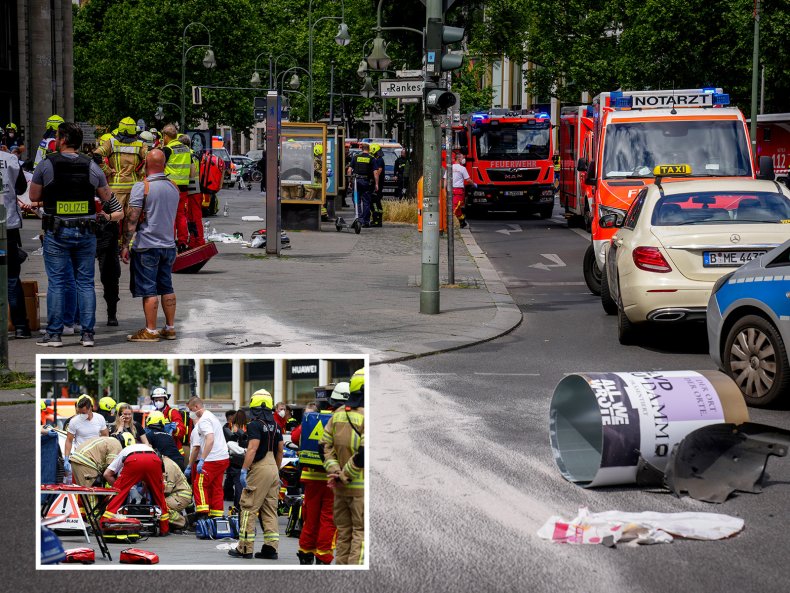 Update 6/8/22, 5:39 a.m. ET: This article was updated with additional information.
Update 6/8/22, 6:02 a.m. ET: This article and its headline were updated to include the latest information.
Update 6/8/22, 9:24 a.m. ET: This article was updated to include the latest information.