Bernie Ecclestone Apologizes for Pro-Putin Comments After Uproar
Bernie Ecclestone, the former chief executive of the Formula One Group, apologized on Saturday for defending Russian President Vladimir Putin amid the ongoing Russia-Ukraine war.
In June, Ecclestone offered a rare defense of Putin, which prompted swift backlash.
"Unfortunately, [Putin is] like a lot of businesspeople, certainly like me—that we make mistakes from time to time and when you make the mistake, you have to do the best you can to get out of it," he said in an interview with ITV's Good Morning Britain.
Putin ordered the invasion of the Eastern European country in late February, and has since faced widespread criticism as the conflict continues to disrupt the lives of millions of Ukrainians. He has sought to defend his country's "special military operation" by claiming he is seeking to "liberate" the Donbas region, and that Ukraine is run by Nazis, despite Ukrainian President Volodymyr Zelensky being Jewish.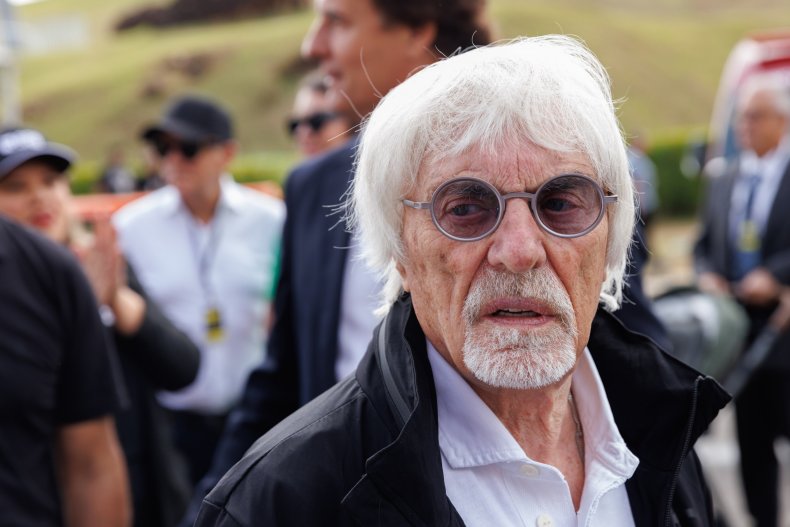 In the interview, Ecclestone said he would "take a bullet" for Putin, and that he is "a first-class person, and what he's doing is something that he believed was the right thing." When told the conflict has cost the lives of thousands of innocent civilians, Ecclestone responded that the war "wasn't intentional."
Ecclestone, however, apologized for his remarks Saturday in an interview with Sky Sports.
"So I think it's often people, I think, come out and say things or do things without really too much thinking. Probably I did the same," he said. "And I could understand people thinking I'm defending what he's done in Ukraine, which I don't."
He added that because he grew up in war times, he understands what the people of Ukraine are going through, and that he "feels sorry for the people of Ukraine having to suffer for something they haven't done."
"They don't deserve to have to suffer," he said. "It's not good for anybody. I can't see anyone getting anything out of this and I think they should get together and get an agreement. And I'm sorry if it's anything I've said that has upset anybody because it certainly wasn't intended.
His apology follows a wave of criticism for his initial remarks. A Formula One spokesperson condemned his comments in a statement to The Independent at the time. "The comments made by Bernie Ecclestone are his personal views and are in very stark contrast to position of the modern values of our sport," the statement said.
Lord Peter Hain, a British politician who is a member of the Labour Party, criticized the remarks in an interview with British publication Express on July 1.
"That's gobsmacking, after Putin's army has destroyed Ukraine and raped its women. Killing on a massive scale," he said. "Bernie Ecclestone did a lot for F1, but I think he should zip his mouth frankly, on these sorts of things."