British business magnate Bernie Ecclestone, the former chief executive of the Formula One Group, has long been creating controversies before he said that he'd "take a bullet" for Russian President Vladimir Putin.
Speaking Thursday to ITV's Good Morning Britain, Ecclestone, 91, said that Putin is a "first-class" person and described the authoritarian president as a "friend." The billionaire businessman also argued that Putin's invasion of Ukraine was President Volodymyr Zelensky's fault and compared the war to a business "mistake."
"Unfortunately, [Putin is] like a lot of businesspeople, certainly like me—that we make mistakes from time to time and when you make the mistake, you have to do the best you can to get out of it," Ecclestone said in the interview. He also said he'd "take a bullet" for the Russian president.
Told that Russia's aggression had cost thousands of innocent civilian lives, he simply replied, "It wasn't intentional."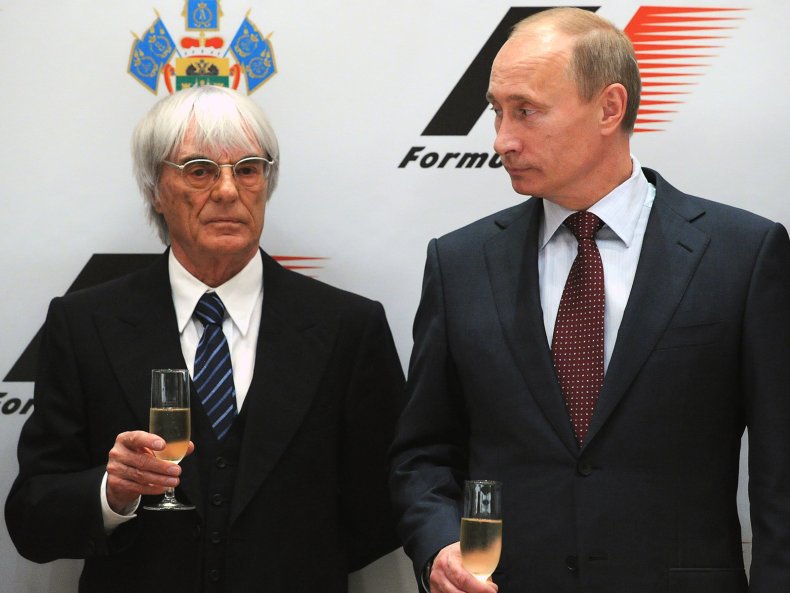 Putin launched his full-scale invasion of Ukraine on February 24, drawing swift international condemnation. The Russian president has tried to justify the war by claiming that Ukraine is led by Nazis. In fact, Zelensky is Jewish and had family members killed in the Holocaust during World War II. When Zelensky was elected in 2019, Ukraine's prime minister was also Jewish.
Ecclestone has a history of high-profile controversies. Here's a look at four of them.
Calling Black People Racist
In June 2020, the billionaire told CNN that Black people are often more racist than white people. Ecclestone made the remarks during an interview about Lewis Hamilton, a six-time world champion and the first and only Black driver to compete in F1, and his efforts to raise awareness about racism following the murder of George Floyd by a Minneapolis police officer.
Ecclestone initially praised Hamilton's campaign as "wonderful" and "a great job." But he then said, "In lots of cases, Black people are more racist than what white people are." Pressed for evidence to support that claim, Ecclestone said it was something he'd "noticed" during his life.
The businessman also criticized decisions to take down statues of former slaveholders and other racist individuals. "I think it's completely stupid taking all these statues down. They should've left them there. Take the kids from school to look and say why they're there and what the people did and how wrong it was what they did," he said.
Dismissing Women Drivers in F1
In 2016 remarks at Advertising Week Europe, Ecclestone suggested that women would not make good F1 drivers. "I don't know whether a woman would physically be able to drive an F1 car quickly, and they wouldn't be taken seriously," he said.
However, the billionaire also suggested women would make better chief executives than men. "Women are more competent, and they don't have massive egos," he said.
Speaking Favorably of Hitler
In 2009 and again in 2016, Ecclestone offered a favorable assessment of Adolf Hitler.
"In a lot of ways, terrible to say this, I suppose, but apart from the fact that Hitler got taken away and persuaded to do things that I have no idea whether he wanted to do or not, he was—in the way that he could command a lot of people—able to get things done," Ecclestone told London's Times newspaper in July 2009.
During his 2016 remarks at Advertising Week Europe, he defended the comments, saying they were taken out of context. He reasserted, however, that Hitler "got the job done," according to The Times of Israel.
Bribery Indictment
Prosecutors in Germany accused Ecclestone of bribery in 2012 in connection with a case against Gerhard Gribkowsky, BayernLB bank's chief risk officer. Ecclestone was later indicted in 2014 but ultimately reached a settlement. The billionaire paid a settlement of £60 million (about $72.8 million) to end the trial without admitting guilt.
Newsweek reached out to the Russian and Ukrainian foreign ministries for comment on Ecclestone's remarks on ITV.