Bernie Sanders: 2020 Hopeful Explains Cuban Leader Castro's Success, Criticizes Reagan in Resurfaced Interview
In a resurfaced interview, Senator Bernie Sanders from Vermont explained why Cuban leader Fidel Castro was successful and spoke critically of the administration of Ronald Reagan.
Sanders, who announced his intention to run for the 2020 Democratic nomination for president this week, gave the interview to Vermont's Channel 17/Town Meeting Television in 1985, while he was the mayor of Burlington. The interview was first resurfaced ahead of the 2016 presidential campaign by BuzzFeed and was shared again on Thursday by Mediaite in the wake of Sanders's newly launched presidential bid.
"Way back in—what was it?—1961, they invaded Cuba," Sanders said in the 1985 interview, "and everybody was totally convinced that Castro was the worst guy in the world and all of the Cuban people were going to rise up in rebellion against Fidel Castro. They forgot that he educated their kids, gave their kids health care, totally transformed the society," he pointed out.
Sanders, a self-described democratic socialist, also took aim at Ronald Reagan, who was serving as president at the time. "Not that Fidel Castro and Cuba are perfect. They certainly are not," Sanders asserted. "But just because Ronald Reagan dislikes these people doesn't mean that people in their own nations feel the same way."
Sanders continued, "Reagan and his people are so sophisticated. They own the airwaves...the media. Every time Reagan gives them a photo opportunity, thousands, 'Thank you, Mr. President. Thank you very much for telling us another lie!'"
Sanders gave the interview after returning from Nicaragua, at the invitation of the ruling Sandinista government. The politician also praised the leftist Sandinistas, calling Nicaraguan leader Daniel Ortega "impressive."
President Donald Trump and Republicans have already begun harshly criticizing Sanders for his socialist policies. A campaign email sent out by Trump's re-election team slams the Vermont senator for running on a platform of "full-blown socialism."
"A new wave of radical socialist Democrats is coming," the email warns. "America will never be a socialist country."
But the social policies promoted by Sanders campaign, including increasing taxes on the wealthy, providing free college education, Medicare for all and combating climate change are actually widely popular with the American people, according to several polls.
A CNN–SSRS poll conducted in late January and early February shows that 54 percent of U.S. adults support a government-provided national health insurance program. Additionally, nearly 60 percent of Americans support increasing the highest income tax rate to 70 percent for the country's wealthiest citizens, according to a recent survey by The Hill and HarrisX. And a poll conducted last summer by Reuters and IPSOS found 60 percent of respondents were in favor of a tax on speculative trading to provide free college tuition for those under certain income levels. A Gallup poll released last August also showed that the majority of Democrats have a favorable opinion of socialism, while only 47 percent view capitalism favorably.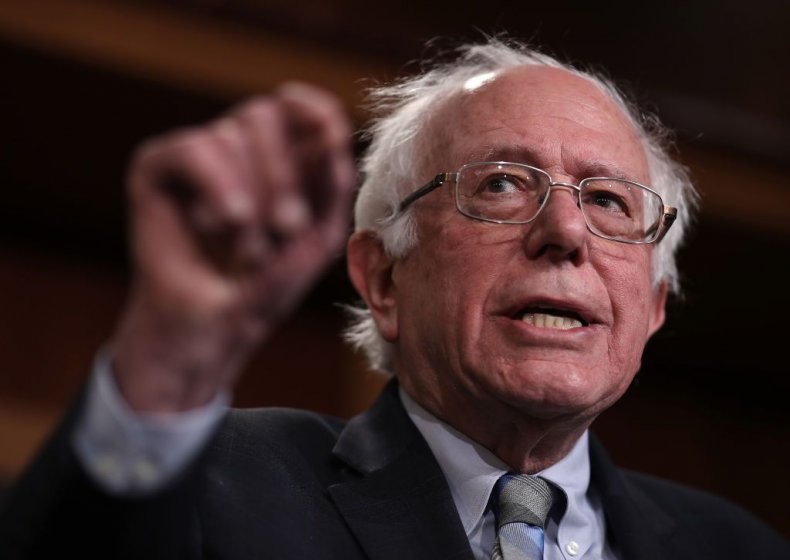 Congresswoman Alexandria Ocasio-Cortez from New York, who also describes herself as a democratic socialist and worked on Sanders 2016 presidential campaign, has also become widely popular. Her Green New Deal has been embraced by the majority of Democrats who have announced their intentions to run against Trump in 2020.
Waleed Shahid, the communications director of the Justice Democrats, a group founded by former Sanders staffers, dismissed attacks from the right directed at Sanders and other progressive Democrats for their socialist policies.
"The New Deal was 'socialist,' Social Security was 'socialist,' Medicare was 'socialist,' President Obama's health care reform was 'socialist," Shahid pointed out, The Hill reported. "Given that decades-long fear-mongering about socialism—and especially the way Barack Obama had that label put on him—I just don't think voters are going to be very responsive to that kind of message."
Thus far, Sanders has shown that he has widespread support. Within one hour of officially announcing his presidential campaign, he had already collected contributions from all 50 states. The 2020 hopeful also raised a whopping $6 million in just 24 hours following his announcement, with the average contribution being about $27. Democratic Senator Kamala Harris had previously held the record among the 2020 candidates, with $1.5 million raised in her first 24 hours.