If Bernie Sanders Wants to Win 2020 Election, He Needs to Control His Supporters, Democrats Say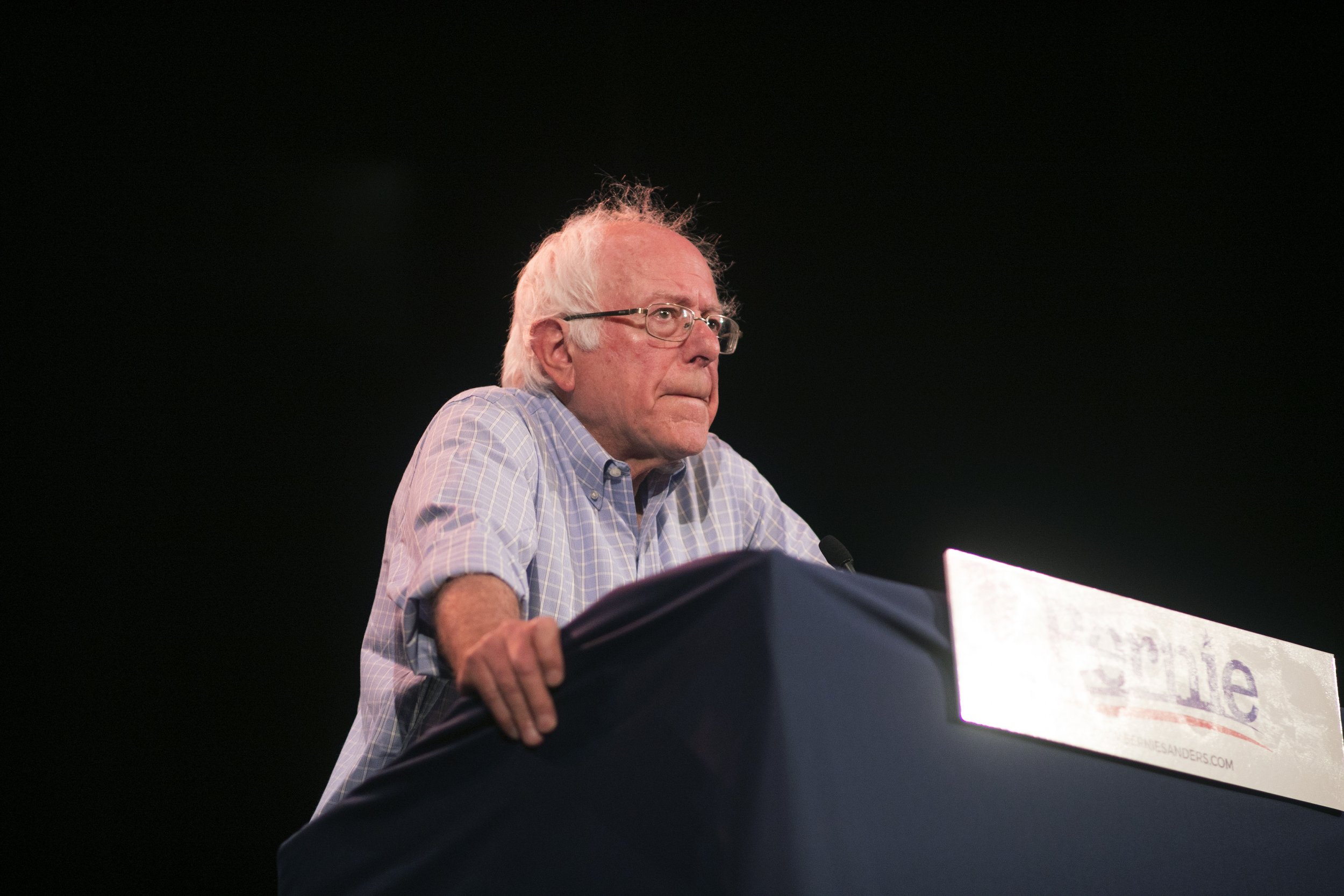 If Senator Bernie Sanders wants to lead the Democratic Party into the 2020 presidential election, then he needs to do a better job of controlling his supporters, leading Democrats have signaled to him. Sanders has remained an independent after losing a contentious 2016 Democratic presidential primary to Hillary Clinton, but he has played an increasingly influential role within the party's leadership.
Revealed: Bernie Sanders voters helped Trump win and here's proof
However, according to a Politico report Friday, if Sanders wants to retain such a lofty position and perhaps even fulfill his presidential ambitions in 2020, Democratic senators and outside groups have told him he needs to get a handle on his outspoken backers.
"The Democratic Party has treated Senator Sanders exceptionally well," Don Fowler, a former Democratic National Committee chairman, told Politico. "We collectively let him run in our primaries when he declared he wasn't a Democrat—I count that as a great favor and an opportunity almost no one else has ever received.
"I don't know what his intentions are in terms of the future," Fowler added about Sanders's handling of his more outspoken supporters. "Senator Sanders has to make his own decisions about what's responsible to do."
Attacks on rising party star Kamala Harris are said to have caused particular frustration among Democrats. The junior senator from California, seen as a potential candidate in 2020, was criticized by several Sanders supporters as being in the pocket of Wall Street.
Stunned by defeats at both the national and state levels in 2016, Democrats began to embrace Sanders in a way they controversially failed to do during last year's campaign. Just days after the election, the Vermont senator was appointed to the Senate Democratic leadership team. The party's economic platform, "A Better Deal," was released in July and leaned significantly on themes championed by the liberal 76-year-old.
The alliance remains an uneasy one. After Tom Perez defeated the Sanders-backed Keith Ellison to become chairman of the Democratic National Committee, Perez extended an olive branch by heading out with Sanders on a so-called unity tour. Even while on the road, Sanders did not avoid critiquing the party and calling for it to better represent the working class rather than the liberal elite.
But it is said to be Sanders's supporters who are causing the real unease. Many of his former aides have been rallying primary challengers to stand against establishment Democrats unwilling to get on board with a progressive agenda in the 2018 midterms.
At the same time, a centrist group, New Democracy, has emerged with a very different perspective, believing that moderate policies are the way to reverse the Democrats' huge losses in state legislatures.
Complaints have also raged against Sanders allies over their suggestion that support for the senator's single-payer health care proposal should be a litmus test for Democrats—though Sanders publicly said that shouldn't be the case.
Mark Longabaugh, a senior adviser to Trump's campaign, argued that Sanders should not be held responsible for every word and action of his supporters. "Bernie Sanders really does lead a movement; he doesn't run an organization," he told Politico. "And movements are different from organizations. A movement operates organically and moves on its own. It can have leaders, but no one directs a movement."