Vermont Senator Bernie Sanders encouraged Californians to vote against the effort to remove California Governor Gavin Newsom from office in an ad shared Monday by Newsom's campaign.
Sanders' participation in the Democratic Party's defense of Newsom came one month after Massachusetts Senator Elizabeth Warren appeared in a similar ad encouraging voters to rally in support of Newsom.
At the beginning of the ad featuring Sanders, the senator cited climate change, the fight to expand health care, and immigration reform as among the tasks facing the U.S. during "this unprecedented moment" in history.
"The last thing we need is to have some right-wing Republican governor in California," Sanders said.
He went on to identify the recall effort as "a bold-faced Republican power grab" and encouraged Californians to vote in the September 14 special election, either by mail or in person.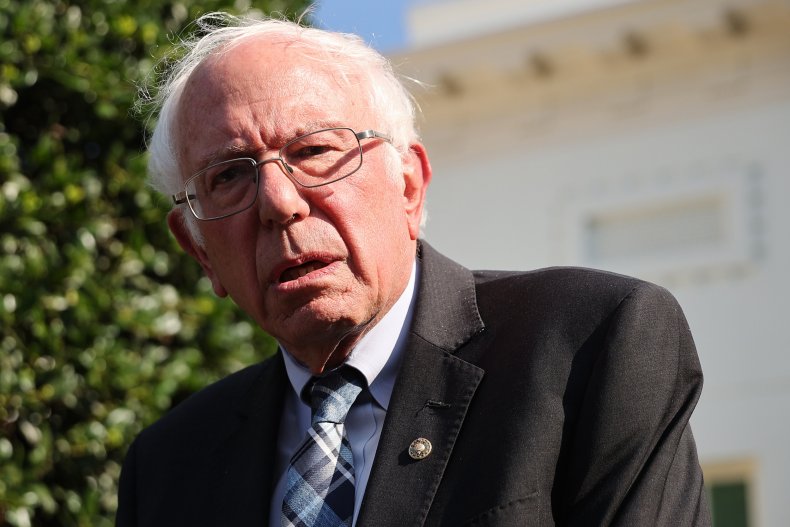 California voters will decide during the gubernatorial recall election whether Newsom will stay in office for the rest of his term or be removed and replaced. If more than 50 percent of voters cast their ballots in favor of recalling Newsom, he will be replaced by the recall candidate who receives the greatest number of votes.
Of the 46 recall candidates who appear on the ballot, conservative radio host Larry Elder has led among Republicans in polls conducted since Elder launched his campaign last month.
A press release Newsom's campaign sent Newsweek on Monday identified Elder as the Republican front-runner and said Elder is "particularly right-wing," citing as examples some of Elder's conservative views and his past support for former President Donald Trump.
Newsom's campaign has focused on Elder in recent weeks, telling voters in another ad released earlier this month that the outcome of the recall election will be "a matter of life and death" amid the ongoing coronavirus pandemic. That ad referenced comments Elder has made about revoking vaccine and mask mandates in the event he becomes California's new governor.
Ying Ma, the communications director for Elder's campaign, told Newsweek on Monday it was "no surprise" to see "outside politicians" such as Sanders in ads released by Newsom's campaign.
"The last thing we need is another year of the same smug, out-of-touch governor who has led the state to rampant crime, rising homelessness, out-of-control cost of living, rolling brownouts, severe water shortages, and raging wildfires," Ma said in a statement shared with Newsweek.
"This is the same governor who locked down California in a dictatorial, anti-science manner and treated small businesses as collateral damage during the pandemic," Ma continued. "Ordinary Californians have paid the price while Newsom talks glibly about their struggles, dines out with rich lobbyists, and fails to fulfill the most basic responsibilities of governance. It's no surprise that Newsom brings in outside politicians like Bernie Sanders because his own citizens have lost faith in him."
Recent polling has indicated voters are split on the decision to recall Newsom, with turnout expected to serve as a significant factor in the outcome. While voters in support of the recall are expected to remain engaged throughout the voting process, Newsom's campaign has worked to raise voter awareness of the recall election through ads like the one in which Sanders appeared.
The results of a Change Research poll published last week suggested interest in the special election among Democratic voters may be increasing as Newsom and the recall candidates count down the final days to the recall election.
Updated 08/30/2021, 3:16 p.m. ET: This story has been updated to include comments from Ying Ma, the communications director for Larry Elder's gubernatorial campaign.