Bernie Sanders Says He 'Likely' Would Have Beaten Donald Trump for President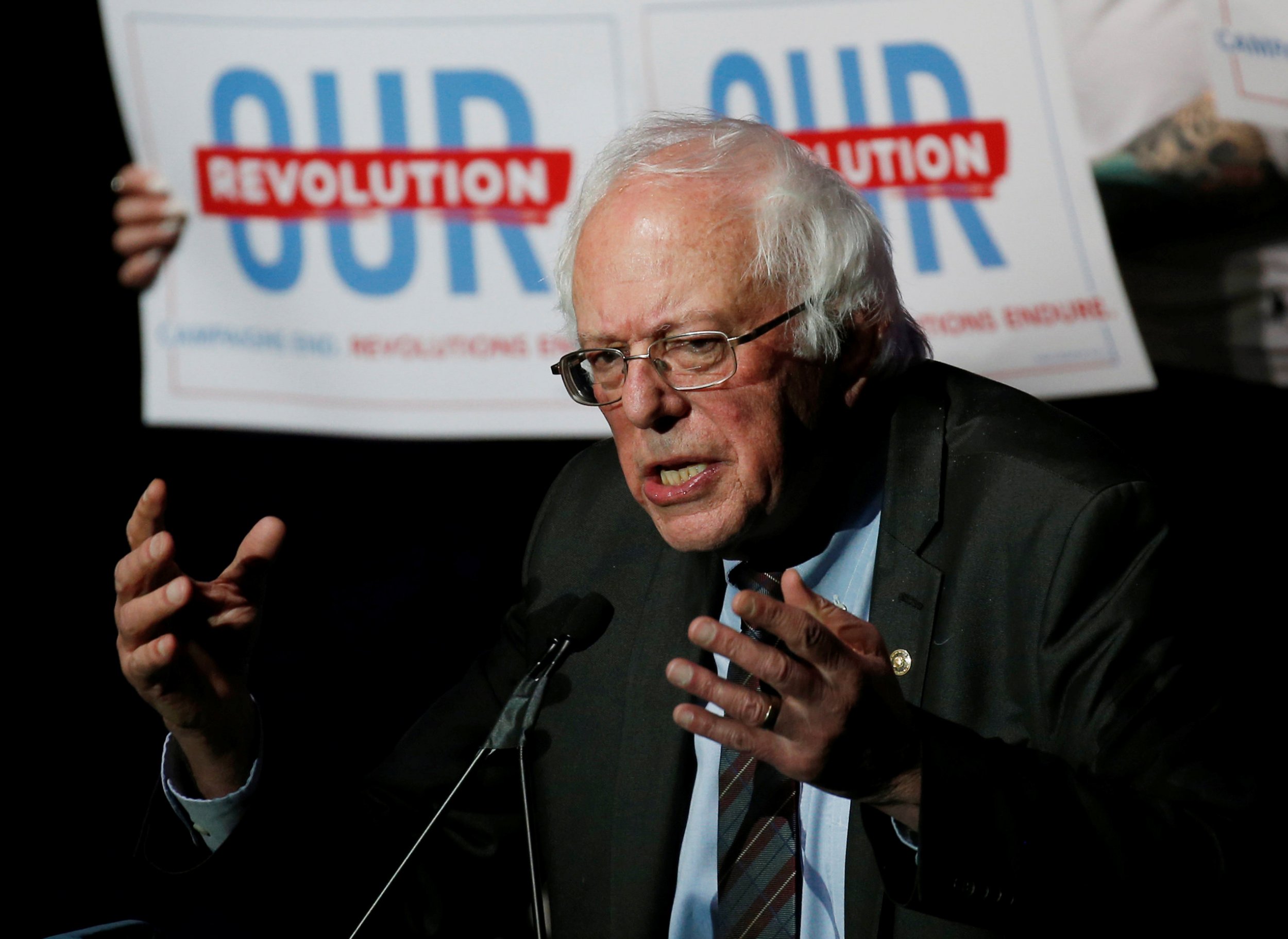 It has been one of the biggest "what ifs" since November's shock election victory for now President Donald Trump: If Senator Bernie Sanders had gotten the better of Hillary Clinton in the Democratic primary, would he have gone on to defeat the divisive Republican candidate? Now Sanders has dipped his toe into the debate, saying, yes, it is "likely" he would have become president.
Related: Bernie Sanders' Popularity Continues to Soar While Steve Bannon Is America's Least Popular Political Figure
Sanders' battle with Clinton for the Democratic nomination was far tougher than many pundits anticipated. He eventually went down to defeat after Clinton tallied 2,220 pledged delegates to Sanders' 1,831 and also picked up the vast majority of the 714 super delegates.
But asked during an interview for Sunday's episode of The Circus on Showtime whether, if the result had been different, he would have gone on to become president, Sanders suggested so.
"Who knows," he said, before being pushed further. "I mean, yeah, I think it's likely, but you never know. As you well know, I am not into speculating. It doesn't matter."
Sanders' supporters have long complained that the primary process was rigged in favor of Clinton with leaked emails appearing to show that the Democratic National Committee always favored the former secretary of state. His backers also have claimed that Sanders was a candidate who to a far larger degree than Clinton grasped voters' urge for radical change from the status quo, something which propelled another so-called "populist" to the White House.
"If you allow me, I know this word populism is floated around a lot," Sanders said. "What I recognized was pain. All over this country people are hurting, and they are hurting very badly. Trump understood that, by the way, and that's why he said, 'The whole system sucks. I'm going to blow it up.' Well, it turns out he lied."
Multiple polls since the election have indicated Sanders to be the most popular senior political figure in the United States. In a recent Harvard-Harris survey, he was the only one to be viewed positively by a majority of Americans, with a favorability rating of 57 percent, far above the record low approval ratings Trump has been suffering.
Sanders has been a vocal opponent to Trump on issues such as healthcare and climate change. The independent from Vermont also has not refrained from criticizing the Democratic Party. And, despite going on a so-called "unity tour" with new DNC Chair Tom Perez last week, in the Showtime interview Sanders was more eager to discuss what he sees as a need to overthrow the party establishment than his hypothetical prospects of defeating Trump.
"I think the politics that the Democratic Party must embrace for its survival is a progressive party which makes it very clear that it stands with working people," he said. "I am fighting as hard as I can and there is massive opposition to that. That's the fight that we'll have to wage right now. The establishment doesn't go easily into the sunset."