Bernie Sanders joined Democrats in celebrating the passing of the party's budget resolution, saying it embodied "the agenda of the working people of America."
The resolution is a key procedural step to allowing Democrats to pass President Biden's COVID-19 relief package without fear of filibuster from Republicans.
"The agenda of the budget resolution passed today is not the agenda of wealthy campaign contributors," Sanders tweeted. "It is not the agenda of the billionaire class. It is the agenda of the working people of America and with its passage we are closer to restoring their faith in our government."
The Vermont Independent and chair of the Budget Committee earlier closed out the 15-hour debate by stressing the severity of the challenge America faced.
"We end this debate at a moment when our country faces more crises, more pain, more anxiety, than at any time since the Great Depression," he said in his closing remarks.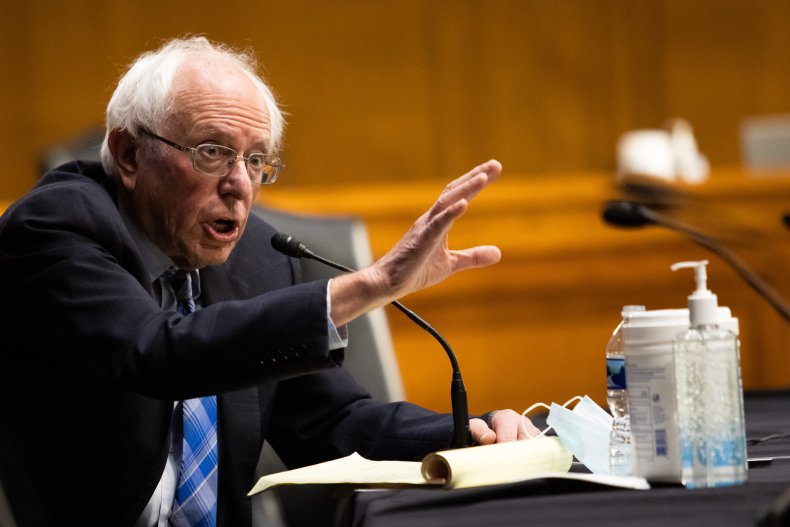 A number of congressional Democrats welcomed the vote on Twitter. Progressive Rep. Pramila Jayapal (D-WA) commended the passing of the "ambitious" relief bill.
"This is a moment for urgency and action," she tweeted. "Yesterday, House Democrats took the first step towards passing an ambitious relief bill to rescue our economy and help families and communities weather this crisis."
Senator Richard Blumenthal (D-CO) said that passing the aid package was a "moral imperative."
"This vote on a budget resolution brings us one critical step closer to approving the big, bold relief plan this crisis demands," he tweeted. "This kind of emergency aid package is a moral imperative. It is a social obligation."
Representative Jim McGovern (D-MA), Chair of the House Rules Committee, called for "bold action" to overcome the challenges America faces.
"We need to go big," he tweeted. "We need bold action to crush this virus, rescue our economy, help hungry families & more. We need the #AmericanRescuePlan one way or another. I voted YES on tonight's budget resolution, which helps prevent gridlock & gives Congress another avenue for action."
Rep. Marc Veasey (D-TX) said the relief provided by the COVID-19 bill was needed "immediately."
"Now is the time for bold actions to help Americans get through the #COVID19 pandemic," Veasey tweeted. "Tonight, I joined my colleagues in advancing a budget resolution that will allow us to deliver the urgently needed relief Texas families need immediately."
The resolution was passed after a marathon session in which senators voted on around 40 amendments, known as a "vote-a-rama."
It was carried by 50-51 just after 5.30 a.m. ET, with Vice President Kamala Harris casting the deciding vote.
The Democrats now have a clear path to pass the $1.9 trillion support package, which includes $1,400 checks for all Americans earning less than $50,000, without Republican support.
Rep. Veronica Escobar (D-TX) took the opportunity to express hope of finding bipartisan consensus in passing the bill.
"Today, I joined my colleagues to pass a budget resolution that will allow us to move forward in a hopefully bipartisan way and work with the Biden administration to deliver the urgently needed COVID-19 relief that El Paso families need," she tweeted.
Rep. Jared Huffman (D-CA) echoed Rep. Escobar, stressing COVID-19 was not "a partisan issue."
"Rescuing the US from the #COVIDcrisis isn't a partisan issue," he tweeted. "But if Republicans fail to see the urgency & stand in the way, we must be prepared to move ahead without them. Today @housedemocrats passed a budget resolution to make sure we can get Americans the relief they need."
Republicans have opposed the size of Biden's proposal, offering instead a smaller alternative. However, the president has said he "will not settle" on his pandemic relief bill.