Bernie Sanders Demands $1,200 Second Stimulus Check: 'Congress Can't Go Home for Christmas'
Senator Bernie Sanders, one of the leading advocates for a second round of stimulus checks, said Tuesday Congress can't adjourn for the holidays without providing direct financial relief for Americans.
"Congress can't go home for the Christmas holidays until we pass legislation which provides a $1,200 direct payment to working class adults, $2,400 for couples and $500 for kids," the Vermont independent wrote on Twitter. "This is what Democrats & Republicans did in March through the CARES Act. It's what we must do today."
Lawmakers are running out of time to reach a deal as the Senate plans to adjourn on Friday.
It's been more than eight months since Congress passed its first COVID-19 package, the historic $2 trillion CARES Act. Negotiations for a much-needed second stimulus have stalled as Republicans and Democrats disagree over the size and scope of the legislation.
Amid the time crunch, a bipartisan group of lawmakers unveiled a $908 billion stimulus package on Monday. The proposal is split into two plans: a $748 billion measure that includes more money for the Paycheck Protection Program and unemployment insurance, and a $160 billion bill that contains funding for state and local governments as well as liability protections for businesses and universities.
Neither plan includes a second round of stimulus checks for Americans or their families. Sanders called the legislation "totally inadequate" in an interview with Politico.
Newsweek has reached out to the offices of Senate Majority Leader Mitch McConnell and House Speaker Nancy Pelosi for their response to Sanders' comments but did not receive a response prior to publication.
Over the weekend, President Donald Trump expressed his support for more direct payments.
"Right now, I want to see checks—for more money than they're talking about – going to people," Trump told Fox News host Brian Kilmeade in an interview that aired on Sunday. "I'm pushing it very hard, and to be honest with you, if the Democrats really wanted to do the deal, they'd do the deal."
A second round of stimulus checks was included in both versions of the Democratic HEROES Act passed by the House of Representatives in May and October. The direct payments were not included in the failed $500 billion relief bill pushed by Republicans in the Senate.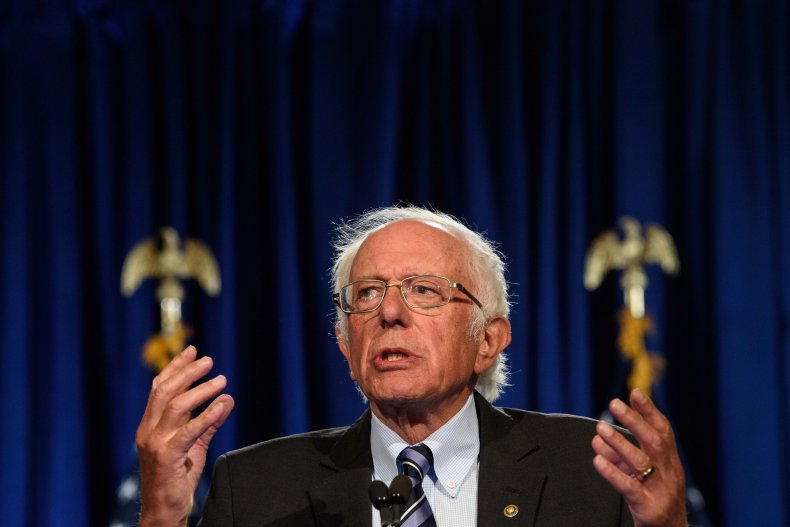 While Congress remains divided over legislation, Sanders has teamed up with Republican Josh Hawley of Missouri to introduce an amendment to provide another round of the direct cash payments: $1,200 for individuals who make $75,000 or less annually, $2,400 to couples who make $150,000 or less and $500 to non-dependent children.
"I don't get why so-called 'emergency relief' packages for COVID-19 don't include direct assistance to working families. Working people waiting in food lines & unable to make rent is not an emergency?" Hawley tweeted on Tuesday.
The inaction from Capitol Hill has caused several states and cities to provide their own direct financial aid to residents struggling economically amid the ongoing health crisis. Colorado, New Mexico and Oregon have all issued their own stimulus payments to select residents.
Earlier this month, Washington D.C. Mayor Muriel Bowser announced her government would use a portion of its CARES Act funding to provide a one-time $1,200 stimulus payment for residents who are currently receiving unemployment benefits.
"We know many people are struggling and will struggle to get to the end of the year," Bowser said in a news conference, "and on the other side when hopefully there is relief from the Congress of the United States."