Joe Biden and Bernie Sanders have canceled their upcoming campaign rallies because of concerns about the nation's coronavirus outbreak.
Both presidential candidates were scheduled to hold events in Cleveland on Tuesday night but called them off just hours before they were to start. Voters in Ohio, which has 136 pledged delegates up for grabs, will decide next week which candidate should be nominated at the Democratic Convention later this year.
"Out of concern for public health and safety, we are canceling tonight's rally in Cleveland. We are heeding the public warnings from Ohio state officials, who have communicated concern about holding large indoor events during the coronavirus outbreak," Mike Casca, Sanders' communications director, said in a statement. "Sen. Sanders would like to express his regret to the thousands of Ohioans who had planned to attend the event tonight."
Faiz Shakir, Sanders' campaign manager, told Newsweek the campaign regrets canceling "because the senator was looking forward to the event, but safety comes first."
The Biden team also sent out a statement addressing the cancellation, stating that the decision was made "with guidance from public officials and out of an abundance of caution."
"We will continue to consult with public health officials and public health guidance and make announcements about future events in the coming days. Vice President Biden thanks all of his supporters who wanted to be with us in Cleveland this evening. Additional details on where the Vice President will address the press tonight are forthcoming," Kate Bedingfield, Biden's deputy campaign manager and communications director, said in the statement.
Earlier Tuesday, Ohio Governor Mike DeWine tweeted that he was asking for all major events in his state to be canceled.
The cancellations are the first real disruptions of the Democratic primary race that have been caused by the coronavirus outbreak.
According to the U.S. Centers for Disease Control and Prevention, the virus can be spread when people come into close contact, as well as through the droplets produced when an infected person coughs or sneezes. The agency also warns that it's possible to be infected from a surface that has the virus on it, although that is not "thought to be the main way the virus spreads."
So far, the nation has had over 800 cases of coronavirus, according to a database from Johns Hopkins University's Center for Systems Science and Engineering. The total death count, based on the database, is 28.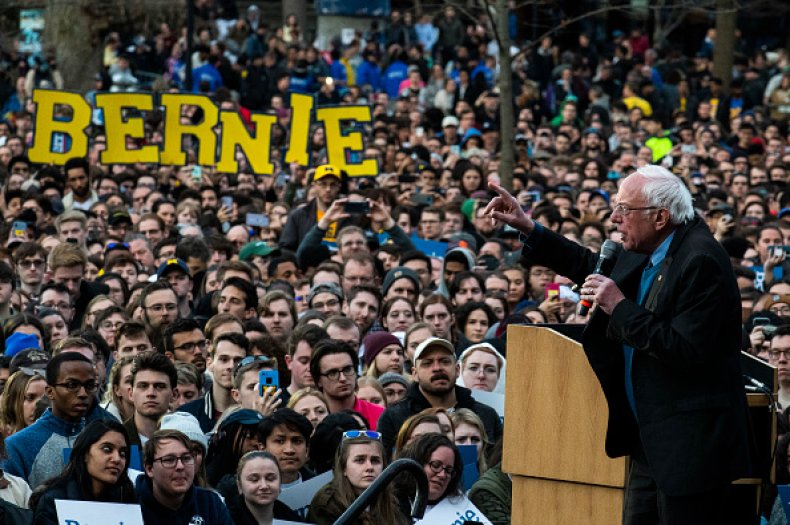 The cancellation of the primary night events comes on the same day that voters in six states are going to the polls. Fortunately, in four of them—Idaho, Michigan, Mississippi and North Dakota—there have been no confirmed coronavirus cases. Washington and Missouri are the only two states voting on Tuesday that have had confirmed cases.
So far, the virus doesn't appear to have had a serious impact on voter turnout in the Democratic primary race. According to Vox, Democrats came out in larger numbers in many states during Super Tuesday last week than they did in 2016. But the outbreak has caused some staffing problems at election sites. On Super Tuesday, officials in California and Texas reported that some election workers didn't show up because of concerns about the virus.
State officials are making changes to help protect voters and staff during the primaries. In Michigan, election officials have instructed polling locations to use disinfectant wipes on voting machines, touch screens, pens, pencils and any other equipment. Missouri has added disinfectant wipes to the list of essential supplies for the primary and encouraged voters to bring their own pens and hand sanitizer to their polling site.