Vermont Independent Senator Bernie Sanders backed abortion rights and ridiculed male-dominated legislatures governing women's bodies in a 1972 article surfaced Wednesday. The commentary reveals another stark, decades-long contrast between he and former Vice President Joe Biden's progressive stances.
Sanders told Vermont's Bennington Banner newspaper in September 1972 -- months before the U.S. Supreme Court's ruling on Roe v. Wade -- that abortion procedures should only be a concern between a woman and her physician. The article sits aside several letters the then-Liberty Union candidate for governor wrote to local newspapers calling for the abolition of "all laws dealing with abortion, drugs, sexual behavior."
The Bennington Banner confirmed to Newsweek Wednesday that Sanders was interviewed for the published 1972 article in which he feared women "will be forced to go to those states where abortions are legal."
"It strikes me as incredible that politicians think that they have the right to tell a woman what she can or cannot do with her body," Sanders told the Bennington Banner on September 1, 1972. "This is especially true in Vermont where we have a legislature which is almost completely dominated by men."
The opinions Sanders expressed to the Vermont newspaper were highly unpopular at the time, according to U.S. surveys, and Sanders' backing of abortion for nearly 50 years unveils a striking separation between himself and Biden, currently the 2020 Democratic frontrunner.
Biden, who was a Democratic senator from Delaware from 1973 to 2009, stated Wednesday he still backs the 1976 Hyde Amendment. The measure prohibits the use of federal funding for abortion except in cases of rape, incest and when the mother's life is in danger. And in 1977, Biden voted against a measure to allow Medicaid to fund abortions for any victims of rape or incest. Despite his opposition, the exceptions passed. And years later, Biden again voted against the same measure to protect a woman's life at risk.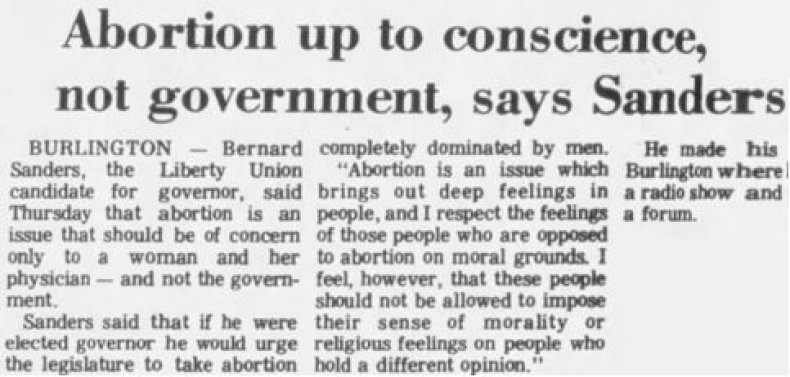 Although many of the 2020 Democratic presidential candidates were too young to have expressed opinions about abortion before Roe v. Wade, Sanders campaign senior adviser David Sirota told Newsweek Wednesday that time is less important than substance and consistency.
"Bernie Sanders has been fighting these battles for decades, even when it wasn't politically advantageous," Sirota said. "That tells you exactly where he will always be on these issues, even when the going gets tough — and that is important for voters to know."
The 1972 article entitled, "Abortion up to conscience, not government, says Sanders," relays the Brooklyn-born Vermont politician's progressive stances that liberals would be slow to embrace for decades -- a divisive climb he appeared to acknowledge at the time.
"Abortion is an issue which brings out deep feelings in people, and I respect the feelings of those people who are opposed to abortion on moral grounds," he told the Bennington Banner. "I feel, however, that these people should not be allowed to impose their sense of morality or religious feelings on people who hold a different opinion."
Sanders penned a series of letters to the editor that year, including at least two supporting abortion rights to local Vermont newspapers.
In an Instagram post last month, Sanders said "extremist Republicans" have been trying to overturn the Supreme Court's legalizing abortions since it passed in 1973. "Republican legislators are trying to strip away women's rights state by state. This is a frightening time, but we will not let them win," he wrote May 17 as several states legalized the strictest abortion laws in the country's history.
Despite a grinding focus on a 24-hour news cycle and fleeting political issues, Sirota told Newsweek that a wider view of 2020 candidate stances reveals their true character moving forward. Biden has rebuffed criticism that progressive factions of the Democratic Party are weary of his moderate and even conservative past.
"It is critical to look at these candidates' records on issues going back many years to see where their convictions are," he said. "And on core issues of civil rights and women's rights, it's important to look at who has always stood in defense of those rights from early on."