Bernie Sanders Overtakes Joe Biden in Texas, Former Vice President Holds Strong Lead in Georgia: Polls
Senator Bernie Sanders has vaulted into a narrow lead over former vice president Joe Biden in the key Texas primary, which has the largest African American population of any state and the second-highest number of delegates up for grabs in the overall race, according to a poll.
A separate poll shows Biden leading strongly in Georgia, which has the second-largest number of African Americans, with Sanders a distant second. Biden talks up his appeal to African Americans, noting that no candidate can win the White House without their support.
The latest University of Texas/Texas Tribune poll put Sanders at 24 percent among Democratic primary voters in the state, a 12 point rise from October when the independent from Vermont was in fourth. Biden was second at 22 percent in the new poll, down one point and one place.
Third is Senator Elizabeth Warren, a Massachusetts Democrat, at 15 percent, down three points and one place from second. In third is the billionaire former New York City mayor Mike Bloomberg at 10 percent. Bloomberg was not in the race back in October.
There is a margin of error of plus or minus 4.09 percent. The online panel of 575 Democratic primary voters who answered the question were polled between January 31 to February 9.
Over in Georgia, Biden leads Sanders. A Landmark Communications poll for WSB-TV of 500 likely Democratic primary voters put Biden in first place at 32.1 percent. Sanders was in second at 14.2 percent and Bloomberg third at 14 percent. There is a 4.4 percent margin of error either way.
"The African-American community is going to make a gigantic say in who is going to be the next president," Biden told donors at a Manhattan fundraiser on Thursday night, per a pool report from the event.
Biden, whose campaign only mustered a fourth-place finish in the Iowa caucuses and fifth in New Hampshire, two overwhelmingly white states, is looking to states with large black populations as the real test of his candidacy's strength.
While Sanders has found support among younger black people, he has struggled to make inroads with older people. The first test of Biden among African American voters, referred to as his "firewall," will be South Carolina, which holds its primary on February 29.
"The African American vote cannot be taken for granted," South Carolina State Rep. Ivory Thigpen, a Sanders-endorsing member of the Legislative Black Caucus, told Associated Press last week.
"Just the idea that we are a firewall, that our vote is already cemented...I won't go so far as to say it's offensive, but I think it might be misconceived."
At the New York City fundraiser, Biden claimed he is winning in many states, noting Georgia, North Carolina, Florida, and Texas, among others, and is well-positioned for Super Tuesday on March 3.
"If I am able to maintain, which I believe I can, the strong support from the African-American community and working-class high school-educated Americans, which is the combination, then I don't see who wins on Super Tuesday," said the former senator from Delaware.
Census data shows there are 3.33 million black or African American people in Texas, ranking it first place by volume. In Georgia, the number is 3.24 million, placing it second, and Florida is third at 3.22 million.
Texas, which holds its primary on Super Tuesday, has 228 delegates to be won. North Carolina, which also holds its primary on March 3, has 110. Georgia will vote on March 24 and has 105 delegates. Florida votes on March 17 and has 217.
Back in the 2016 primaries, the eventual winning candidate Hillary Clinton beat Sanders in Texas by 65.2 percent (147 delegates) to his 33.2 percent (75 delegates).
Former Mayor of South Bend, Indiana, Pete Buttigieg won in Iowa and came second to Sanders in New Hampshire. But, according to the Texas and Georgia polls, Buttigieg is at 7 percent in the former (fifth place) and 4.9 percent in the latter (fourth place).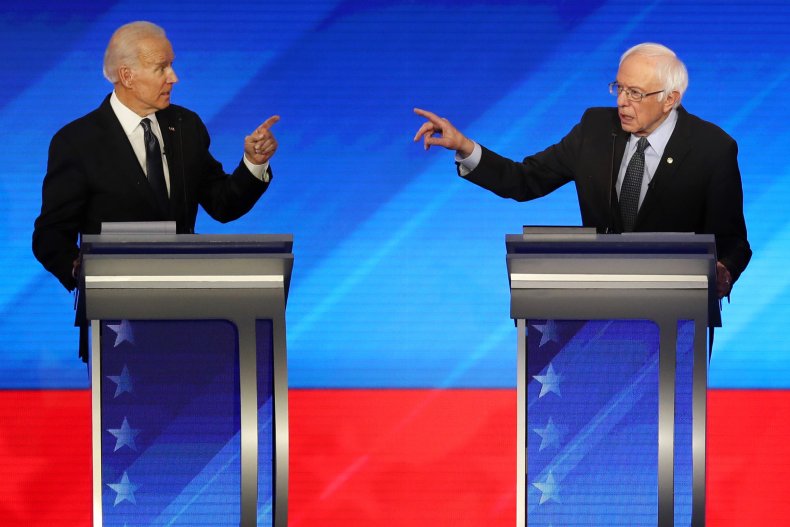 Correction 03/04/20, 04:45 a.m. ET: This article was corrected to say that March 3 is Super Tuesday.