Bernie Sanders Jumps Nine Points Since December In New National Poll, Holds Commanding Lead Among Democrats
Senator Bernie Sanders of Vermont has solidified his lead in the race for the Democratic nomination, surging nine points since December to have a double-digit lead over his nearest rival, according to new polling data.
The latest survey from NPR, PBS and Marist, which was published Tuesday, shows Sanders with support from 31 percent of Democratic voters nationwide, with billionaire former New York City Mayor Mike Bloomberg having leaped into second place at 19 percent. That 15 percent increase since the poll was last conducted in December allowed the wealthy businessman to qualify for the upcoming Democratic debate in Las Vegas on Wednesday, the first time the candidate will appear on the stage alongside the other presidential hopefuls.
Former Vice President Joe Biden's support declined by 9 points but he is still in third place with 15 percent of voters saying they'd choose him. Senator Elizabeth Warren of Massachusetts is down by 5 points, putting her at just 12 percent. Meanwhile, Senator Amy Klobuchar of Minnesota saw an increase of 5 points, putting her in fifth place with 9 percent. Fellow moderate, former Mayor Pete Buttigieg of South Bend, Indiana, has declined five points to come in sixth at just 8 percent—which actually puts him and Klobuchar in a statistical tie.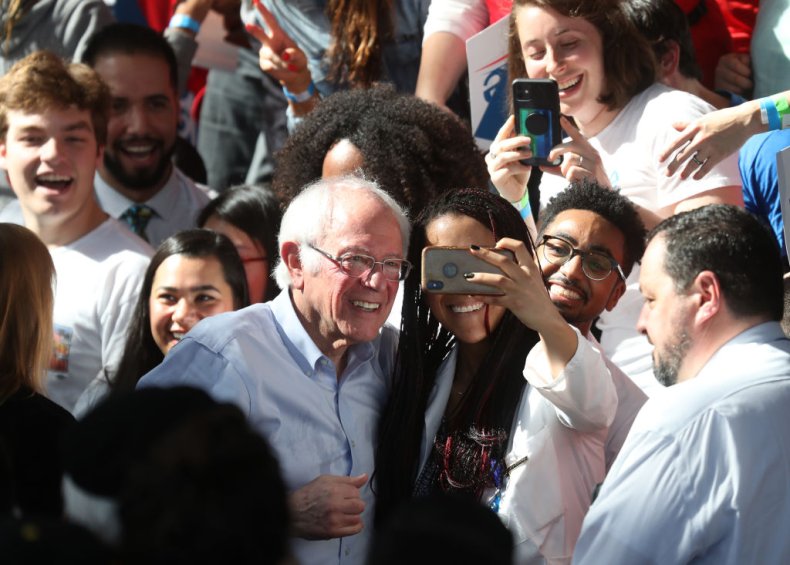 Billionaire former hedge fund manager Tom Steyer saw his support increase from 0 percent to 2 percent nationwide, while Representative Tulsi Gabbard of Hawaii was down 1 point, leaving her with 0 percent support.
The new poll results align with other nationwide surveys that have been conducted since Sanders' win in the New Hampshire primary. Nearly all national polls have shown Sanders as the frontrunner in the race. Bloomberg has also seen a boost in multiple national polls, as the billionaire has spent more than $400 million of his fortune on ads targeting voters, particularly in Super Tuesday voting states.
Sanders looks set to perform well in Nevada, ahead of the state's caucuses on Saturday. One poll by Data for Progress shows the senator ahead by 19 points, at 35 percent, with Warren coming in as a distant second at just 16 percent. However, because voters have the opportunity to realign and support more viable candidates after a first-round tally during caucuses, other candidates could surge in the second alignment.
The Data for Progress poll also showed Sanders with the strongest support from Latino voters in Nevada. According to the data, the senator was backed by 66 percent of the demographic while none of the other candidates registered above single digits.