Bernie Sanders has promised that a Georgia runoff election victory will lead to social issues like minimum wage, equal rights for women, criminal justice reform and climate change being added to the Senate agenda.
Rapper and activist Killer Mike—real name Michael Render—invited Sen. Bernie Sanders onto his Instagram for a Live Q&A Monday night to discuss the Democrats' plans for the Senate agenda in the event of a victory in the Georgia runoff election.
Crucial Georgia runoff elections in three weeks will determine whether the GOP can hang on to their Senate majority. In-person voting began yesterday (December 14.)
Democrats Jon Ossoff and Rev. Raphael Warnock are challenging incumbent Republican Sens. David Perdue and Kelly Loeffler, respectively.
The race wasn't settled in the November presidential election because no candidate won a majority.
Quoting the classic song "Georgia on My Mind," Sanders said the state was on a lot of people's minds because "we have two right-wing senators who should be defeated and we have two very good candidates who should be elected.
"The importance of the election is not only electing Ossoff and Warnock, but it is, if Democrats win those two seats, turns out that the Democrats will control the United States Senate—and this is a very very very big deal because the party that controls the Senate is the party that controls every chairmanship, every committee and determines the agenda," Sanders told the Run The Jewels performer.
"So right now in the last number of years, the reason that the U.S. Senate does very little in terms of minimum wage or equal rights for women, or criminal justice or climate change, we have a leader in Mitch McConnell, a Republican, who doesn't put anything on the floor."
Sanders stated that "nothing about minimum wage or making it easier for workers to join unions" and other such social issues are added to the agenda with the Republicans running the Senate.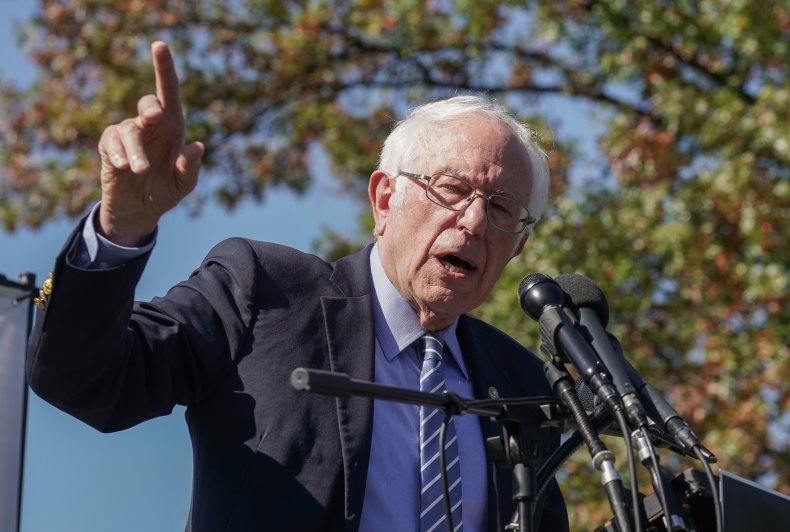 "So we need to gain control over the Senate and that's what a victory for Warnock and Ossoff would do—plus the fact they're both really good guys," Sanders said.
Render asked the former Democratic presidential candidate: "What do progressives have to gain out of this? I know they want the same things we just talked about but progressives want to see the Senate in Democrat control, be even more progressive—what can we look forward to and what should we push the line on once we win?"
Sanders responded to give what he called the "short answer" to Render's questions.
Referencing minimum wage, Sanders described it as "starvation wage," asking: "You know anybody that can live on $7.90 an hour?"
Sanders then spoke of his plan to increase the minimum wage nationally to $15.00 an hour.
"That will raise wages in this country for 40 million Americans and tens of thousands of people in Georgia. You think that's important? I think that's important, that's what happens if Democrats gain control of the Senate.
Sanders said he thinks it is "particularly stupid and unfair that women today make about 80 cents on the dollar compared to men and if you are a Black woman or a Latina woman, you make even less."
"I don't think that's right. I don't think it's a radical idea to say equal pay for equal work—that will be on the agenda."
Sanders also promised that the Democrats will make it easier for workers to join unions to be able to campaign for better pay.
"So the fight to raise wages for workers is very important."
Render and Sanders have collaborated previously with the "Talking Shop With Bernie Sanders" series in 2019.
Watch the full Q&A on Killer Mike's Instagram.