Bernie Sanders Lost Super Tuesday II But The Same States Prefer A Government-Run Health Plan Over Private Insurance, Exit Polls Show
Although Democratic presidential candidate Bernie Sanders lost big on Super Tuesday II, his signature policy proposal of universal health care was widely popular with Democratic voters, according to exit polling.
CNN exit polls in Washington, Michigan, Missouri and Mississippi showed that a significant majority of Democratic voters in each state backed government-run health care as opposed to private insurance. In Washington, 63 percent supported the universal health care plan. In Mississippi it was 60 percent, while 58 percent of voters backed the idea in Missouri and Michigan.
Sanders' Medicare for All proposal would create a government-run health care system and do away with private insurance. Democratic frontrunner Joe Biden proposes more modest reforms that include expanding the Affordable Care Act, known commonly as Obamacare, and adding a Medicare buy-in option. Biden's plan would not do away with private insurance, but would take additional steps to control costs.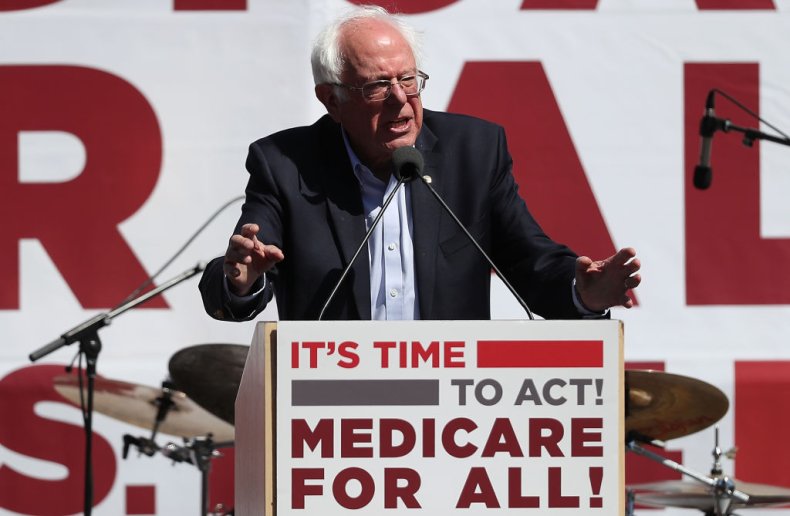 Although Biden has begun to dominate in the primaries and caucuses, voters have consistently suggested they prefer a health care system more in line with the one proposed by Sanders. On Super Tuesday last week, 50 percent or more of voters in all the 14 states to cast ballots that day said they prefer a government-run program for everyone. In Iowa, New Hampshire and Nevada, majorities of voters backed universal healthcare over private insurance as well, while a plurality of South Carolina voters, or 49 percent, said they supported the proposal.
Despite the apparent popularity of a Medicare for All system among Democratic voters, Biden has continued to criticize the proposal. In an interview with MSNBC Monday, the former vice president even suggested he'd veto universal health care legislation if it passed in Congress and he was president.
"I would veto anything that delays providing the security and the certainty of healthcare being available now," Biden said.
Wendell Potter, a former private insurance executive who left the industry and now advocates for health care reform, told Newsweek that he would have been "stunned" a year ago if you'd told him about the exit poll results.
"This literally would have been my worst nightmare when I worked in the health insurance industry," Potter said.
"The entrenched special interests—insurance, drug and hospital companies—will continue to oppose Medicare for All because the status quo is profitable," he said. "And they will continue to write big campaign checks to Republican and Democratic candidates alike. But we will reach a tipping point soon when candidates and policymakers catch up with public opinion."