In a recent survey by Ipsos/Reuters, slightly more respondents said they would vote for Senator Bernie Sanders than former Vice President Joe Biden in the 2020 election against President Donald Trump.
Though the difference is within the margin of error (3.4 percentage points) 39 percent of the 1,108 adults surveyed between December 18 and 19 preferred Sanders over Trump, compared to 37 percent who preferred Biden.
Biden has maintained a steady lead in national polls over other top candidates for several weeks, but primary voters have far from made up their minds. Recent surveys note growing indecision among Democratic voters and even declining favorability overall for candidates as the field has yet to coalesce around one or even two likely party nominees.
Though Sanders and Warren may be appealing to the same base of young, progressive voters, Sanders began to eclipse the Massachusetts senator after the fourth Democratic debate, when multiple candidates attacked Warren on how she would fund her health care plan.
Sanders' health care plan is no less ambitious, but recent surveys have determined the Vermont senator claims a plurality of support among Latino voters and young people between 18 and 29 years old, demographics likely fueling his late-stage surge to the top of the Democratic field.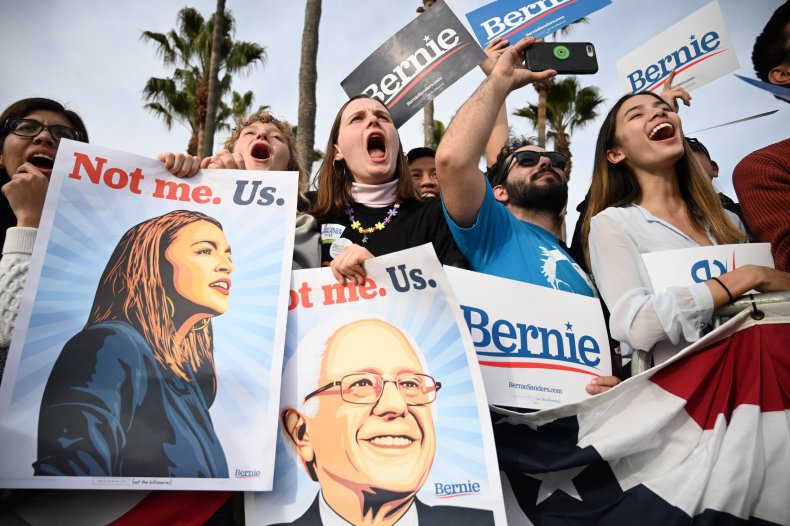 In the Ipsos/Reuters poll, Sanders is supported by more independents (21 percent) and Democrats (74 percent) than both Biden and Warren in matchups against Trump, but the president nonetheless claims more of the independent vote against Sanders, Biden and Warren.
In another measure of electability, however, the Sanders-Trump comparison compels more people to vote at the end of the day, according to the survey. Only 20 percent of respondents say they wouldn't vote if the election were held between Sanders and Trump. That's compared to 23 percent and 21 percent who said the same of Biden and Warren versus Trump, respectively.
The survey, like many in recent weeks, also noted a leveling off of support for impeachment against the president. Only 46 percent of respondents said Trump should be impeached. Slightly more (3 percent) "strongly agreed" that the president abused his powers than those who said he obstructed Congress.
The Democratic race officially kicks off in February during the Iowa caucuses, a state where Biden and South Bend, Indiana Mayor Pete Buttigieg continue to lead in the polls. Since 1976, 71 percent of Democratic candidates who won in Iowa ultimately clinched the nomination, according to The Week.