Bernie Sanders' New Senior Adviser Apologizes for 'Sexist and Cruel' Michelle Obama Tweets He Once Made
A recently appointed senior adviser for Bernie Sanders has apologized for tweets he sent more than a decade ago in which he called former first lady Michelle Obama "ugly."
Civil rights activist Phillip Agnew, who announced he is joining the 2020 presidential hopeful's campaign team on March 7, said, "I am not my tweets from 2009," after his old posts emerged following his appointment.
In one tweet from October 2009, Agnew wrote: "Random thought while standing on Gas Station: Michel Obama is an odd looking woman… I'd call her ugly but I don't want the backlash."
In another post two months later, Agnew added: "Michelle Obama is just not pretty… I've tried to look at her from every angle possible."
Newsweek subscription offers >
As noted by social media users, Agnew also tweeted a conspiracy theory in May 2011 expressing doubt that the U.S. did actually kill Osama Bin Laden.
In 2016, he posted a cartoon on Instagram appearing to suggest the U.S. deserved to be victims of the 9/11 attacks because of its military interventions around the world. The image was uploaded on the 15th anniversary of the September 11 attacks.
In a statement addressing the "stupid" tweets about Michelle Obama he wrote when he was 23 years old, Agnew said: "I am sorry for the remarks that I made. I typed them as a young, immature and insecure boy who thought he was forever invisible and 'invincible.' My comments were shallow, careless, sexist and cruel."
Agnew goes on to discuss issues of black boys and men expressing masculinity with "utter disdain and reckless abandon" towards women. "And more, dark-skin black womxn especially. There's no excuse for it."
Newsweek subscription offers >
He added: "While my past tweets were decidedly not about blackness nor complexion not black womxn, I took part in a misogynoirist culture that ignorantly objectifies black womxn as a whole. And I take full responsibility for my words and actions. Thank you for holding me accountable."
In his announcement about his senior adviser role, Agnew said that he was taking on the job "knowing the challenges and contradictions that come with it."
Sanders hired civil rights activist Agnew as he hopes to win over African American voters in the race for the democratic nomination having fallen behind to Joe Biden, the former Vice President under Barack Obama.
"I am excited to welcome Phillip to our team," Sanders said. "He is a gifted organizer and one of his generation's most critical voices on issues of race and inequity. He has and will continue to push me and this movement to deliver on what is owed to Black people who have yet to experience reciprocity in this country."
Agnew gained prominence after he co-founded the civil rights group Dream Defenders. The group was set up in up in the wake of the death of Trayvon Martin, the black teenager who was killed by George Zimmerman in Sanford, Florida, in 2012.
Sanders' team has been contacted for comment.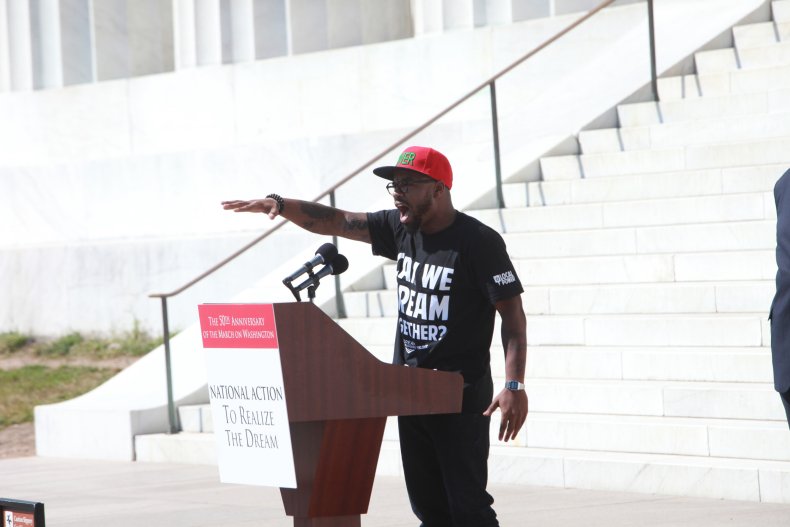 Bernie Sanders' New Senior Adviser Apologizes for 'Sexist and Cruel' Michelle Obama Tweets He Once Made | U.S.