Senator Bernie Sanders of Vermont pressured President-elect Joe Biden for $2,000 stimulus checks in a tweet Wednesday.
"With Democrats in control of the Senate, we must keep faith with the working families of this country," Sanders said. "Promises made must be kept."
"That means not only the $2,000 direct payment but an aggressive agenda that recognizes the economic desperation facing so many Americans," he added.
Sanders' tweets followed comments made by Biden supporting the $2,000 checks during a Monday evening speech in Atlanta, where he was campaigning for Democrats Jon Ossoff and the Reverend Raphael Warnock in Georgia's Senate runoff elections.
"One state can chart the course, not just for the next four years but for the next generation," Biden said. "By electing Jon and the reverend, you can make an immediate difference in your own lives, the lives of people all across this country, because their election will put an end to the block in Washington on that $2,000 stimulus check,"
He added, "That money will go out the door immediately to people who are in real trouble."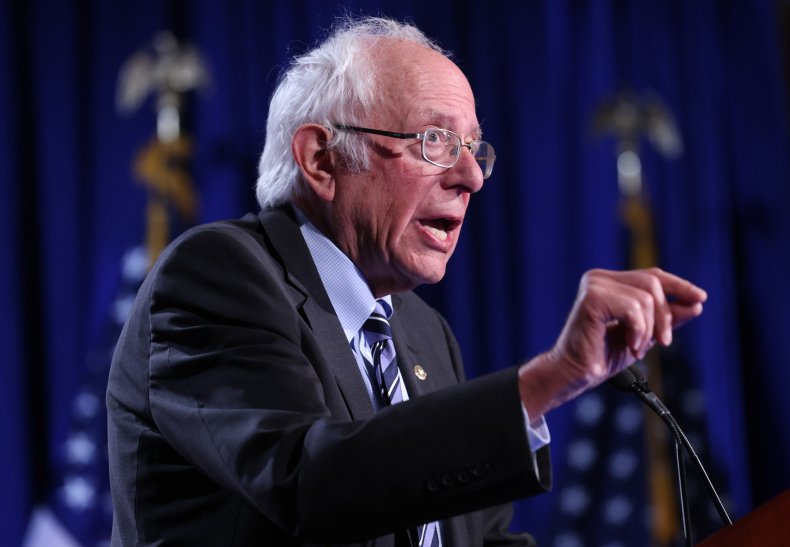 Warnock was declared the projected winner over GOP Senator Kelly Loeffler early Wednesday morning. NBC News called the race for the Warnock just before 2 a.m. EST, giving the Democrats another seat in the Senate. If Ossoff wins, the Senate will be even divided and Vice President-elect Kamala Harris will break any ties with her vote.
Ossoff declared victory over Republican Senator David Perdue on Wednesday, although no major news outlet has projected a win for the Democrat yet. With 98 percent of the votes reported, polls show Ossoff leading by slim margins with 50.2 percent of the vote, according to The New York Times.
With hopes that Ossoff will be declared the victor, shifting Senate control in favor of the Democrats, Senate Minority Leader Charles Schumer said Wednesday that passing legislation for $2,000 checks will be one of the first orders of business if Democrats take control of the Senate on January 20.
Sanders, along with his progressive allies in the House, pushed for $2,000 stimulus checks for most of the past year amid the coronavirus pandemic. His efforts were boosted further by President Donald Trump, who threatened in late December to hold up passage of new economic relief bill unless its $600 stimulus checks were boosted to $2,000.
During a speech on the Senate floor on December 31, Sanders urged Senate Majority Leader Mitch McConnell to allow for a vote to increase the direct payments to adults to $2,000. A bill for the higher checks had already passed in the House.
"Nobody here will disagree with Trump more times than I have, and yet here is what the leader of the Republican Party says. He says, '$2,000 ASAP,'" Sanders said during his Senate speech, referring to Trump. "All that I am asking is give us a vote.... Allow the United States senators to cast a vote as to whether or not they are for the $2,000 check or whether they are against it."
Newsweek reached out to Sanders' and Biden's representatives for comments but didn't hear back in time for publication.