Bernie Sanders Says Medicare Expansion Will Remain in Spending Bill: 'Not Coming Out'
Senator Bernie Sanders on Saturday expressed confidence that Medicare expansion of dental, vision and hearing coverage will remain in the Democrats' paired-back spending bill amid ongoing negotiations between progressives and moderates in the caucus to iron out sticking points, with a deadline 8 days away.
"The expansion of Medicare to cover dental, hearing and vision is one of the most popular and important provisions in the entire reconciliation bill. It's what the American people want. It's not coming out," tweeted Sanders, a Vermont independent and chair of the Senate Budget Committee.
His remarks came days after Biden called including the expansion of Medicare in the spending bill a "reach," given staunch opposition from moderate Senators Joe Manchin and Kyrsten Sinema.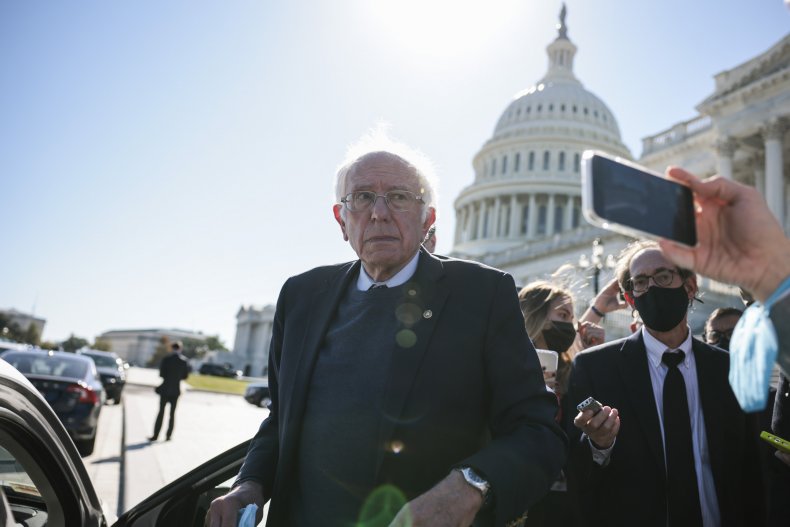 "I think it's a good idea and it's not that costly in relative terms especially if you allow Medicare to negotiate drug prices," Biden said during a CNN town hall Thursday. "But here's the thing: Mr. Manchin is opposed to that as is, I think, Senator Sinema."
Democrats plan on passing the measure known as the Build Back Better Act through a budget process called reconciliation, and with the chamber split 50-50, all members of the caucus will need to vote for it to pass.
Congress has just over a week to meet House Speaker Nancy Pelosi's tentative October 31 deadline to pass the $1.2 trillion bipartisan infrastructure bill, which progressives have refused to vote for unless it's passed in tandem with the larger spending bill.
Manchin expressed doubt about meeting the deadline on Thursday. "This is not going to happen anytime soon," he told CNN. "They're trying to get a meeting of minds to find out what can happen from there."
Among the major investments, the "hard infrastructure" bill includes funding for roads and highways, bridges, broadband development, water support, and airport projects. The "human" spending bill provides funding to fight climate change, expand public housing and health care, among other provisions.
But with moderates and progressives in disagreement over the size, scope and priorities of the package, it's still unclear what will and won't be in the final version of the bill.
Progressives, including Sanders and Representative Pramila Jayapal, met with Manchin this week to slowly piece together a framework for the measure. Initially the price tag was set at $3.5 trillion, but that's likely to be scaled-down to somewhere between $1.9 and $2.2 trillion.
Negotiations hinge on making enough cuts to get Manchin and Sinema onboard with the package, while also ensuring enough progressive priorities are maintained.
Manchin wants to dilute Medicare expansion, the climate provisions and means-test benefits to keep costs down, while Sinema opposes lowering prescription drug prices and the bill's new tax provisions, which would cover its cost.
Newsweek reached out to Sanders' office for further comment.