Bernie Sanders on Trump Labeling Him 'Crazy': We Have a 'Racist, Sexist, Xenophobe and Fraud' as President
Independent Vermont Senator Bernie Sanders has already found himself immersed in a back-and-forth feud with President Donald Trump—just two days into his presidential campaign.
Responding to Trump labeling him "Crazy Bernie" shortly after the senator announced his candidacy for the Democratic nomination, Sanders slammed the president Wednesday with terms similar to those he used during an interview the previous day with Vermont Public Radio, saying it's crazy "we have a president who is a racist, a sexist, a xenophobe and a fraud."
"We are going to bring people together and not only defeat Trump, but transform the economic and political life of this country," Sanders said.
With news of Sanders running again, Trump told reporters in the Oval Office Tuesday afternoon that the self-described democratic socialist "missed his time." He lost to Hillary Clinton in the 2016 Democratic primary after accusing the Clinton campaign and the Democratic National Committee of conspiring against him, as well as challenging the superdelegate system. As a result, the party last year voted to reform the presidential nomination process, in part by restricting superdelegates' power when choosing a nominee.
"I like Bernie. He's one person that on trade... We sort of would agree on trade. He was tough on trade. The problem is, he doesn't know what to do about it," Trump said. "He ran great four years ago, and he was not treated with respect by Clinton, that was too bad. I thought what happened to Bernie Sanders four years ago was quite sad as it pertains to our country."
Sanders has already proven to be a formidable 2020 candidate. His campaign said Wednesday that it raised a record-breaking amount: Nearly $6 million in its first 24 hours from 223,000 donors, averaging $27 each. The amount far exceeds that of presidential candidate and Democratic Senator Kamala Harris, whose campaign said it raised $1.5 million from 38,000 donors in the first 24 hours. Amy Klobuchar, another Democratic senator and presidential candidate, raised more than $1 million in the first 48 hours.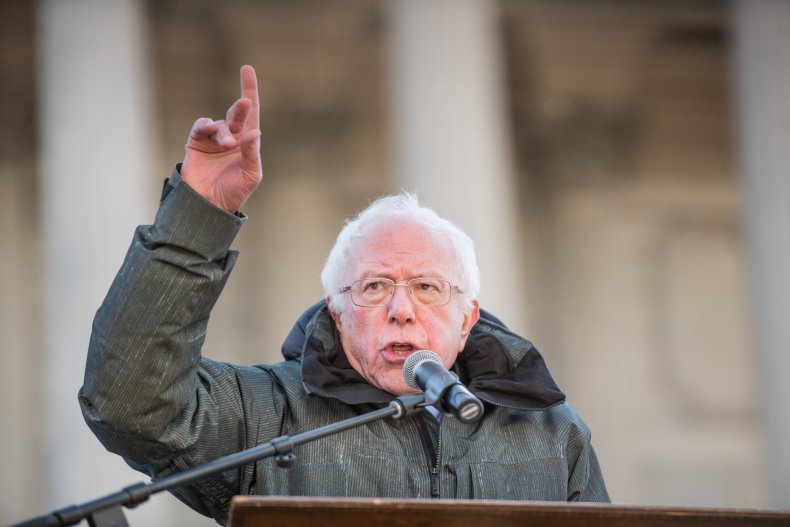 Aside from Elizabeth Warren, most Democratic candidates have shied away from some of the more progressive and far-left policies supported by Sanders, Warren and freshman Representative Alexandria Ocasio-Cortez. Harris has said she's "not a democratic socialist," while Klobuchar told a crowd during a recent CNN town hall she was not in favor of "Medicare for all," the Green New Deal or tuition-free four-year college. Beto O'Rourke, another likely 2020 candidate, noted he was "a capitalist" on Tuesday when congratulating Sanders on his candidacy.
And in an apparent attempt to paint the Democratic Party as the party of socialists, Trump has ramped up his rhetoric when using the term to speak about Democrats or Venezuela. In his State of the Union address, Trump mentioned socialism several times, warning that the United States must "renew our resolve that America will never be a socialist country."
"Here in the United States, we are alarmed by the new calls to adopt socialism in our country," Trump said. "America was founded on liberty and independence, and not government coercion, domination and control. We are born free, and we will stay free. Tonight, we renew our resolve that America will never be a socialist country."
Faced with the topic of democratic socialism by CBS This Morning on Tuesday, Sanders elaborated what exactly that term meant to him.
"When I talk about democratic socialism, if somebody wants to call me a radical, OK, here it is: I believe that people are inherently entitled to health care," he said. "I believe people are entitled to get the best education they can. I believe that people are entitled to live in a clean environment. People are entitled to have decent-paying jobs."