Bernie Sanders Urges Democrats to Pass Infrastructure Bill Without GOP Support
Senator Bernie Sanders of Vermont has urged Democrats to push through President Joe Biden's infrastructure package without Republican support.
In an interview on Axios for HBO, which aired Sunday, Sanders, an independent, disagreed with Biden aid Steve Ricchetti's recent assessment that Democrats have time to strike a deal with Republicans on Biden's sweeping infrastructure package.
"In general I don't agree with that," Sanders said. "The bottom line is the American people want results."
The senator also expressed his belief that voters don't care whether Republicans supported the latest round of stimulus checks. "Frankly, when people got a, you know, $1,400 check or $5,600 check for their family, they didn't say, 'Oh, I can't cash this check because it was done without any Republican votes,'" he said.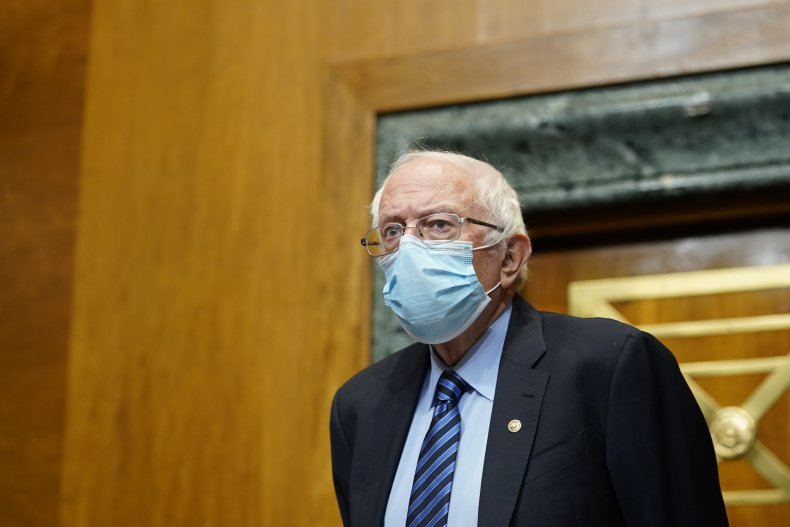 Bipartisan negotiations over Biden's infrastructure bill have intensified in recent weeks but Democrats have struggled to convince Republicans to support the plan so far.
On Monday, Senate Minority Leader Mitch McConnell made clear that no Republicans would support the $4.1 trillion proposal and floated a smaller "roughly $600 billion package."
"We're open to doing a roughly $600 billion package which deals with what all of us agree is infrastructure. If it's going to be about infrastructure, let's make it about infrastructure," he said.
The Democratic plan is divided into two parts: a $2.3 trillion American Jobs Plan that would boost infrastructure, create high-paying jobs to facilitate innovation, and strengthen manufacturing, and a $1.8 trillion American Families Plan that would allocate funds for education and tax cuts for families.
Biden wants to fund the bill by raising taxes on wealthy individuals and capital gains, but McConnell has called "revisiting the 2017 tax bill" a nonstarter.
Democrats, who narrowly control both chambers of Congress, could use the budget process called reconciliation to pass most of the legislation without GOP support. But Biden and his aides have signaled that he wants to fulfil his campaign promise of reaching across the aisle by passing the bill with bipartisan support.
Sanders, impatient with the pace of progress, wants Democrats to push through the bill immediately.
"Congress takes breaks and it's easy to obstruct," he said. "The Senate is a very slow-moving process ... I would begin, you know, starting this work immediately. If Republicans want to come on board, seriously, great. If not, we're going to do it alone."
Newsweek reached out to the White House for comment. This story will be updated with any response.