Bernie Sanders on Viral Inauguration Mittens: 'Not So Concerned About Good Fashion'
Sen. Bernie Sanders (I-Vt.) says that the pair of homemade mittens that raised eyeballs at President Joe Biden's inauguration on Wednesday were not intended as a fashion statement.
Sanders' mittens and the rest of his attire at the inauguration quickly sparked countless memes on social media. The senator appeared to be wearing the same jacket that previously featured in a series of memes based on his presidential campaign fundraising ads, but his thick knit mittens stood out the most. During a CBS interview with Gayle King, Sanders insisted that his clothing choices were primarily intended to shield him from the chilly weather.
"In Vermont we dress warm, we know something about the cold," Sanders said. "And we're not so concerned about good fashion. We want to keep warm. And that's what I did today."
"Mission accomplished," remarked King.
The mittens were made by Essex Junction, Vermont teacher Jen Ellis and given to Sanders as a gift a few years ago, according to independent Vermont weekly newspaper Seven Days. He was photographed wearing the mittens while campaigning in December 2019 and was spotted with the mittens while wearing the same jacket that he wore to Biden's inauguration multiple times during the primary.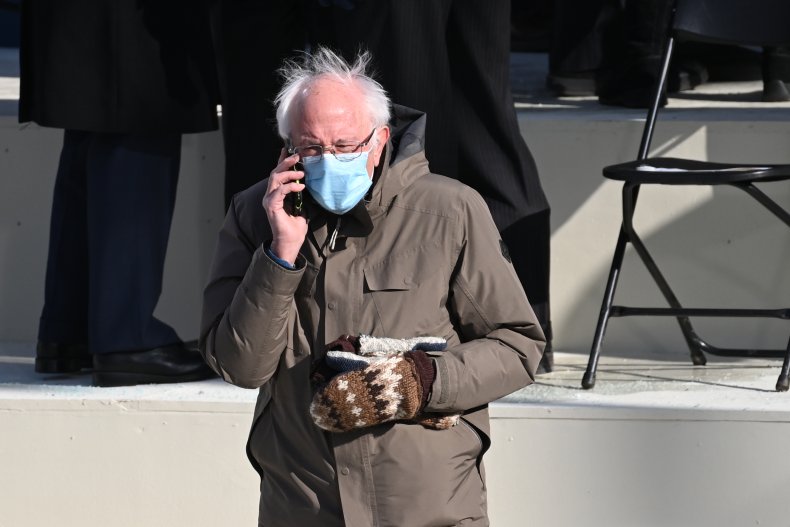 The multicolored earth tones and patterns knitted into the mittens grabbed particular attention and went viral when Sanders wore them during a January 2020 women's march in New Hampshire. They grabbed far more attention and generated multiple new memes during the inauguration.
"I made Bernie's mittens as a gift a couple years ago," Ellis tweeted exactly one year before the inauguration, alongside a photo of several similar mittens. "They are made from repurposed wool sweaters and lined with fleece (made from recycled plastic bottles)."
With the weather in Washington, D.C. hovering in the brisk low 40s during the swearing-in ceremony, Sanders was hardly alone in dressing warm on Wednesday. Both Biden and Vice President Kamala Harris wore warm but considerably more formal winter clothing and gloves to the event.
Biden and second gentleman Doug Emhoff were both wearing Ralph Lauren suits and coats, according to Vanity Fair. Harris wore a purple winter coat and dress from designer Christopher John Rogers, while first lady Jill Biden wore a blue tweed coat and dress from designer Alexandra O'Neill. Black face masks were worn by most at the ceremony, with Sanders wearing a disposable blue surgical mask.
Musician Garth Brooks was one notable figure to join Sanders in adopting a more casual look, arriving at the event wearing blue jeans and traditional brown cowboy boots, along with a black blazer, shirt, mask and cowboy hat. He removed his hat to sing "Amazing Grace" during the ceremony.
Newsweek reached out to Sanders' office for comment.