The Best Bedside iPhone Charger Docks: Charge All Your Gadgets at Once
First thing first, before crashing for the night, be sure to place your phone on a charger, so it's ready to go the next day. There's no wrong way to charge your iPhone overnight, but having a docking station on a nightstand or dresser is a great way to keep the electronics tidy and organized.
These multi-device chargers or docking stations have become so popular because they compactly collect your gadgets on one charger.
First, it's just a phone, then it's an Apple Watch, and soon AirPods or some other wireless charging earbuds join the group. Plugging in all those things overnight not only would require multiple cables, but they could take up multiple outlet plugs. These docking stations have the benefit of consolidating a lot of the mess and complications.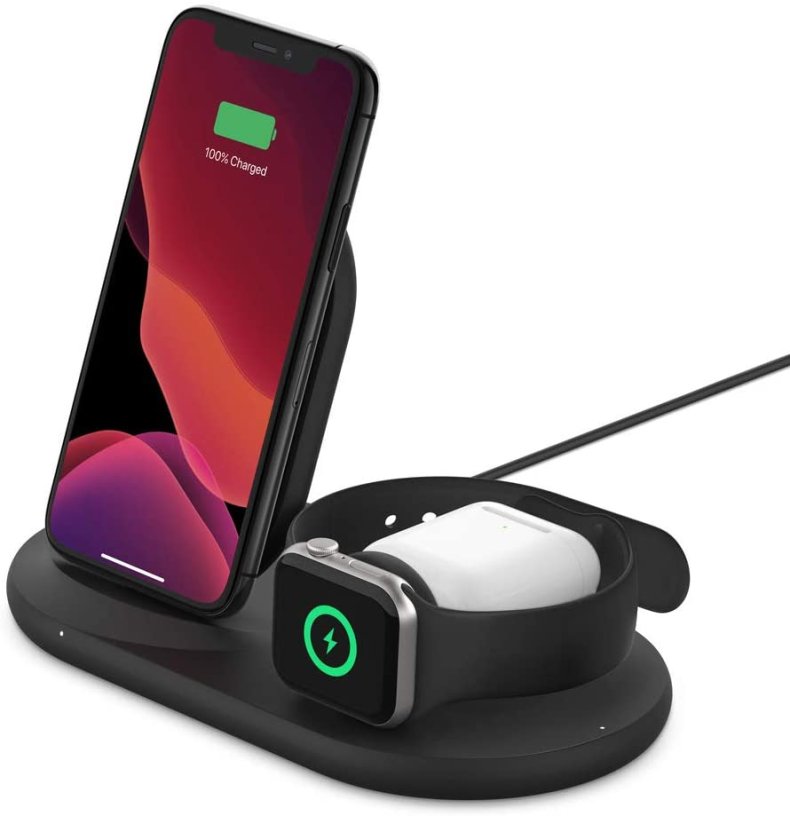 This Belkin Boost Charge may be one of the best, most solid 3-in-1 bedside docks. Belkin has already released a sleek MagSafe compatible version, but for those without a new iPhone 12, this Boost Charge edition is overall the complete package.
It includes a vertical iPhone wireless charger, a standing Apple Watch charger, and a spot for AirPods. Or, if you use another pair of wireless earbuds like Google's PixelBuds, by chance, they'll charge in that spot too. The Boost Charge 3-in-1 is coated in a soft rubber texture that makes it grippy and pleasant to the touch. In-person, the black version is extremely elegant. It turns your pile of electronics into a sculpture of power. Like other Qi changers aimed at iPhones, it can charge the phones at a top speed of 7.5W and Apple Watch and AirPods at 5W. While 5W won't add much battery life quickly for a larger device, those smaller devices will make it back to 100% just fine.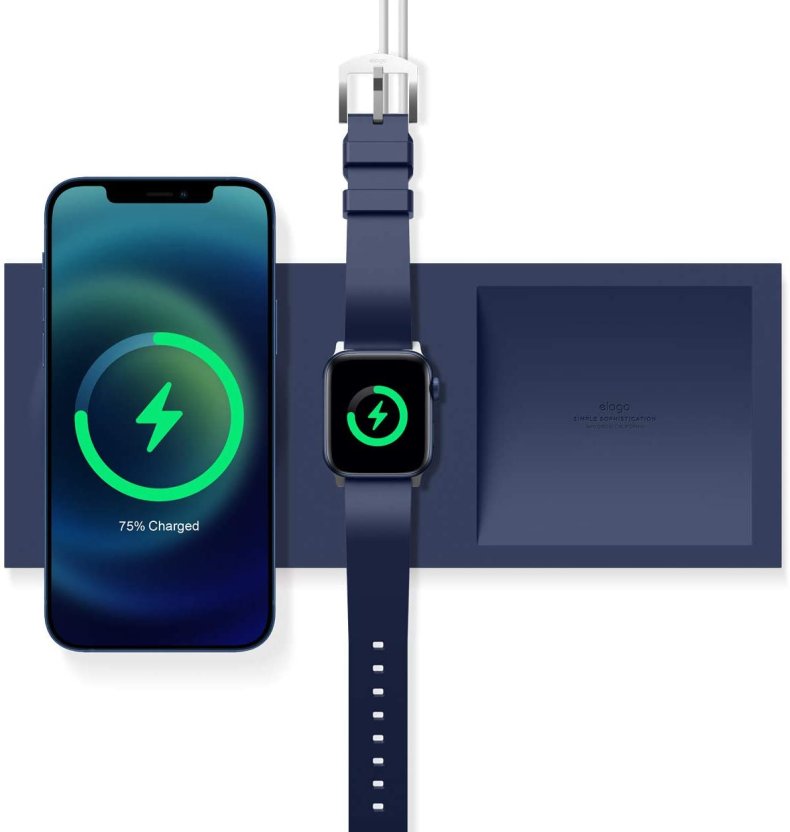 This bedside option is a great way to make use of your existing charging accessories. Be aware, the Charging Tray Duo does not include any electronic elements in the box. Unlike others on this list, it requires you to use the charging devices you have. That being said, if you do have Apple's MagSafe charging puck, this will help to combine it with the Apple Watch charger for a modern looking dock.
Aside from Elago Tray Duo's ability to incorporate Apple's MagSafe charger and watching charger, it adds a spot for miscellaneous items as well. This additional spot creates a bedside valet that can collect keys, coins, and other non-electronic accessories that find their way to your pockets. The MS Charging Tray is made out of scratch-free silicone material, so if you do place keys in the slot, it should stay looking as nice as it did on day one.
Buy at Amazon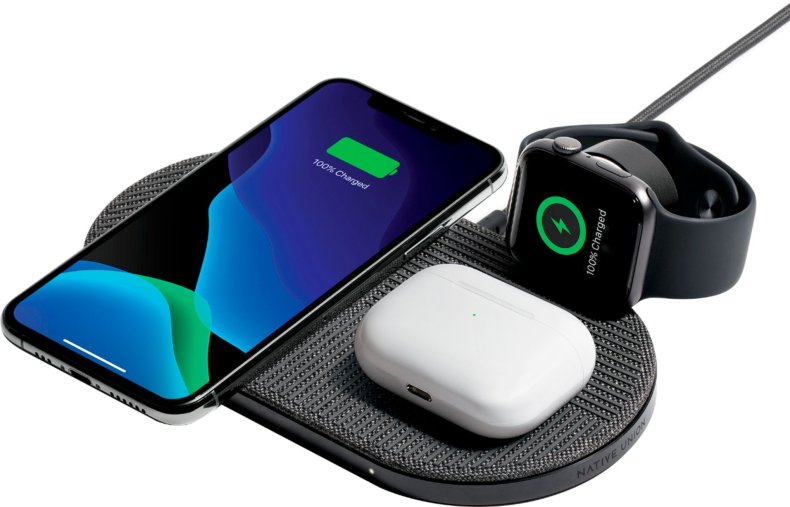 If you're looking for well designed mobile accessories, you've probably come across Native Union's cases and charging cables. Here, the company's Drop XL Wireless Charger is a minimal charging pad that can simultaneously accommodate three devices.
As the case with the most polished products, the XL wireless pad isn't cheap. In fact, it's quite pricey for a bedside charger. But, the price becomes a little bit more manageable in knowing that everything you need is included.
It includes a 45W AC Power Adapter, matching 6.5-foot nylon braided cable with a genuine leather strap, and international adapters. Even if you move to another country, this thing should serve you well for years. It's an investment in your devices' nightly battery power. To top it off, it comes with a detachable Apple Watch puck. It's a handy option that allows a third, non-Apple Watch to be plugged into the back USB port for future expandability.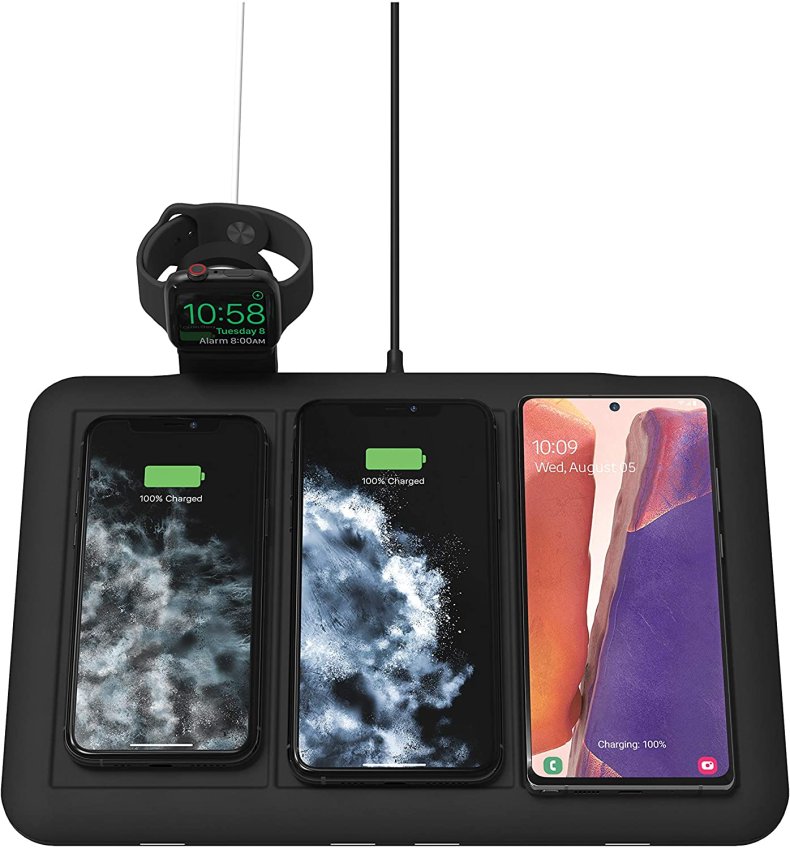 It might not be clear based on its name, but the Mophie 4-in-1 wireless charging mat can actually charge five devices. It includes four dedicated, easy-to-align spots on the mat with a USB A port on the back to connect a fifth item through a cable. That extra USB port is where you can plug the included Apple Watch charger if you need that functionality instead. The fifth port provides nice versatility and truly makes this an option to use as a whole home charger.
We did a full review of this 4-in-1 wireless charging mat, and it performed well. It might be a little large for some nightstands or placements, but even outside the bedroom in a central location, it could be a great family option.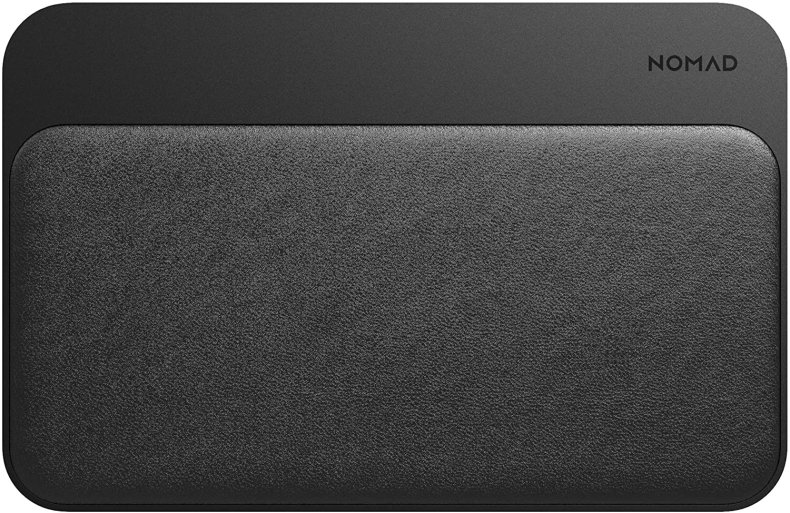 This Nomad Base Station is another simple, minimalist bedside charging solution that oozes attractiveness. There's not to look at, but what is there is sleek. A black exterior contrasts with a top black padded area made from recycled leather. This option will not distract from your room's decor.
Even though it looks simple, it has plenty of charging options packed in. You can lay a single phone on top, lengthwise, or two phones can fit vertically. On the back, there are two additional ports to plug in any device you desire. The ports on the back are USB C, and USB A, so new and old devices can plug in natively without any special adapters needed.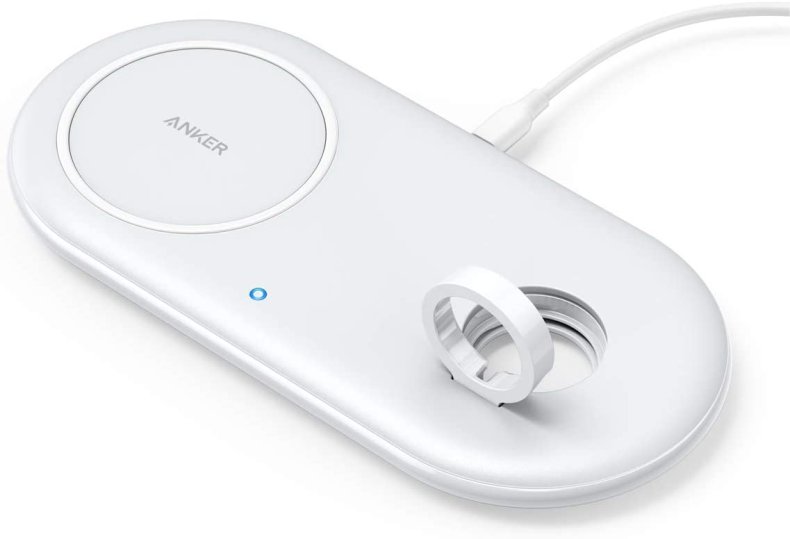 The benefit of this two in one bedside charging station is its versatility for Apple Watch wearers. If you use a metal link bracelet on your Apple Watch, you know all too well that chargers that lay flat present a problem. This Anker dock features a movable Apple Watch spot that can stand or lay flat. The new silicon loop bands feel great while wearing the watch, but you need a charger that can adapt to its needs. This one will do that.
Beyond the two-way Apple Watch charging feature, the Anker Wireless Charging Station features a wireless Qi charger capable of charging an iPhone at 7.5W. Of course, it can be used for other phones or compatible devices besides iPhones. This charging station doesn't have some of the bells and whistles as others on this list; in fact, it doesn't even come with a wall plug. You will need to supply that yourself. If you don't have one, Best Buy sells this charging station with it included for $59.99.
Newsweek may earn a commission from links on this page, but we only recommend products we back. We participate in various affiliate marketing programs, which means we may get paid commissions on editorially chosen products purchased through our links to retailer sites.