The Best N95 and KN95 Masks for Sale That Are FDA and CDC Authorized
These are the best N95 and KN95 masks that are authorized by the FDA and CDC. As mask mandates return and we see new recommendations for masking up to prevent the spread of the Covid 19 Delta variant and Lambda variant.
The latest Centers for Disease Control guidance for vaccinated people is to "Wear a mask in public indoor settings if they are in an area of substantial or high transmission."
The World Health Organization (WHO) recommends wearing a mask even if you are vaccinated. "This still continues to be extremely important, even if you are vaccinated, when you have a community transmission ongoing," said Mariângela Simão, WHO assistant director general of access to medicines and health products.
N95 and KN95 masks are the most effective masks, which can make them harder to find. Thankfully we've discovered several masks that you can buy today and get delivered quickly.
N95 masks are the most effective and the most expensive, but many of us are using KN95 masks while traveling in high-risk situations like public transportation, crowded stores, or flying.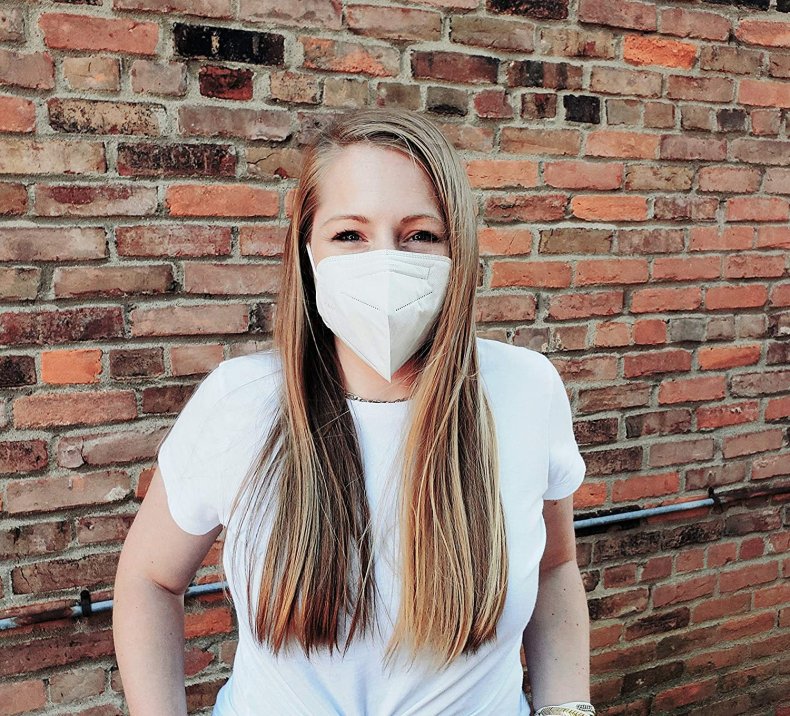 All the masks on this list are CDC authorized with a National Institute for Occupational Safety and Health (NIOSH) in the case of N95 mask or on the FDA Emergency Use Authorization (EUA) list for KN95 masks.
N95 masks with NIOSH numbers are listed on the "NIOSH - Approved N95 particulate filtering facepiece respirators" list on the CDC website. NIOSH numbers are only available on N95 masks.
The FDA EUA list includes KN95 mask manufacturers that are authorized. The KN95 masks on the EUA list are authorized for use in a healthcare setting by professionals, but they are not on the NIOSH list.
If you want to know more about N95 masks and KN95 masks you can read our breakdown of the differences between N95 and KN95 masks. Amazon also offers an explainer on the topic.
Here are the best N95 masks on the NIOSH approval list and the best KN95 masks on the FDA Emergency Use Authorization lists that you can buy.
The Respokare N95 masks are NIOSH approved (84A-7796) respirator masks that include an anti-viral layer to keep infectious viruses off the mask's surface.
Like the other N95 masks on this list, these include an over-the-head style strap system. These masks are designed for a tight fit, and in our testing they deliver a very good seal. There is a large foam pad for the nose that keeps a good seal and really ups the comfort of this mask. The nose strip is easy to form to your face and holds position well. The masks are easy to breathe in and among the more comfortable N95 masks we've tested.
Available as a one-time purchase or as a subscription with a 10 percent discount. The minimum size is a 10-pack, but you can buy in up to a 4,800-pack.
If you are looking for N95 masks that are easy to keep in your bag or on your person for when you need more protection than a fabric mask, these foldable N95 masks are easy to bring with you.
These foldable N95 masks are easy to breathe in and fit well. There is a small foam strip on the nose area that helps with comfort, but it is not as nice as the Respokare N95 mask strip. You can adjust the fit of the nose area, but it is a stiffer piece of metal, so it takes more pressure to conform it to your nose and face.
The masks are NIOSH approved (84A-7877), and they feature an over-the-head strap style. You can buy these masks in a 30-pack or up to a 4,000-mask package and save 10 percent when you subscribe to deliveries.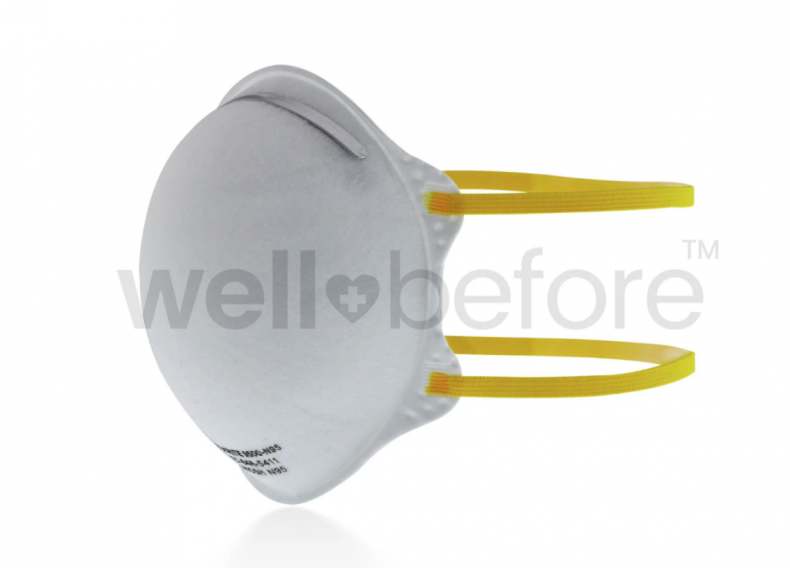 The Makrite 9500 N95 mask is FDA cleared and NIOSH approved (84A-5411). These masks use an over-the-head strap style and feature an adjustable nose piece. Well Before sells these in regular and in small sizes for a better fit. Available in quantities as low as 10, or in bulk quantities.
The Kimberley-Clark N95 Pouch Respirator is a one-size fit's most N95 mask. This is NIOSH approved (84A-9042) to filter out a minimum of 95% particulates to 0.3 microns in size. The company claims that these masks are 75% more breathable than the NIOSH requirement, which typically means more comfort for long periods of wear.
This pouch-style design allows for more room inside the mask. In our testing of other masks, more room helps with breathability and comfort. This model includes a headband-style design and a bendable nose piece. These are not for medical use. They are TAA compliant, which means they have been either made in the U.S. or substantially transformed here. That's great if you are searching for affordable N95 masks from the U.S.
The Well Before KN95 masks start at $1.49 each and are available in a variety of styles including standard ear loops, adjustable head straps with a foam nose strip, adjustable ear loops with a foam nose strip or a 3D style adjustable strap with a foam nose strip. You can buy them in white or black colors and regular or small sizes.
The Well Before KN95 masks are well made and fit nicely. We tested three of these models and found the 3D style with adjustable strip to be the most comfortable and most compact for carrying a spare in a pocket. This style is definitely our favorite with a lighter overall feel on the face than most KN95 masks we've tested. It is easy to breathe in and is already our go-to KN95 mask type.
The Well Before KN95 mask with standard ear loops is a pretty standard KN95 mask experience. It fits nicely and it is easy to adjust the nose area. The adjustable ear loops version is similar, but a little more comfortable thanks to being able to loosen or tighten the ear straps for a better fit.
These are FDA authorized under the EUA. We like that they are individually wrapped, which makes taking them with you or keeping a spare in a purse or backpack very easily.
VIDA KN95 masks are on the FDA EUA list and can filter 95% of particles 0.3 microns or larger. This mask uses ear loops and features a bendable nose clip for a good fit. The masks are available in black or white. You can purchase a 10-pack or up to a 50-pack.
These are single-use masks. VIDA includes a return envelope so that you can send back used masks for proper disposal.
Kids KN95 masks are available from Well Before with small for ages five to eight and regular for ages nine to twelve. The company is also working on an infant size. The masks feature adjustable ear loops and are individually wrapped so that they are easy to pack in backpacks. The masks are available in white, blue or multi-color packs.
These are FDA registered KN95 masks. You can order in quantities starting at 10 and up.
The Powecom KN95 masks are on the FDA authorized list and are an N95 alternative mask that offers multilayer protection. These masks use the ear hook strap style that many people prefer.
We've tested and worn the Powecom KN95 masks. The masks are easy to put on and the earloops are comfortable for extended wear. The nose bridge is easy to adjust and it delivers a secure fit. The foldable design makes it easy to carry spare masks with you, but you will want to put them in a bag as they are not individually wrapped.
The Powecom KN95 masks are comfortable for long periods of wear when you want more than a fabric mask. These masks are easy to breathe in, but I wouldn't want to workout in one of these masks.
ChiSip KN95 masks are available in black, pink and gray. This doesn't change the effectiveness, but if you like to match your mask to your outfit, this may be a great option to have on hand.
They are manufactured by Chengde Technology Ltd. Co. and are on the FDA EUA list.
The JiaDaiFu KN95 masks are on the FDA emergency use authorization list and 100 percent satisfaction guaranteed by the seller on Amazon. They use elastic ear loops and feature an adjustable nose bridge. And they offer a good fit and are easy to put on and take off. Like other masks on our list, you can loop the ear straps for a tighter fit. When you checkout on Amazon look for a box to check for a 10% off coupon.
Newsweek may earn a commission from links on this page, but we only recommend products we back. We participate in various affiliate marketing programs, which means we may get paid commissions on editorially chosen products purchased through our links to retailer sites.