Some Bethesda Games will be Xbox, PC Exclusive in the Future, Says Phil Spencer
Last year, Xbox made a big splash by acquiring ZeniMax, the parent company of Bethesda Softworks, the people behind the Fallout, Doom franchises and much more.
Now that the deal is officially completed, it seems that Xbox and PC owners will have a library of exclusive Bethesda titles that other consoles won't.
In a blog post on the official site, Xbox head Phil Spencer confirmed the news that the Zenimax acquisition is complete, which brings eight development studios – Bethesda Game Studios, id Software, ZeniMax Online Studios, Arkane, MachineGames, Tango Gameworks, Alpha Dog, and Roundhouse Studios – to the Xbox family.
However, one line in Spencer's letter confirms that future Bethesda titles will be exclusive to Xbox and PC.
"This is the next step in building an industry-leading first party studios team, a commitment we have to our Xbox community," Spencer wrote. "With the addition of the Bethesda creative teams, gamers should know that Xbox consoles, PC, and Game Pass will be the best place to experience new Bethesda games, including some new titles in the future that will be exclusive to Xbox and PC players."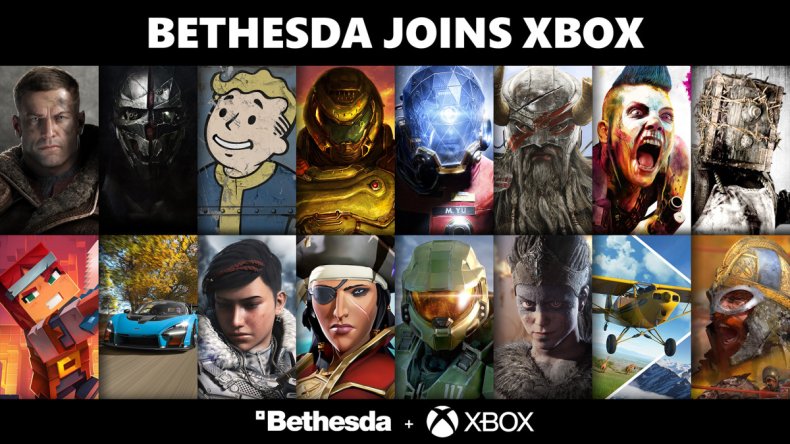 So what does this mean exactly? While Xbox and certainly Bethesda will be tight-lipped about exclusivity specifics for now, it will be only a matter of time before we start learning which upcoming titles will only be available on Microsoft platforms.
Bethesda has Deathloop from Arkane Studios set to drop in May and GhostWire Tokyo from Tango Gameworks set for a 2021 release. They were both announced as PlayStation exclusives and Spencer has confirmed that they will remain that way for the time being.
Spencer told Bloomberg back in September that both games will be timed exclusives before arriving on Xbox. He told the outlet at the time that future Bethesda titles will be on Xbox and PC, but whether they will be sold on other consoles will be on a "case by case basis."
Other announced games like Starfield and Elder Scrolls VI are still in that murky zone. They seem too far out to have a release date or exclusivity rights, so those titles could easily become Xbox exclusives—or at least timed exclusives—bolstering the demand for the new Xbox Series X/S.
A month after purchasing ZeniMax, Spencer spoke about possible exclusivity and made it clear that Xbox didn't make the acquisition to keep games from a player base. However, he did say that with how Xbox games work on PC and xCloud, the company doesn't need to ship Bethesda titles on other platforms to make "the deal work for us."
Along with the confirmation of the Zenimax acquisition, Spencer confirmed that more Bethesda titles will be arriving on Microsoft's subscription service, Xbox Game Pass this week. More details will follow.
What do you think of the Xbox/Bethesda deal? Will this deal make you buy an Xbox console if you haven't already? Let us know in the comments section.