Beto O'Rourke's Actions After Texas Shooting Could Cost Him Governor Race
Former U.S. Representative Beto O'Rourke's actions following the deadly shooting at an elementary school in Uvalde, Texas could potentially cost him the governor's race in a state famous for supporting gun rights.
O'Rourke, a Democrat, confronted Republican Governor Greg Abbott and other GOP elected officials as they held a press conference on Wednesday and accused the Texas governor of "doing nothing" about gun control following the deadly shooting at Robb Elementary School in Uvalde that left 19 children and two adults dead.
He will face Abbott in November's gubernatorial election where the Republican is seeking a third term leading the deep red state and it's possible O'Rourke's stance on guns will hurt his chances.
On Wednesday, O'Rourke spoke to reporters after he was escorted out of Abbott's press conference and said the governor has "refused to support a ban on AR-15s and AK-47s."
"You want a solution? Stop selling AR-15s in the state of Texas. You want a solution? Have universal background checks. We don't have them," he told a gaggle of journalists.
"You want a solution? Red flag laws or extreme risk protection orders, which stop a shooting before it happens," O'Rourke went on. "You want a solution? Safe storage laws. Those are four solutions that have been brought up by the people of Texas. Each one of those has broad bipartisan support."
Texans' Views on Gun Laws
Texas has more than one million gun owners and in a 2020 study by the RAND Corporation, 45.7 percent of adults in Texas said they live in homes with guns.
A February poll conducted by the Texas Politics Project at the University of Texas at Austin found that 43 percent of Texans were in favor of stricter gun laws, but 34 percent wanted the laws left as they are and 16 percent believed the laws should be less strict, while 7 percent of respondents didn't know or had no opinion.
A Texas Politics Project poll from October 2021 asked Texans whether they approved or disapproved of "how state leaders and the legislature have handled Second Amendment rights."
The survey found that 31 percent strongly approved and 15 somewhat approved, while 23 percent disapproved strongly and 9 percent disapproved somewhat.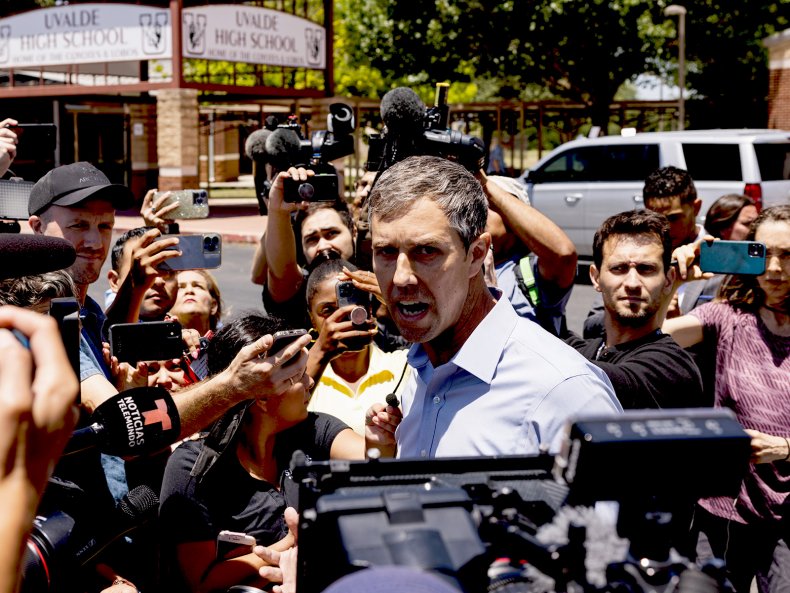 Those figures could prove a problem for O'Rourke as he takes a hard line on regulating firearms.
However, other polling from the Texas Politics Project may indicate that there's room for O'Rourke to focus on guns. An October poll found that 42 percent of Texans strongly opposed a state law allowing legal gun owners over the age of 21 to carry handguns in most public places without a license or training, while 13 percent were somewhat opposed.
A further 19 percent strongly supported it and 19 percent somewhat supported the law, which came into effect in September.
Another poll in October showed that 32 percent of Texans strongly disapproved of how state leaders and the legislature had handled gun violence, while 9 percent disapproved somewhat. Eighteen percent strongly approved and 17 percent approved somewhat.
Changing the Debate
Gun control is highly likely to remain a major issue in the gubernatorial race, especially as Abbott has often touted the fact that he has eased the state's gun laws.
Mark Shanahan is an associate professor at the Department of Politics and International Relations at Reading University in the U.K. and co-editor of The Trump Presidency: From Campaign Trail to World Stage. He told Newsweek on Thursday that O'Rourke "needs to change the debate significantly" if he wants to defeat Abbott, who is ahead in the polls.
A poll from The Dallas Morning News and the University of Texas at Tyler published on May 15 showed Abbott with 46 percent support to O'Rourke's 39 percent.
"Yesterday's lineup on stage in Uvalde, with GOP officials ranged around Abbott, looked like some terrible pastiche of the Last Supper and O'Rourke wasn't there by chance," Shanahan said.
"This was a very deliberate attempt to cut through the overly familiar 'thoughts and prayers' narrative to challenge the Texas administration to actually do something tangible to stop a repeat of Uvalde," he said.
Raw Emotions
Shanahan said that the Democrat's actions are "garnering O'Rourke headlines, which, no doubt is his immediate goal.
"But it's also turning attention to Texans' actual views on gun control that may not square with the 100 percent NRA-certified platitudes of Abbott," Shanahan went on, pointing to the polling on the issue.
"O'Rourke's position in favor of gun control, and particularly banning the sale of military-style weaponry, puts a clear distance between him and Abbott," Shanahan said.
"While emotions are so raw, that's bound to draw votes towards him for November. Between now and then he will be telling Texans at every opportunity that the only opportunity for change that may halt future Uvaldes is to get rid of politicians perceived to be in the pocket of the gun lobby – a lobby that represents fewer and fewer Texans," he added.
O'Rourke's History on Gun Control
O'Rourke has made no secret of his tough stance on gun control and he famously remarked at a 2019 Democratic presidential debate: "Hell yes, we're going to take your AR-15, your AK-47."
"We're not going to allow it to be used against our fellow Americans anymore," O'Rourke said. During his campaign for the Democratic nomination, he also came out in support of a mandatory gun buyback program.
O'Rourke's position on guns didn't appear to help him in his presidential bid and he dropped out of the race in November 2019 after struggling to reach more than 2 percent in national polls.
After he dropped out, analysis from FiveThirtyEight's Geoffrey Skelley argued that O'Rourke had tried to pivot to the left on issues including guns at a time when former South Bend Mayor Pete Buttigieg appeared to be surging in the polls
Skelley wrote that O'Rourke's "leftward turn may have also damaged his ability to run for statewide office in Texas again, as it's still a Republican-leaning state."
It remains to be seen how the current debate on guns will affect the outcome of the Texas race.
Newsweek has reached out to the O'Rourke campaign for comment.