Fox News' Tucker Carlson warned that a new push for gun control could spark a civil war in America.
During his show on Wednesday night, Carlson reflected on the Robb Elementary shooting and discussed the suggestions for preventing future mass shootings.
At least 19 young children and two teachers were killed following the shooting at the school in Uvalde, Texas, authorities said. The gunman, identified as Salvador Ramos, 18, was killed by authorities during the incident.
Carlson also posted the segment discussing the shooting to his Facebook page last night, Wednesday.
"In the past 10 days, two separate teenage boys have committed horrifying massacres in public places," Carlson said.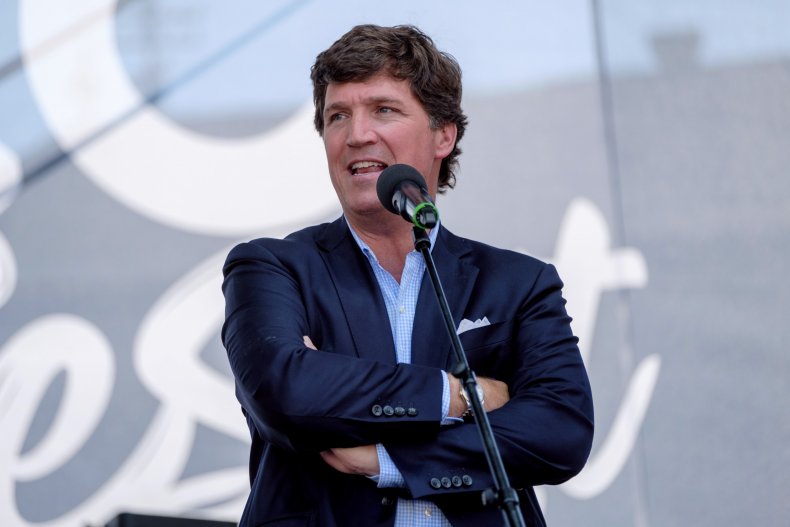 "On May 14th, 18-year-old Payton Gendron murdered ten shoppers in a grocery store in Buffalo. Then yesterday, 18-year-old Salvador Ramos killed 19 small children and two teachers at an elementary school in Texas.
"Both Gendron and Ramos were very obviously mentally ill, people around them knew that.
"Both killers had told other people they planned to commit a mass shooting and then they did. So what can we learn from this?"
Carlson then suggested that he does not believe reforming gun-control or restricting access to guns would resolve the issue currently facing America.
"The first most obvious answer is that the system in place didn't work. Gendron's teacher's sent him to a mental hospital for evaluation, they knew he was a threat, they tried their best, he committed a massacre anyway," Carlson continued.
"We know for a fact what we are doing isn't working but we should also be honest enough to acknowledge that it is very hard to know what to do instead.
"Despite what you have heard, the problem isn't that we don't care enough, there is not a person in this country who was not horrified by the sight of murdered children, it is the worst thing and everybody thinks that.
"The problem is that the human mind is much more complex and harder to control than we would like to admit. A person who is intent on committing violence is very hard to stop under any circumstances.
"An act of Congress isn't going to do it, neither will gun control. There are more guns in this country than there are people, there always have been.
"However you feel about that fact, you can acknowledge that we will never get rid of all of those guns.
"The constitution prohibits that and you would set off a civil war if you tried to do it.
"So gun control, whether you find the slogans appealing or not, will not stop the next Payton Gendron or Salvador Ramos, and every rational person knows it."
Following the shooting, President Biden said in a speech on Tuesday night that it was "time to turn this pain into action," adding that "we have to have the courage to stand up" to the gun manufacturing industry.
"It's been 3,448 days—10 years since I stood up at a high school in Connecticut—a grade school in Connecticut, where another gunman massacred 26 people, including 20 first-graders, at Sandy Hook Elementary School," he said.
"Since then, there have been over 900 incidents of gunfire reported on school grounds. Marjorie Stoneman Douglas High School in Parkland, Florida. Santa Fe High School in Texas. Oxford High School in Michigan. The list goes on and on," Biden said.
Since the start of 2013, there has been more than one mass shooting a day in the U.S., according to data from a prominent gun control non-profit. The Gun Violence Archive (GVA) defines a mass shooting as an incident in which four or more more people are shot and/or killed in a single event at the same general time and location, not including the shooter.
According to these criteria, since it started compiling records in 2013, there have been 3,378 incidents up until 2021.