Beto O'Rourke's Chances of Beating Greg Abbott in Texas, According to Polls
With just over six months until the midterm elections in November, incumbent Texas Governor Greg Abbott appears well-positioned to fend off his Democratic opponent, former Congressman Beto O'Rourke.
New polling released Wednesday by the University of Texas at Austin/Texas Politics Project showed that O'Rourke still has a long way to go if he hopes to defeat Abbott when they go head-to-head at the ballot box on November 8.
While nearly half (48 percent) of registered voters in Texas backed Abbott, just 37 percent supported O'Rourke. That's an 11 point lead for the GOP governor over his Democratic rival.
Abbott won the nomination for reelection with just over two-thirds of GOP primary voters casting ballots in his favor back in March, NBC News reported. O'Rourke received more substantial backing from Democrats in his primary, garnering more than 90 percent of their votes. But as Texas has long been a reliably red state, any Democratic candidate faces an uphill battle.
However, there is definitely room in the race for O'Rourke to make substantial gains or for the incumbent Republican to pull further ahead. Sixteen percent of registered voters said they remained uncommitted.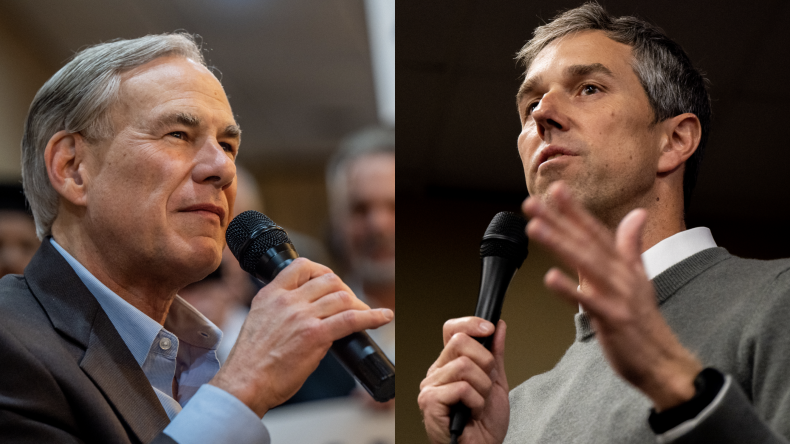 The survey of 1,200 Texan voters was conducted from April 14 to 22 with a margin of error of plus or minus 2.83 percentage points.
"Support for both Abbott and O'Rourke has remained consistent among key groups of voters in the electorate, looking back over the last three UT surveys," Joshua Blank, research director of the Texas Politics Project, said in a release published by University of Texas at Austin. "If O'Rourke is going to tighten the race with Abbott over the next seven months, he's going to have to improve his standing among independents, Hispanics and suburban voters relative to the governor."
In January, Abbott's lead in a previous survey by the University of Texas showed essentially the same results. O'Rourke was at 37 percent while Abbott was backed by 46 percent of registered voters, according to that polling data.
Other recent polls in Texas have generally shown substantial leads for the Republican governor. One recent poll from March by Texas Lyceum did show a fairly tight race, however. That survey had Abbott up by just 2 points among registered voters—with 42 percent compared to his Democratic opponent's 40 percent.
Meanwhile, another February poll carried out by The Hill/Emerson had Abbott at 52 percent with O'Rourke at just 45 percent among likely voters. A separate February survey conducted by The Dallas Morning News showed the Republican governor backed by 45 percent of registered voters and the former congressman supported by only 38 percent.
The Real Clear Politics average of Texas polls currently has Abbott up by about 6.8 percent. Approximately 46.8 percent of Texans back the incumbent governor compared to only 40 percent who support O'Rourke, according to the average.
As of the beginning of February, Abbott had at least one huge advantage over the Democratic gubernatorial candidate—significantly more cash. The GOP incumbent had north of $62 million for his reelection campaign compared to just $6 million for O'Rourke, The Texas Tribune reported on February 1. Abbott also has the benefit of Texas' strong Republican lean.
The southwestern state has been led by a Republican governor ever since 1995. In presidential elections, the state has gone for GOP candidates in every race going back to 1980. At the same time, Democrats have notably been making gains in recent elections, leading many analysts to assess that the once solidly red state has become significantly more purple.